And here it is, the big one. Who crossed the line first? In the end it was that cunning old bugger @len.george who saved himself (and 6 gels!) for the final push and staggered across the line first.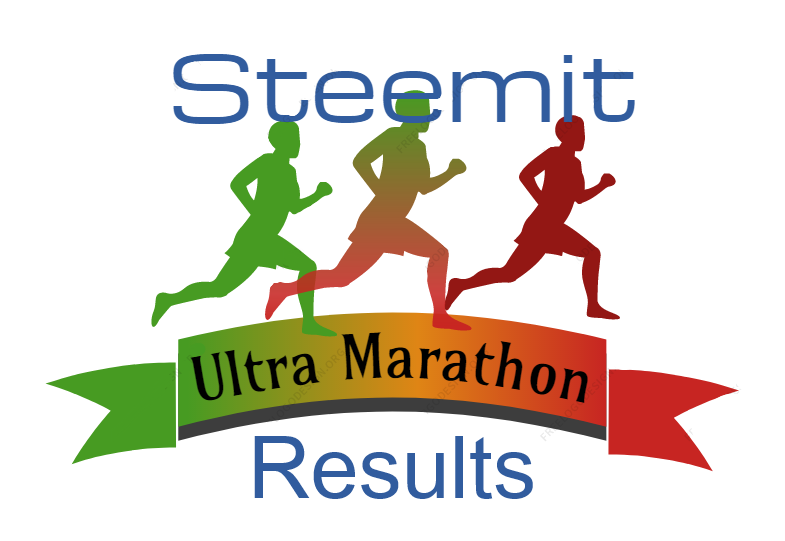 Pos
Name
Distance
Details
1
@len.george
Bib: 5 
Winner!
2
@plankstoplanks
Bib: 4 
Second place
3
@toofasteddie
Bib: 3 
Third place
4
@soluce07
Bib: 6 
4th place
5
@amico
Bib: 1 
59.69kms
Gels: 3
Health:
You passed through an aid station and this replenished your supply of gels - adding 2, let you rest a bit, reducing your fatigue, You passed through an aid station and this replenished your supply of gels - adding 1,
Weird stuff happens on the trails
You grab some food from a pocket and discover it is the most delicous thing you have ever tasted. You run the next ten minutes with a smile on your face.
6
@karenb54
Bib: 2 
55.64kms
Gels: 1
Health:
You passed through an aid station and this replenished your supply of gels - adding 1,
Weird stuff happens on the trails
You catch up to a small group in front and do a bit of slipstreaming, saving some enrgy and gaining some distance.
Comentary
@toofasteddie tried hard to hold onto the lead, but the damage he had taken early on in the race really slowed him down on the final leg seeing him fade to third.
@planktoplanks made the most of the rest break taken earlier and with fresher legs pushed hard on the last stretch to secure second place.
But WAIT! STOP PRESS! OMG! This has never happened before!
A quick glance at the actual numbers generated by the calculations showed a surprising result, one I've not encountered in all of the games and testing……..
We have the TIE!
@toofasteddie and @plankstoplanks have exactly the same distance covered (to 2 decimal places), which means (in terms of this race) the crossed the finish line in second place together.
Well done to both of you!
So that means @soluce07 is bumped up to third place and gets a place on the podium.
@amico is not far off the finish line either, with just a couple of kms to run, with @karenb54 making it through the final checkpoint in 8.5 hours, well under the cut-off time and looking good to finish her first ultra marathon.
Well done to all of the runners. I hope you enjoyed the game.
And while you sit back and relax and enjoy the fruits of your victory, or are just grateful that it is finally over and you can go back to the rest of your lives, spare a thought for a poor little old man who has to run this course for real in five day time (on a gamy leg I injured in the Wellington Marathon).
If I survive the day, I'll run another round of the game after the race, so keep an eye out for that.
Winners – I'll pay out ALL FOUR of you later on today.
Proof of payment

---
Steemit etiquette
Do write meaningful comments
Do discuss the topic in the post
Do tell me about how we share an interest
Do take the time and effort to actually read the post before commenting
Don't ask for follows
Don't ask for votes
Don't say you have voted for a post and then not vote for it
Don't say you have resteemed a post and not resteem it
Don't write short coments like 'Nice post'
Do be the sort of person you want reading and voting for your own posts.
---
Do you like games?
Check out my Steemit Ultra Marathon game where you can win 20SBD for first place, 10SBD for second and 5SBD for third. Get your virtual running shoes on and get ready to run!
---
Also don't forget to check out my Dad's blog
Who else can tell you stories about impersonating an officer, stealing a military aircraft to go on a booze run, or steal military aircraft and go on an unsanctioned bombing run - and that's all before he turned 18!
Check out @len.george and find out what other madness he got up to!
---
Are you new to Steemit and trying to figure out what it's all about?
Head over to: https://www.steemithelp.net/. It's the best place to get a handle on what the platform is all about.
---