我是纹身师gogo - Steemit white tiger tattoo design.
在中国四圣兽中,另外一个常常跟龙相提并论的就是'白虎';虎,为百兽之长,它的威猛和传说中降服鬼物的能力,使得它也变成了属阳的神兽,常常跟着龙一起出动,'云从龙,风从虎'成为降服鬼物的一对最佳拍档。而白虎也是战神、杀伐之神。
白虎具有避邪、禳灾、祈丰及惩恶扬善、发财致富、喜结良缘等多种神力。而它是四灵之一,当然也是由星宿变成的。是由二十八星宿之中,位西方七宿:奎、娄、胃、昂、毕、觜、参。所以是西方的代表,而它的白,是因是西方,西方在五行中属金,色是白的。所以它叫白虎不是因它是白色,而是从五行中说的了。
文字源
White tiger is often compared to the Dragon from Chinese four holy spirit animals. The tiger is the king of the beasts. It has abilities to create mighty legends and make the evil surrender. It often follows the Dragon, so they create legends together. This Sentence - "Clouds follow the Dragon, winds follow the tiger" - used to describe the relationship between the best partners. The white tiger is also the God of war and killing.
The white tiger helps us to prevent the evil things from happening, fix disasters, pray for a bumper harvest. It gives us the power to punish the evil people, and adore kind people. It have the ability to give power and wealth to those who deserves it. It also spreads happiness to lovers.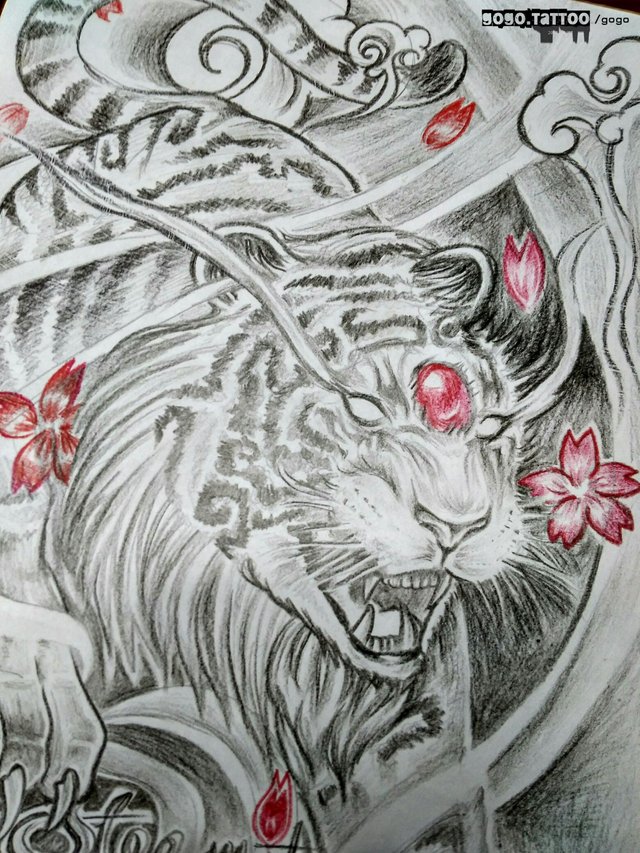 gogo.tattoo/gogo/design/steemit_white_tiger
自中国六朝以后,人们对于自然环境和周边地理渐渐开始熟悉了起来,就很少再出现新的神兽传说了。
曾经的中国人喜欢这样富有神话色彩的异兽,这些神兽出现在各个时期的中国古文学和艺术作品里,通过文字或是形象的绘画,让我们依稀解读了那些或已进化,或已绝迹,或甚至未曾出现过的奇珍异兽;让我们了解我们祖先的生活和思想,看见他们寄托在神兽身上的感情,那种对于"祥瑞"的追求和渴望。
Since people in ancient China were getting more and more accustomed with the natural environment and the geographical surroundings, less and less new spirit animal legends appeared.
Once upon the time, our ancestors were so much into creating legendary animals. These animals appeared in all kinds of ancient literary and artistic works from different time periods, through the text or image of all kinds of paintings.
Maybe those animals already evolved, or already extinct, or even never actually existed in our world. But those exotic animals let us understand a little bit more about our ancestors.
We can understand more about their life and their way of thinking, we can see the sustenance they put in the souls of these spirit animals - The pursuit of desire for the "auspiciousness".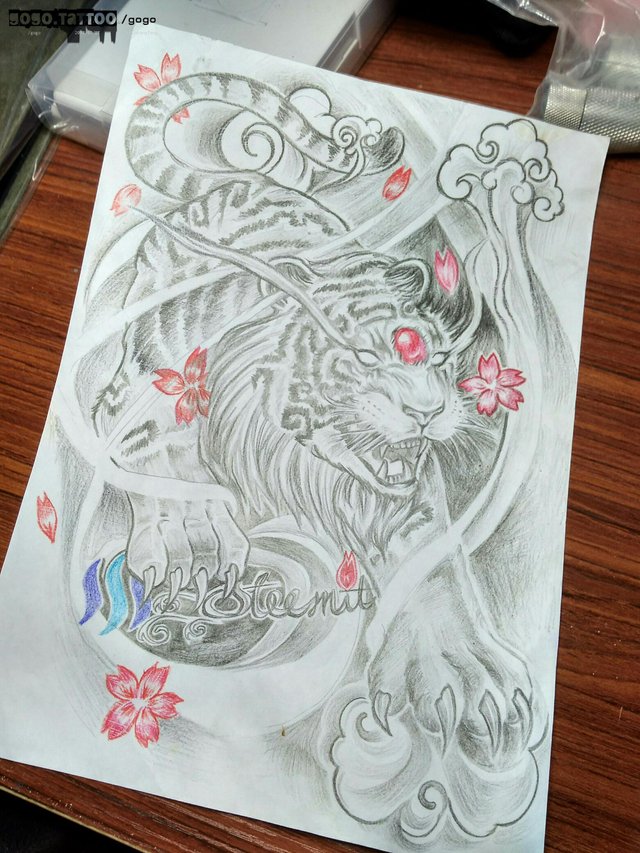 麒麟,凤凰,玄武,龙或是白虎,这些灵兽同现在仍然能够保留下来被我们知晓的神兽,基本都是自先秦至六朝这一时期所被人记录下来的。在今天的文章中将会依据这些古人留下的资料,用现代文字将一些个人认为最有趣的神兽还原,也许将来的一段日子里【我是纹身师gogo】会将这些神兽变成Steemit纹身设计手稿。
Kylin, Phoenix, Xuanwu, Dragon or White Tiger, they are not the only spirit animals in ancient China. There are still a lot of spirit animals to be discovered.
In this article, I will describe a few of them, providing some texts and pictures. Maybe a few days later, they will become Steemit tattoo designs on【我是纹身师gogo】.

而在盘点之前,先让我想对这些生物下个定义。
首先,他们是神兽,所以其实他们也就是动物。他们不是普通的,神、妖、鬼、怪,他们是能在世界上施展神奇的能力,能带给人信仰的,才能被称为"神兽"。
Before making an inventory for the spirit animals, let me first define what are these creatures.
First of all, in fact, they are still animals. But they are not ordinary animals. They are not Gods, demons, ghosts or monsters. But, they can cast magic in the world, they can bring faith to people.
1.毕方 Bi Fang
这种鸟形状长得像鹤,只有一条腿,青羽赤纹,白喙,名字叫毕方,叫声如同它的名字,出现的地方便会发生怪火。(《山海经·西山经》)
This bird is shaped like a crane, and has only one leg. It has green feathers with red spots and white beaks. It is called "Bi Fang" and it tweets like its name. When this bird starting to tweet, "Bi fang, Bi fang...", there starts a strange fire.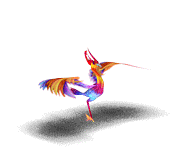 2.獙獙 Bi Bi
《山海经》中说它长得像狐狸,却生有一双肉翼,但是却因为这翅膀太轻薄所以不能带它飞翔。他的叫声如鸿雁一般,其名獙獙,一旦出现便预示着将天下大旱。(《山海经·东山经》)
Bi Bi looks like a fox with a pair of wings. But these wings are too thin to bring it to the sky. Bi Bi makes sounds like a goose. When Bi Bi appears in a place, that means that the place definitely will go through a drought.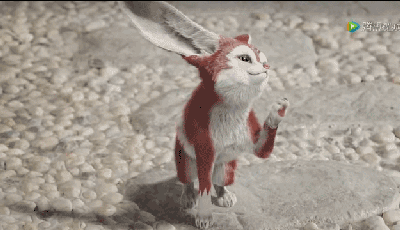 3.白泽 Bai Ze
白泽这些年一直都挺受人们青睐,但古籍中对于白泽的记载却是少之又少,比较清晰的只有《云笈七签》中关于它的描述:黄帝巡行至海滨,遇到了一只神兽,能说话,通晓天下所有怪物的情况,它对黄帝讲了自己所知的全部鬼神之事,凡精气为物、游魂为变者一共一千五百二十种,白泽一一对黄帝讲明,黄帝命人画图记录下来,并昭示天下,也就是后来的《白泽图》一书。(《云笈七签》卷一百引《轩辕本纪》)
Bai Ze is slowly becoming popular in China because of a Japanese anime, but actually there had been not much documented in ancient books about it. In the book 《云笈七签》, Bai Ze just been recorded by the behavior of telling all the details of the spirits which been becoming holy, not a single line of how it looks like or anything about it.
Bai Ze is just seen as a connection between human and all these legend animals. The stories about all 1520 legend animals which Bai Ze told to the Yellow Emperor have been wrote into the ancient book called 《白泽图》.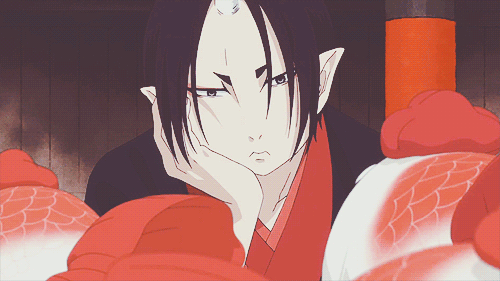 From 鬼灯の冷彻 Hoozuki no Reitetsu
4.长右 Chang You
这种神兽长得像禺猴而长着四只耳朵,名字叫做长右,声音听起来就像是人在呻吟,出现的地方便会发生洪水。(《山海经·南山经》)
This animal looks like a monkey with with four ears. It makes sounds of somebody groaning. Wherever they appear, the flood will follow.

5.重明鸟 Chong Ming Bird
这是一种长得像鸡,鸣叫声像凤的神鸟,一目重瞳,名重明之鸟。其虽为鸟类,却能够驱逐虎豹狼虫这些猛兽,而且可以使种种妖魔鬼怪都不能作祟,人们用木头或者金属做成重明鸟的形状,放置在门户之间,那些魑魅魍魉见到后就不敢登门来捣乱了。(《拾遗记》)
This is an animal which looks like a chicken, but it quacks like the Phoenix. Chong Ming Bird has multiple pupils in its eyes.
It is a bird, but it has ability to fight with the beasts.
People used to make Chong Ming Bird with wood or metal, placing them in the portal. We believe the evil spirits are scared of Chong Ming Bird, even nowadays.
You thought these chicken sculptures in China are really just chickens? No, a lot of them are Chong Ming Bird.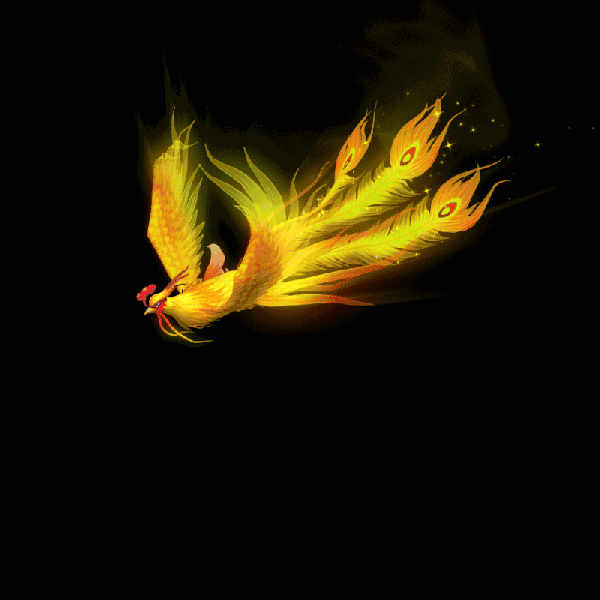 下次会继续介绍更多的神兽。
神兽纹身在中国的纹身市场里实在是多见,最普遍的选择之一是白虎纹身。
Next time we will continue to introduce more of the spirit animals.
Legend animal tattoos in the China tattoo market is really popular, one of the most popular choice is the white tiger tattoo.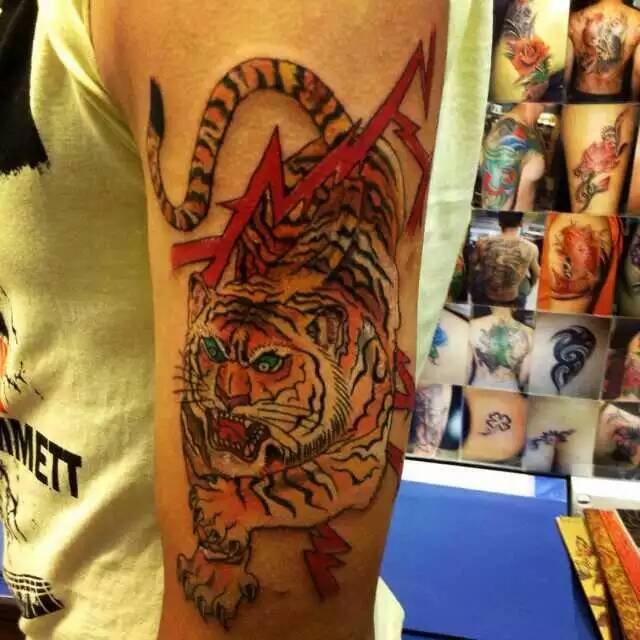 gogo.tattoo/gogo/tattoo/tiger_arm
因为从古至今,大部分中国人都处于一个不满足于现实世界的状态里,这是人的一种基本渴望,每个人对于这种渴望的诠释都是不同的,比如相信神兽纹身可以带来祥瑞。就像宗教和哲学都可以提供一个超越现实道德的追求价值,超越现实的存在,在中国古代文学中,神兽并没有被统筹成为宗教,而却被记录成为哲学。
在提供非事物客观规律和客观信息的方面,在提供人类心灵的完美状态,提供超越现实世界体验高道德价值方面,中国古代的宗教意识的确是不浓,但是哲学意识太浓厚了。
在中国哲学中,人不是膜拜神,而是追求成圣。圣是什么?是人和宇宙的合而为一。
这些神兽也是。在传说里,他们也曾是普普通通的动物们,而这些普通的动物们如果有灵性的生命本质,那都有可能成仙。
Since ancient times, most of the Chinese people are not satisfied with the present state of the world. I believe this is a basic human desire, everyone is different for the desired interpretation, such as believe that animal tattoos can bring luck. Like religion and philosophy can provide a reality beyond the pursuit of moral value, beyond the reality of the existence of Chinese in ancient literature. The animal has not been planning to become religious, but is recorded as a philosophy.
In the non objective law and objective information or in the perfect state of the human mind, which supposed to provide a high moral values beyond the real world experience, China ancient religious consciousness is not strong at all, but it is very strong in philosophical consciousness.
In Chinese philosophy, people are not worshiping God, but want to pursuit the holiness for themselves. To be saint, to feel themselves and the universe as one.
Same as how these normal animals become spirit animals. In all these legend animal stories, if they have the spiritual essence of life, if they work hard enough for their mind, they can become immortal.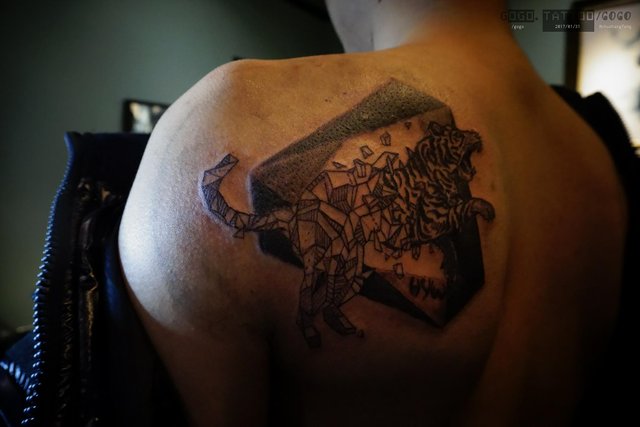 gogo.tattoo/gogo/tattoo/popular_tiger
通过纹神兽,表达出了凌驾于精神之上的愿景。
虽然说在建国后动物不可成精,马克思主义也提出世界是物质的世界,精神是第二性的,鬼神妖魔都是虚幻的想象,但纹身作为精神的寄托,说明了太多。
The pattern of spirit animals expressed the visions above the spirit.
The animal, though, cannot become a legend or spirit after the founding of China. Marx doctrine also proposed that the world is a material world, the spirit is on the second level, the ghosts, gods and demons are just illusory imagination.
But using legend animal tattoo as the spiritual sustenance can really illustrates too much.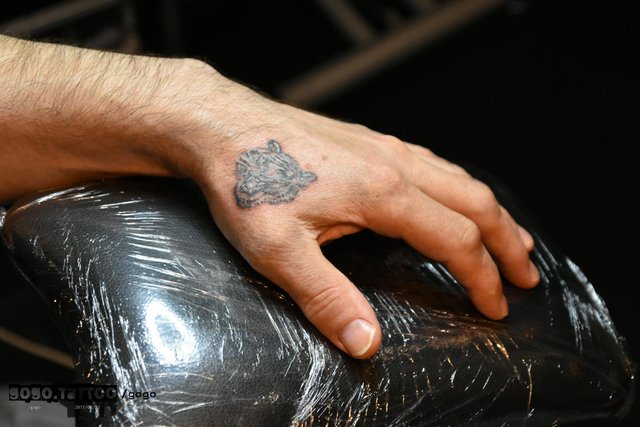 另外,今天是全球老虎日,是2010年在圣彼得堡创立的,我也是有幸为一位圣彼得堡的客人制作了这个老虎纹身,觉得很酷!
Annd today is International Tiger Day, It was created in 2010 at the Saint Petersburg Tiger Summit. Annnd this tiger tattoo is made on a special client in Saint Petersburg! ;)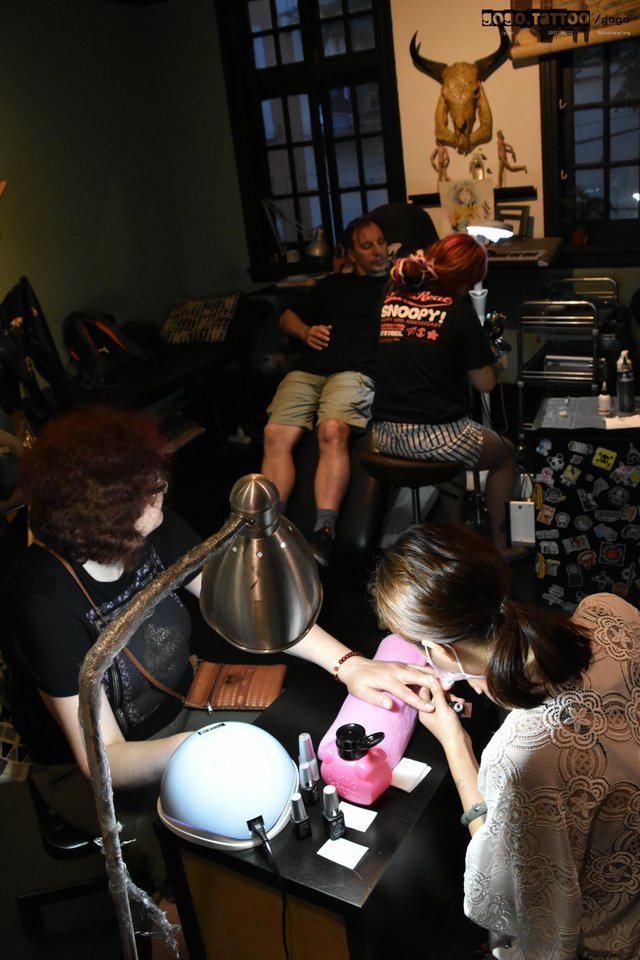 gogo.tattoo/gogo/tattoo/tiger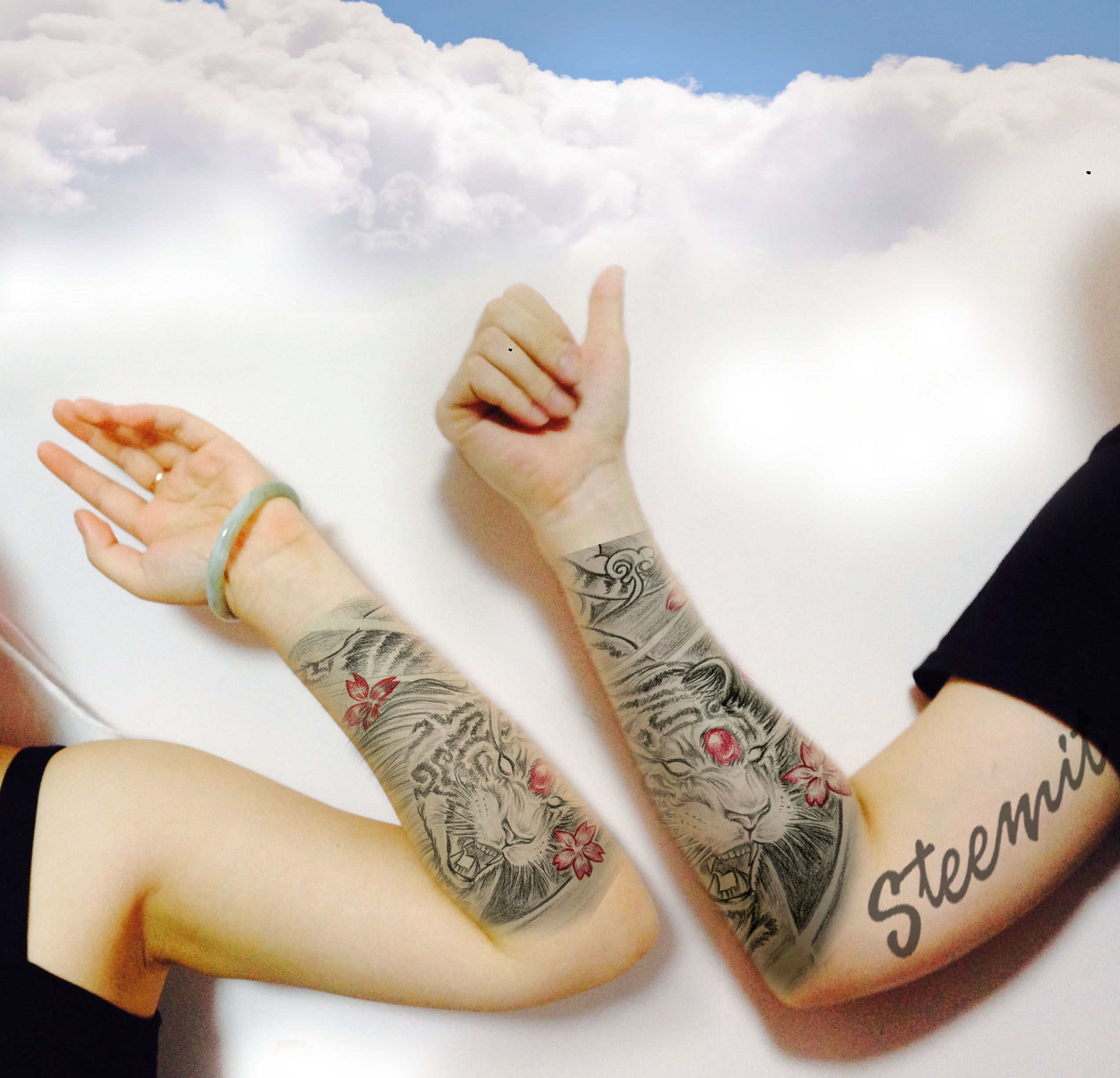 Photoshoped上身效果图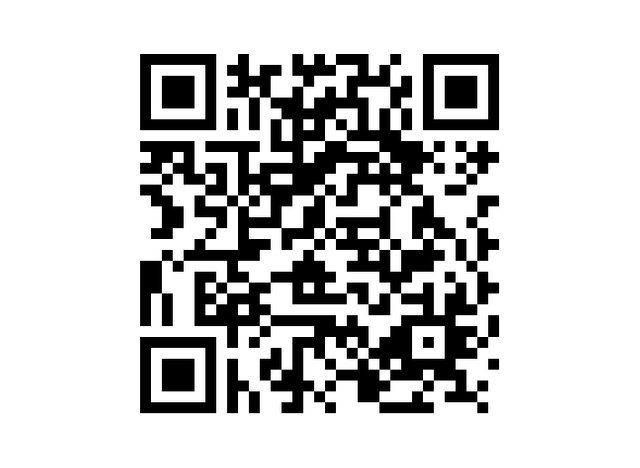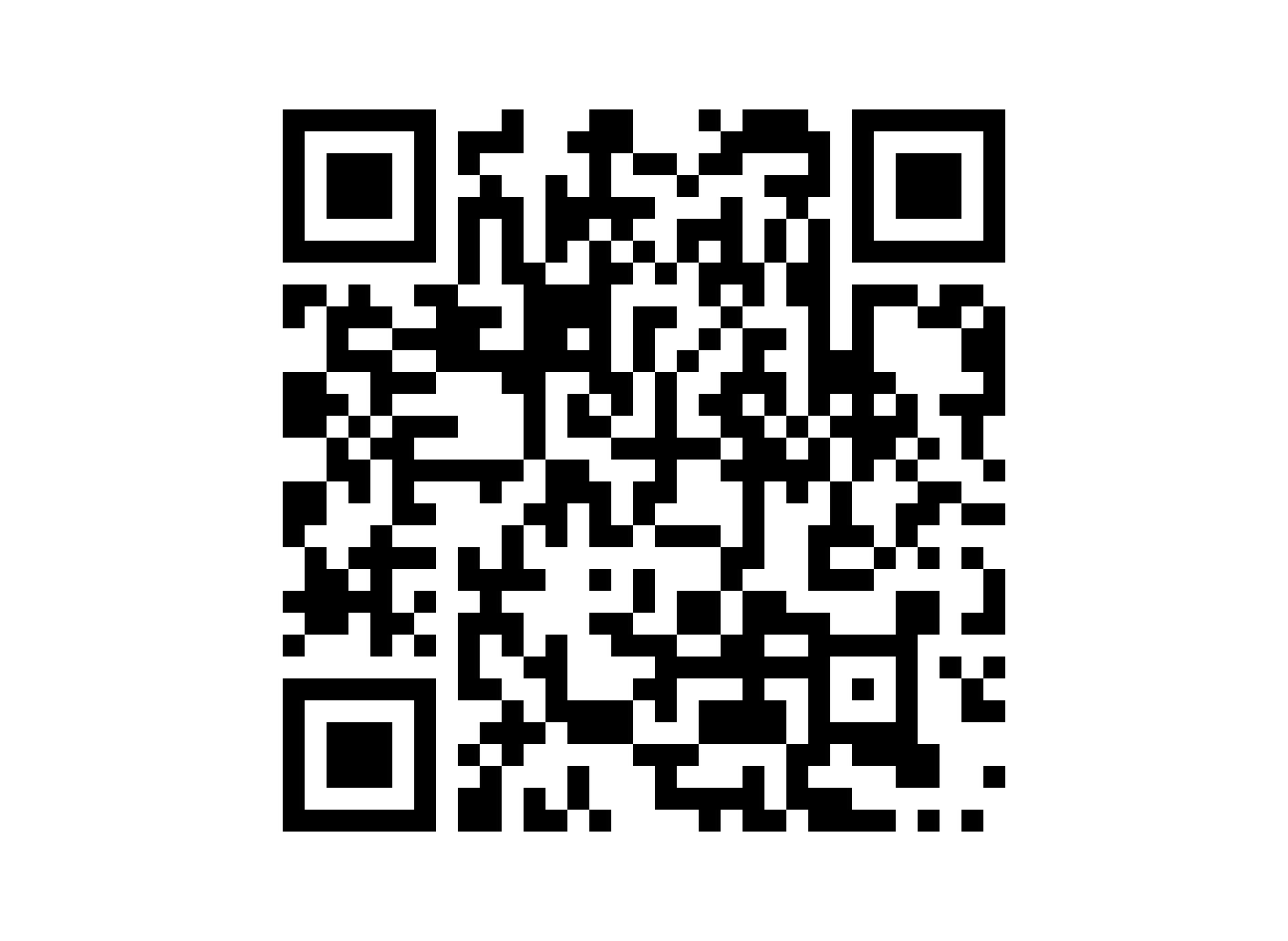 我希望有一天这个纹身会被记录在gogo.tattoo。
Maybe one day it will be recorded on gogo.tattoo Offical Steemit.
♥Follow Follow ♥ Vote Vote ♥ Comment Comment♥
我是纹身师gogo - With love!