我是纹身师gogo - Steemit kylin tattoo design.
麒麟,是上古中国人最企望出现的吉祥动物,它们的出现表示一代的幸福。因此,那时的人们希望麒麟总是伴随着自己,给自己带来幸运和光明,而辟除不祥。当上古时代的这种信仰被传承下来的同时,麒麟所具有的吉祥意义也随之被广大民众公认且牢牢地存在于人们的意识之中,麒麟便成了某种意念的象征,某种意境的表现,某种力量的显示,并启发人们的想像,引导人们的精神去契合某种意念,进入一种特定的境界,给人们以希望、安慰和某种追求的力量,化入民俗生活之中,表现在民族文化的各个方面。
文字源
Kylin is an ancient Chinese animal of all the most auspicious animals. Its appearance represents a generation of happiness. Therefore, people at that time had a hope that the Kylin would always accompany us, bringing luck and light, chasing away all the evil. This belief came to as from ancient time, when Kylin had auspicious significance and also was recognized and firmly existed among general population of people's consciousness. Kylin became a symbol of some idea, some artistic conception, a display of power, inspiring people's imagination, guiding the spirit of the ideas to fit into particular state, providing people hope and comfort and pursuit of power.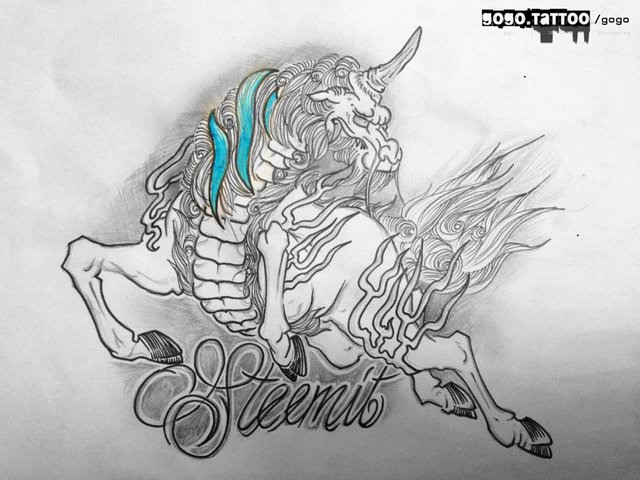 gogo.tattoo/gogo/design/steemit_kylin
古代传说中的神兽。与凤,龟,龙合称"四灵",是四灵之首。《诗经》《公羊传》等古书皆有记载。形象为,有角,披鳞,牛尾。
因着对于中国传统文化,纹身和Steemit的热爱,我画了这个纹身设计。
因为Steemit给人希望,安慰和快乐,和让人拥有去追求知识的力量。和麒麟一样:)
Kylin is an ancient legend of the animal. Together with turtle, dragon and phoenix, they are called "four spirits".
Kylin is the first of the four.《诗经 "Book of Songs"》, 《公羊传"RAM biography"》 and other ancient books recorded Kylin.
I made this tattoo design to show my love for traditional Chinese culture, tattoos and Steemit.
Steemit gives hope, comfort and joy, and the power to obtain knowledge. Exactly as Kylin does :)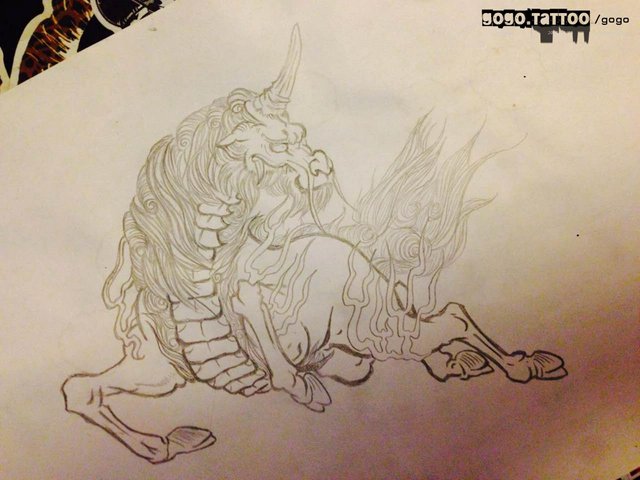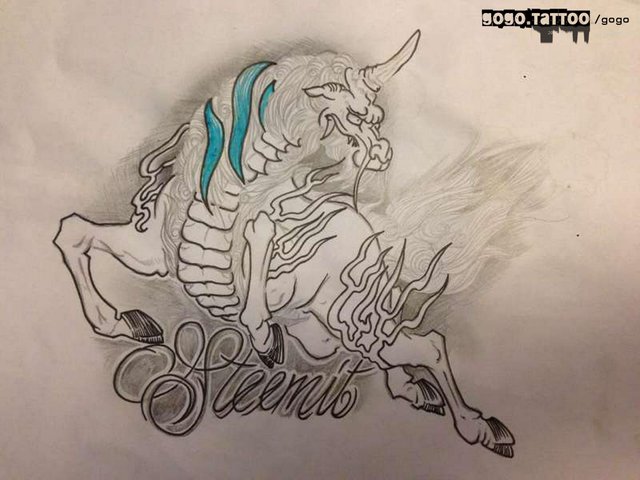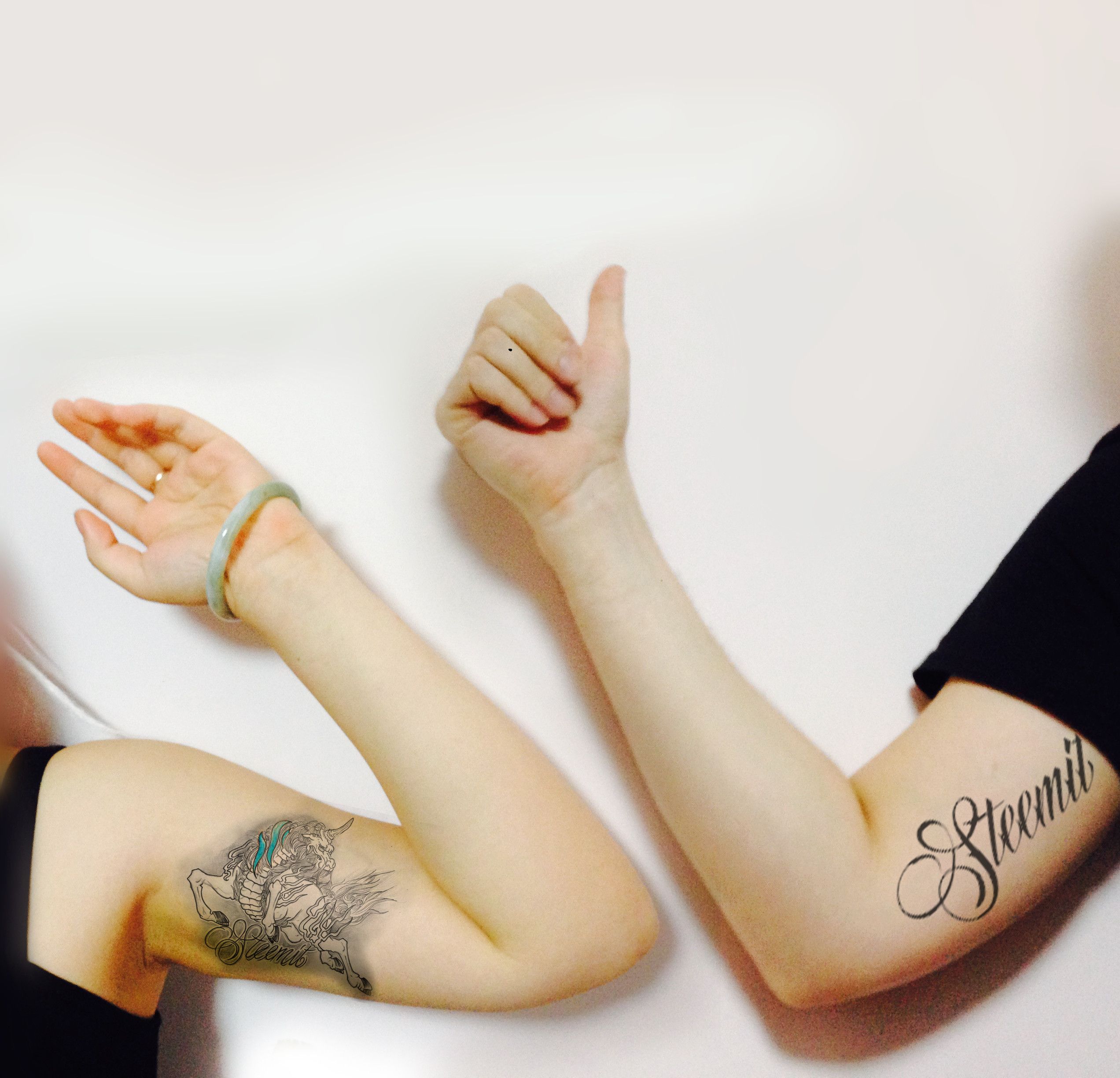 photoshoped 上身效果图
我希望有一天这个纹身会被记录在gogo.tattoo。
Maybe one day it will be recorded on gogo.tattoo Offical Steemit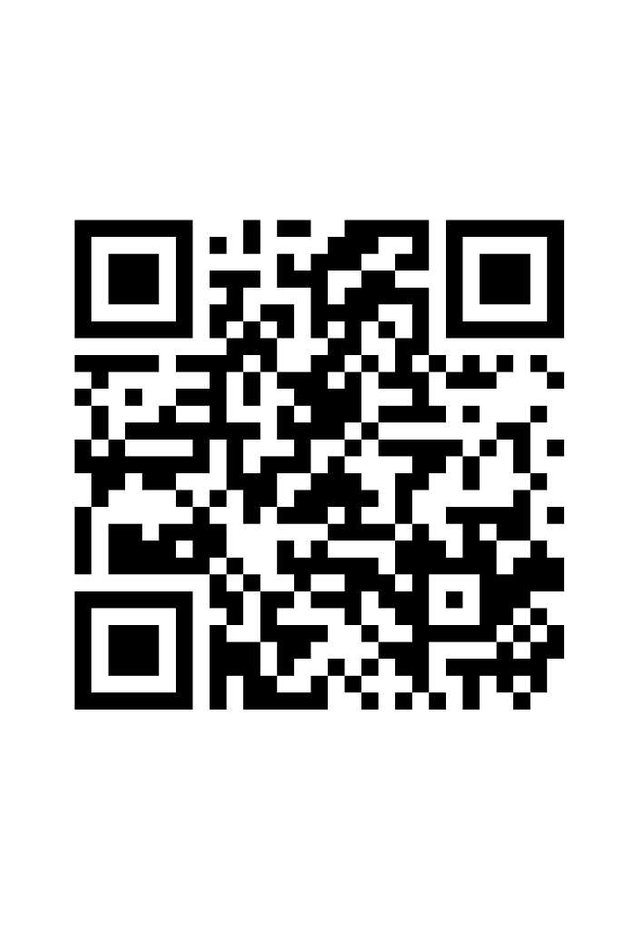 ♥Follow Follow ♥ Vote Vote ♥ Comment Comment♥
我是纹身师gogo - With love