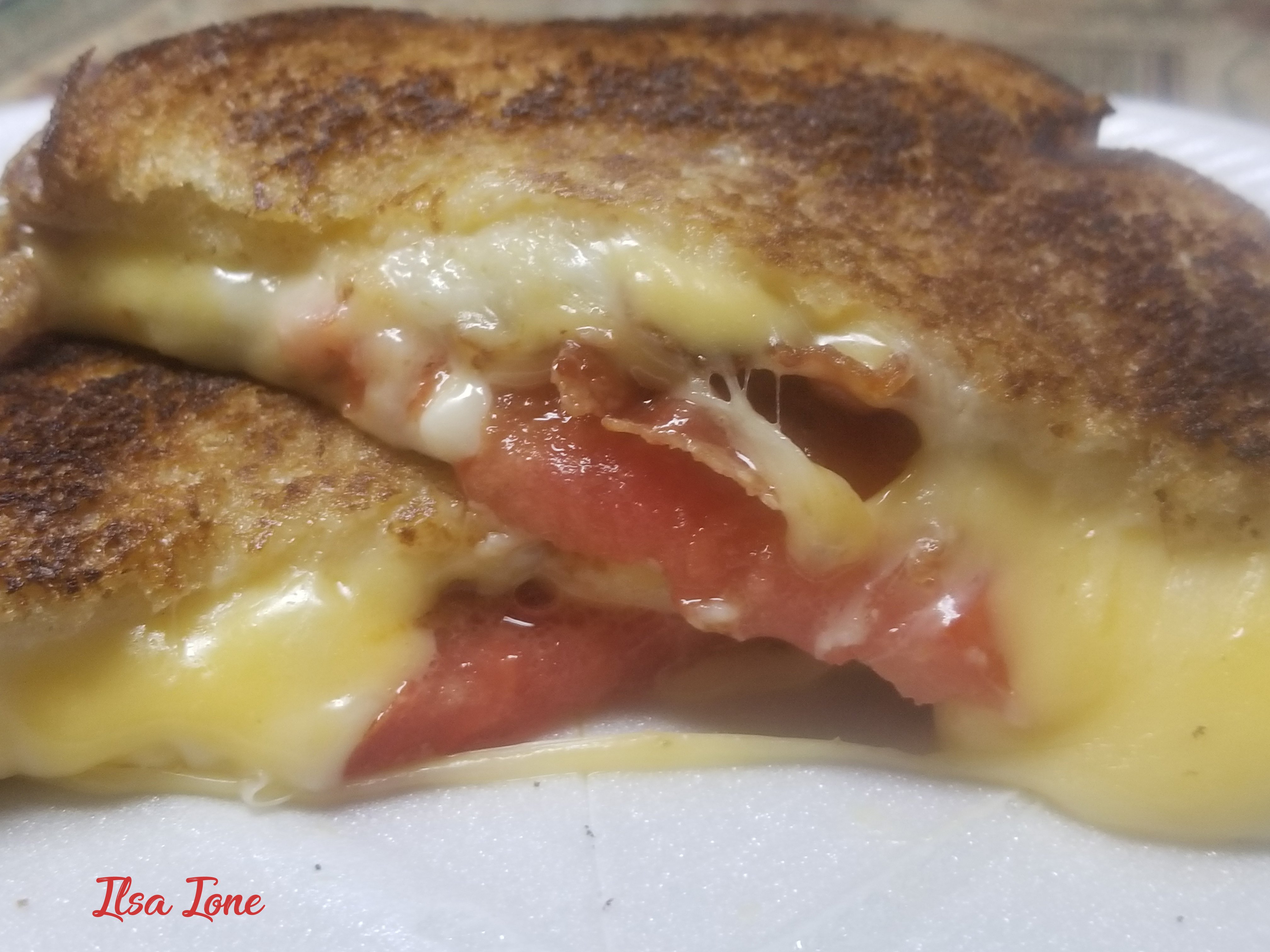 This week's #steemitsandwichcontest sponsored by @jaybird was a "Theme Week" based off of any famous sandwich. I almost didn't get to enter because I had company that I hadn't seen in about a year. After he left today, it was kind of gloomy and I was really wanting something comforting and I thought, "Hey! Why not give it a go on the famous grilled cheese?". I plundered through my refrigerator and came across three different types of cheeses, one slice of tomato left over, and I had a couple of slice of pancetta left over. So, I went all out on a 3-cheese grilled cheese with pancetta and tomato. If you'd like to participate, there's just a short time left and you can see the rules at @jaybird's original post Steemit Sandwich Contest Week 57 - CONTEST NOW OPEN! THEMED WEEK "Famous Sandwiches" - [3 Prizes].
Here is the step-by-step process including the ingredients:
| Ingredients | Ingredients | Ingredients |
| --- | --- | --- |
| * 2 slices bread | * 2 slices American Cheese | * 1 slice Mozarella Cheese |
| * 1 slice Swiss Cheese | *1 slice tomato | * 2 slices pancetta* |
...and a whole lot of butter
you can substitute regular bacon for the pancetta but I had pancetta on hand so I used that
| Ingredients | Add Your Swiss & American | And American & Mozzarella |
| --- | --- | --- |
| | | |
| Add Your Pancetta | Add Your Tomato | Gently Put Sandwich Together |
| --- | --- | --- |
| | | |
| Butter the top generously | FunctionAdd a LOT of butter to the skillet |
| --- | --- |
| | |
Adding butter to the skillet means you don't have to butter the bottom part of the sandwich. It still gets a nice buttery crisp to it. You will want your skillet already heated over medium-high heat. Once the butter starts to melt, put your sandwich on top of the butter and give it a nice roll around in the skillet. Wait about a minute or so and and gently flip the edge to see if it has started to brown. If not, wait about another minute and then gently flip it so the sandwich doesn't fall apart when you do. Now you should have a nice, crisp brown crust and can smash it down with your spatula. Wait about a minute or so and do the same to see if that side has browned to your liking. You can keep flipping the sandwich now that you have smashed it down and it should stay together with all of the cheeses having started to melt to hold the sandwich together. The heat also brings out a nice flavor in the tomato. Cook it until your desired preference of crispness.
| After The First Flip | Finished Product Uncut | Finished Product Cut In Half |
| --- | --- | --- |
| | | |
Now you can sit back and enjoy this wonderful comfort food. If you have some tomato soup, this is perfect for dipping it in, but this is very filling with all of the gooey cheeses! This sandwich tasted incredible!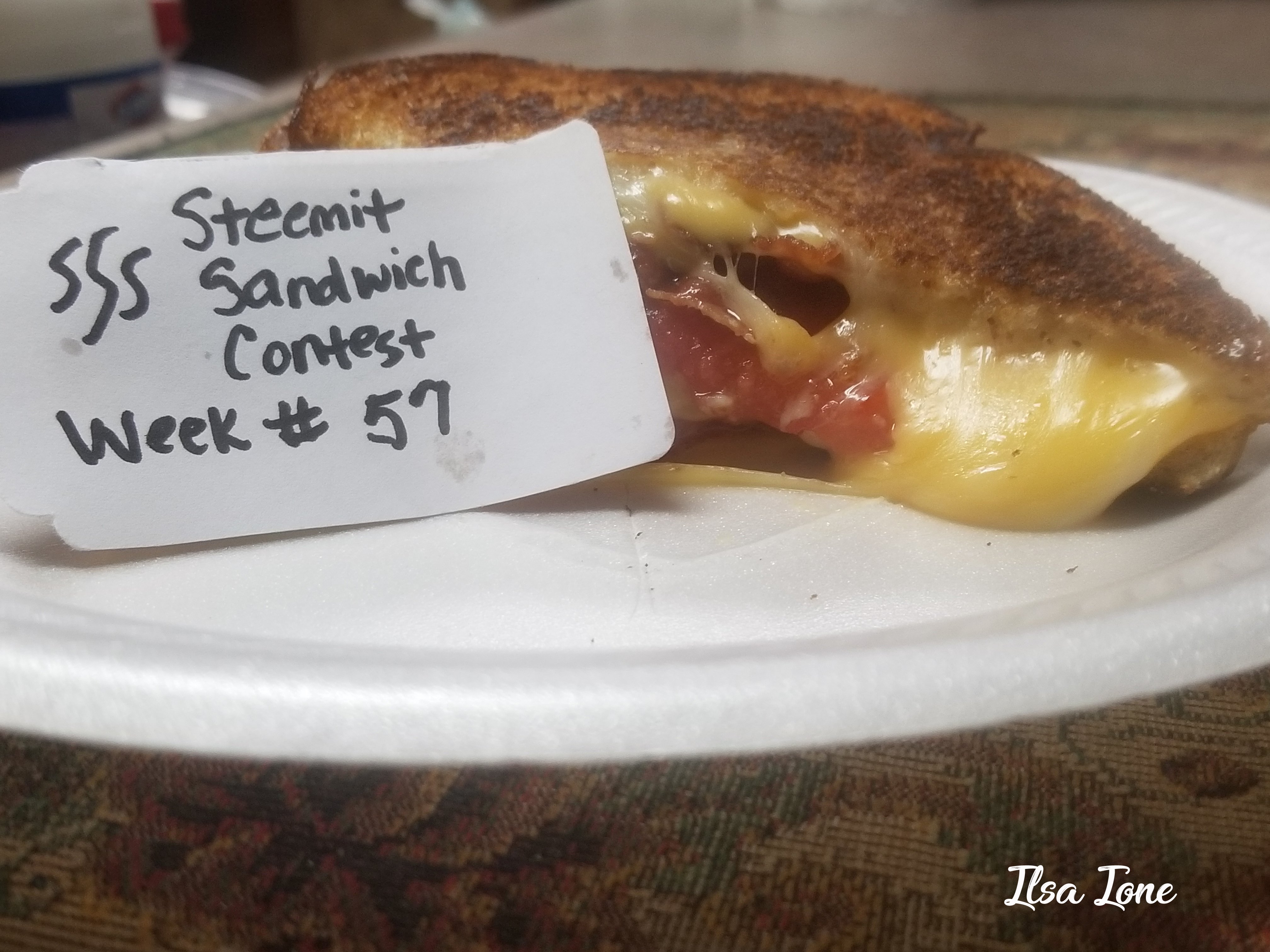 Sincerely,
Ilsa Ione