Looks like it's becoming a norm, when I don't know what to write, I make a sandwich. Tak to już chyba się zrobiło, gdy nie mam pomysłu na wpis, robię kanapkę.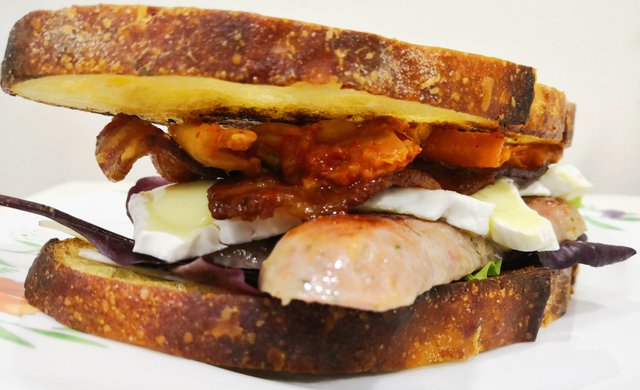 English
As I've mentioned recently, I'm thinking more and more intensely about creating a line of local sandwiches. This week I went and got some kimchi produced 10 minutes from my house, then picked up some chillis from a local Cypriot store, next I visited the butcher and got their Lincolnshire sausages and some bacon. Add flour from a mill in Enfield, some veggies and cheese and here it is: Chilli&Cheddar yeast water bread sandwich with salad leaves, Lincolnshire sausage, Camembert, bacon strips and kimchi.
The bread
Last week I had an idea: I've just fed the yeast water to make sure it doesn't die in my fridge, maybe I could use it to make some relatively quick bread, without a levain? I went for 70% hydration and started working with 800 g strong flour, 560 g yeast water and 16 g salt. Then I sliced some remains of a chilli, grated 50 g of mild cheddar and folded that into a half of the dough.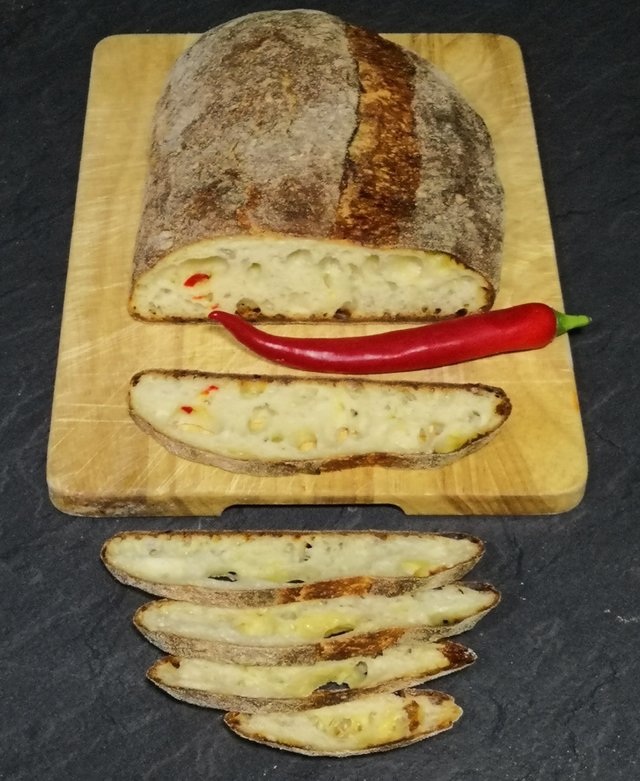 First bread
The result was OK-ish - a mild kick, very very weak cheesy aroma, overproved with huge holes in the top section. Decided to improve it this week: I was more disciplined on timing, I got a mature cheddar and got some green chillis to join the red ones. It went much better this time.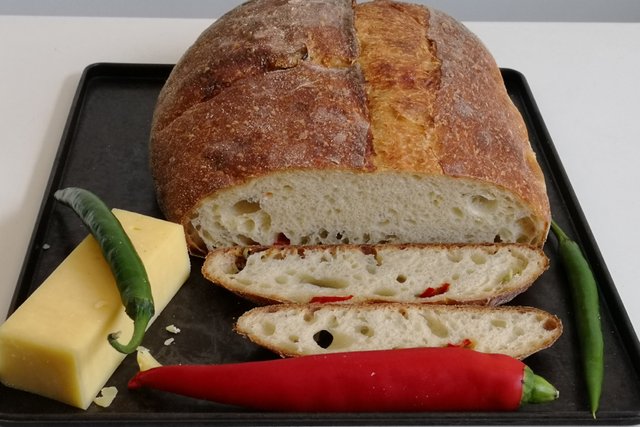 Second bread
Next time I will try this recipe when I finally get a hold of Wildes Cheese, the cheese makers of Tottenham. I also need to think of some local veggies which would most likely mean home-grown.
The sandwich
I fried the sausages and bacon, then I used the pan to toast/fry the bread. The cheese in it burns rather quickly. Then I stacked everything up nicely and finished of with another slice of bread.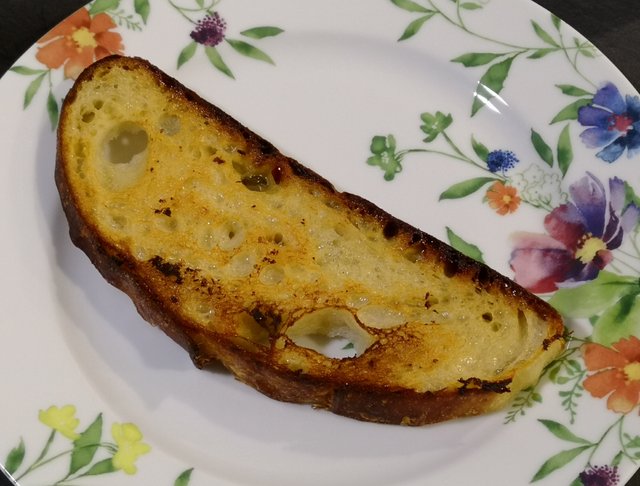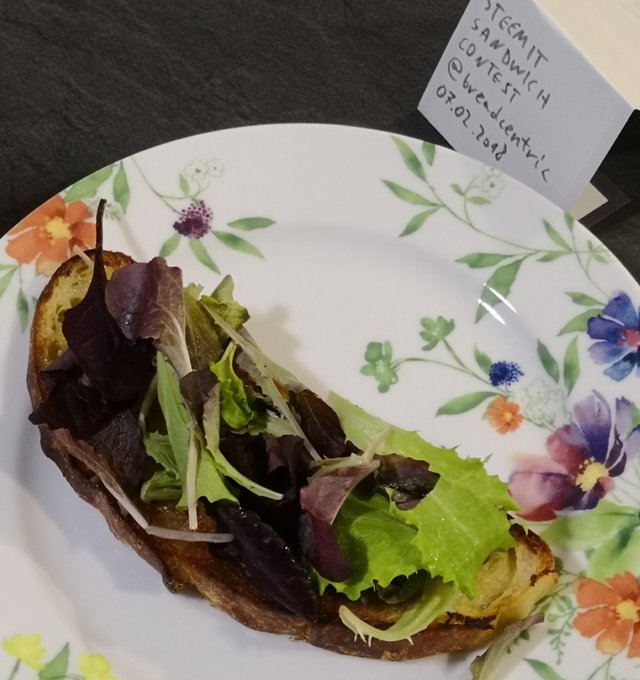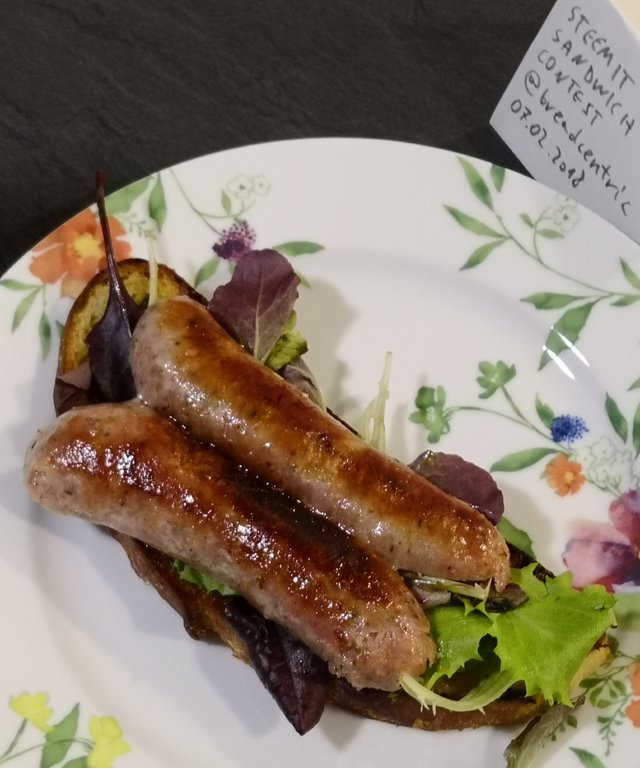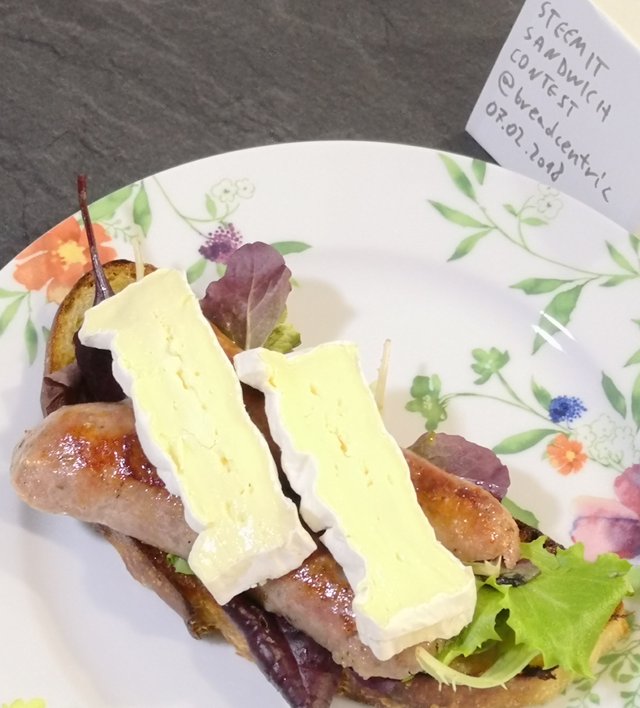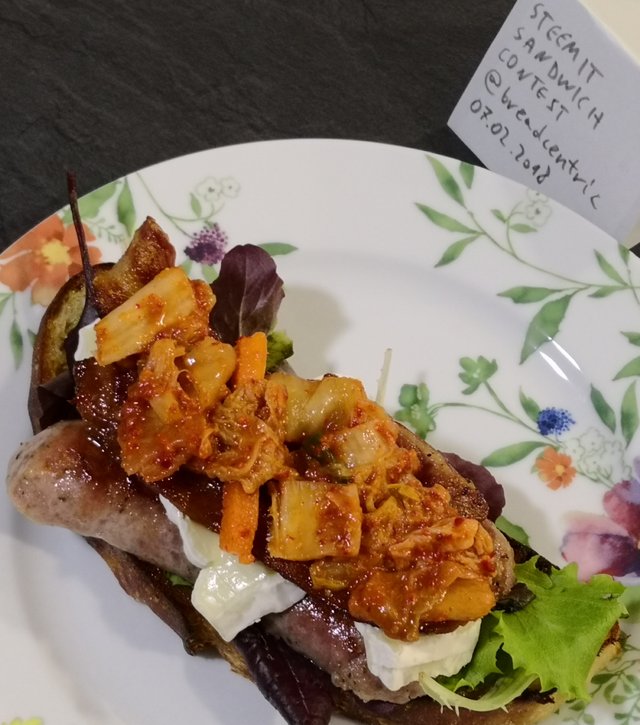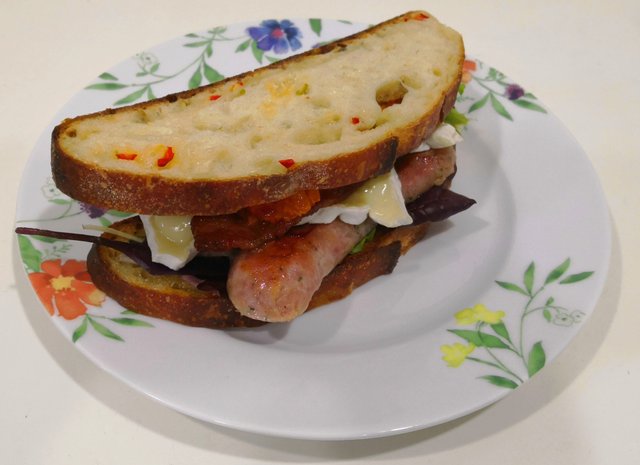 The Camembert melted slightly on a hot sausage. I liked the overall effect although it could use some sauce. Also I would perhaps use some cheese with a stronger aroma since I got sausages with a non-dominating flavour.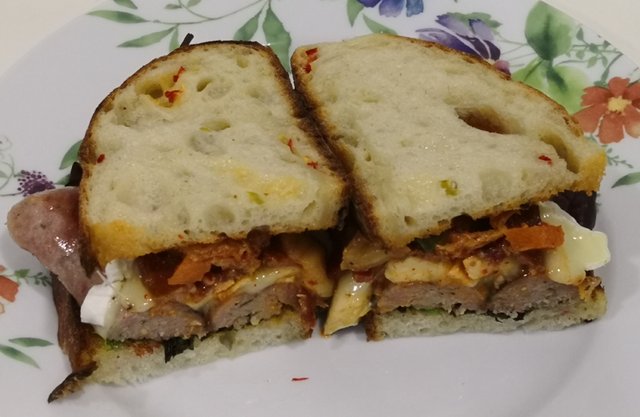 Thank you @jaybird for organizing the contest, without your motivation I would simply keep eating bread and butter and yeah, it's still very tasty, but you're helping me up the game a bit.
Visit Steemit Sandwich Contest Week #79 and make your sandwich entry!
Be sure to follow the #breadbakers for some bread goodies and a helpful community!
Polish
Tak jak ostatnio wspomniałem, coraz intensywniej myślę o stworzeniu serii lokalnych kanapek. W tym tygodniu kupiłem trochę kimchi produkowanego 10 minut od domu, następnie chilli w cypryjskim sklepie i odwiedziłem rzeźnika, aby nabyć kiełbaski z Lincolnshire i bekon. Dodajmy do tego mąkę z młyna w Enfield, trochę warzyw i prezentuję moją kanapkę: Kanapka z chleba na wodzie drożdżowej z chilli i cheddarem, sałata, kiełbaska z Lincolnshire, Camembert, boczek i kimchi.
Chleb
W zeszłym tygodniu wpadłem na pomysł: dopiero co odświeżyłem wodę drożdżową, aby mi nie padła w lodówce, może mógłbym jej użyć, aby zrobić jakiś względnie szybki chleb bez zaczynu? Zdecydowałem się na nawodnienie 70% i zacząłem wyrabiać 800 g mąki chlebowej, 560 g wody drożdżowej oraz 16 gramów soli. Następnie pokroiłem trochę resztek chilli, utarłem 50 g łagodnego cheddara i połączyłem je z połową ciasta. Drugi bochenek upiekłem czysty.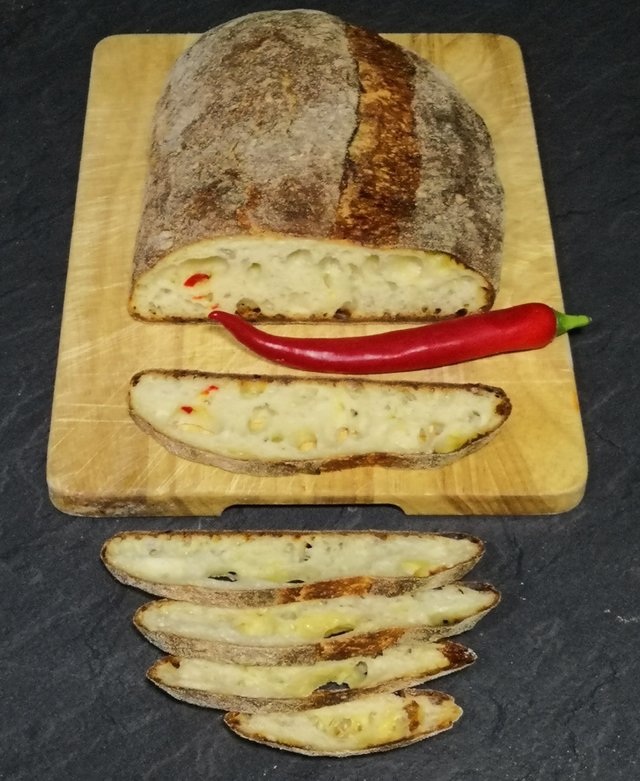 Pierwszy chleb
Wynik był niczego sobie - łagodna ostrość, bardzo bardzo słaby aromat serowy, chleb przerośnięty i z dużymi dziurami w górnej części. Postanowiłem się poprawić: przypilnowałem czasu, kupiłem dojrzały cheddar i trochę zielonych papryczek chilli do uzupełnienia tych czerwonych. Wyszło dużo lepiej.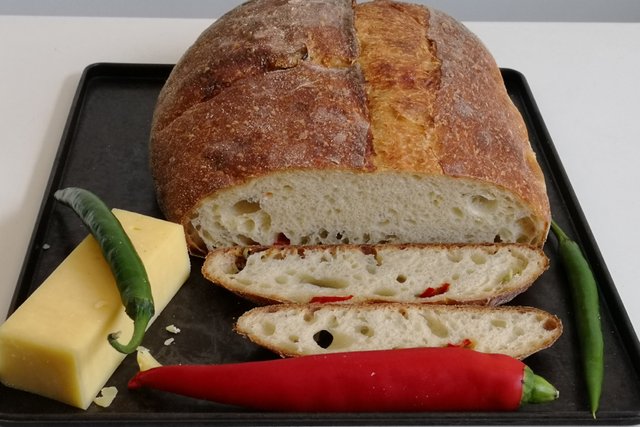 Drugi chleb
Następnym razem spróbuję tego przepisu jak uda mi się kupić ser od Wildes Cheese, tottenhamskich serowarów. Muszę też pomyśleć o lokalnych warzywach, co pewnie będzie oznaczać domowe.
Kanapka
Usmażyłem kiełbaski i bekon, następnie użyłem patelni żeby podsmażyć chleb. Z serem dość szybko zaczął się przypalać. Następnie wszystko ładnie ułożyłem na sobie i zakończyłem kolejną kromką chleba.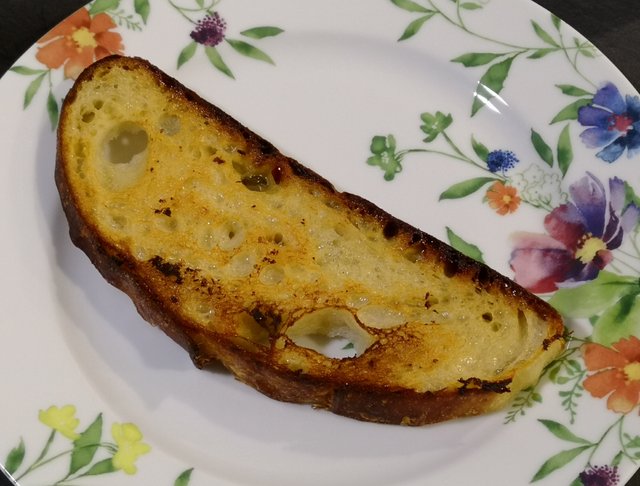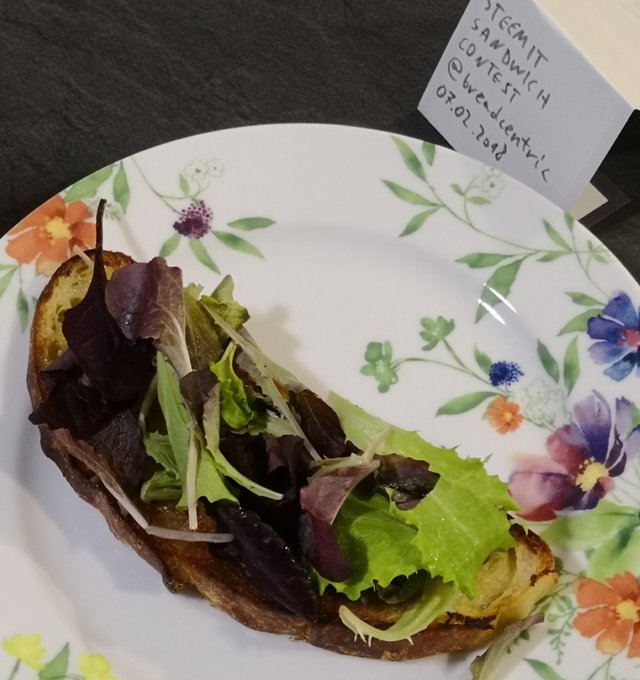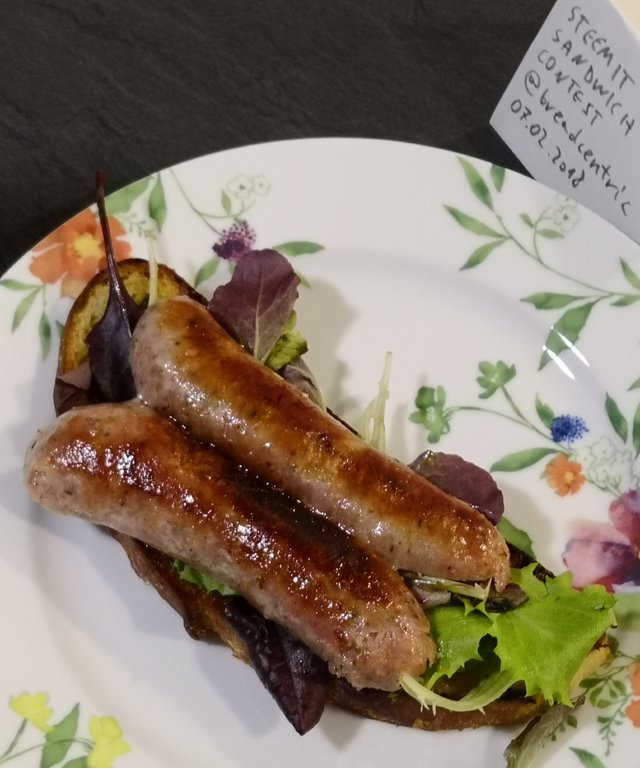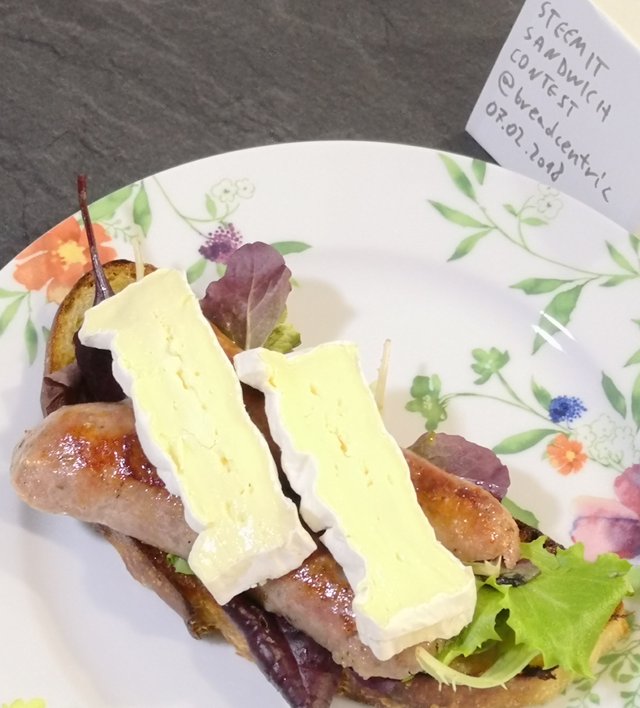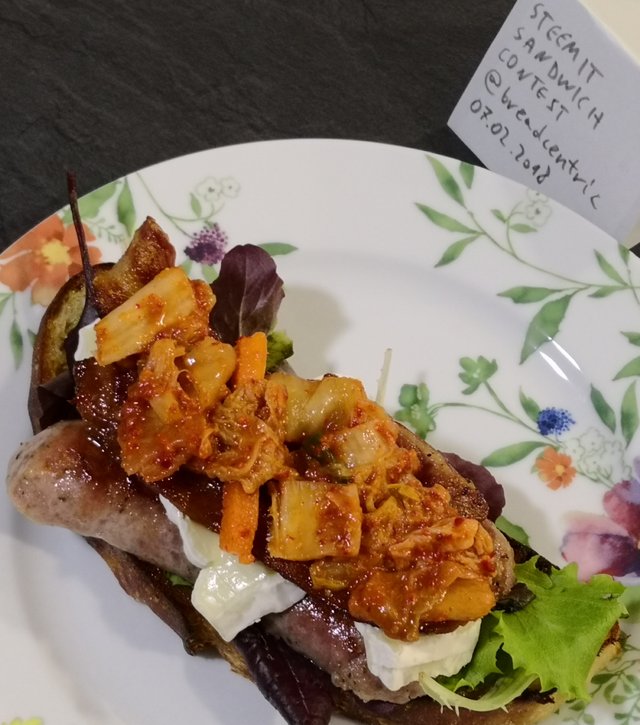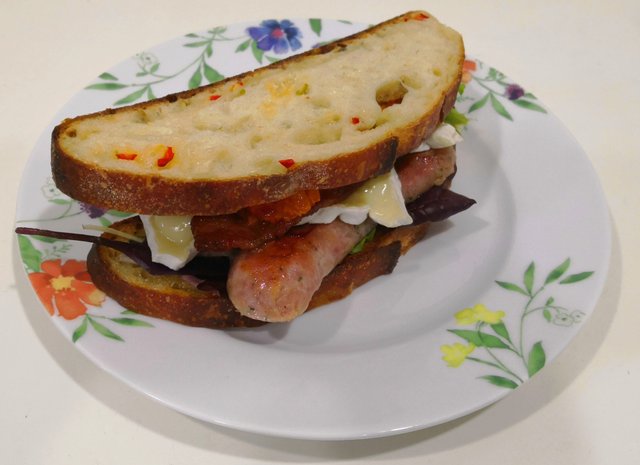 Camembert lekko się roztopił na gorącej kiełbasce. Ostateczny efekt podoba mi się, choć przydałby się jakiś sos. Użyłbym też bardziej aromatycznego sera ponieważ kupiłem kiełbaski o łagodnym, niedominującym smaku.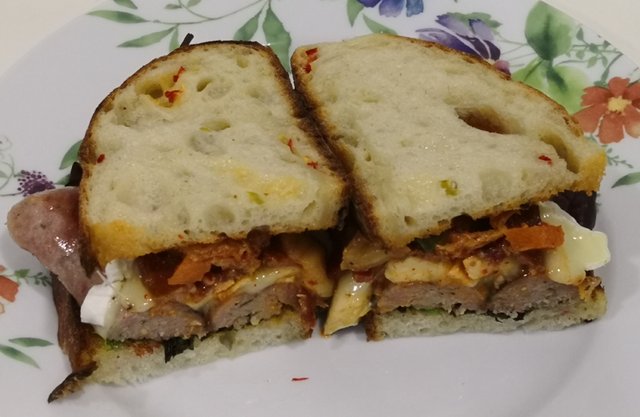 Dziękuję bardzo @jaybird za organizowanie konkursu. Bez motywacji z jego strony nadal bym siedział i jadł chleb z masłem. Może to wciąż smaczne, ale warto czasem podnosić sobie poprzeczkę.
Odwiedź Steemit Sandwich Contest Week #79 i wystartuj ze swoją kanapką!
Obserwuj #breadbakers aby zapoznać się z chlebowymi cudami i pomocną społecznością!