QWOP-NOE: SteemitJam #2 "Into The Unknown" - My first GameJam experience! All feedback welcome!
My Experience
Overall, I'm very satisfied with the outcome and had a lot of fun participating! I was able to finish my game in time and even had some time for polishing. I stuck to simple but expandable mechanics. I used Unity because I'm already pretty familiar with the engine and C#, which I used as scripting language. Participating in the gamejam also gave me the chance to visit parts of game-development I usually tend to neglect, like sound-design.
Of course there are things I could have done better and will improve in the future. One thing would be that quite a bit of worktime has gone to waste due to having to redo art, as I wanted the whole game to have a similar art-style (extremely low-resolution pixel-art). I also think that a slightly more ambitous idea could make for greater outcomes in the future.
Obviously there is going to be a lot of issues I don't see on first sight - but thats why I'm hoping for constructive feedback!
The Game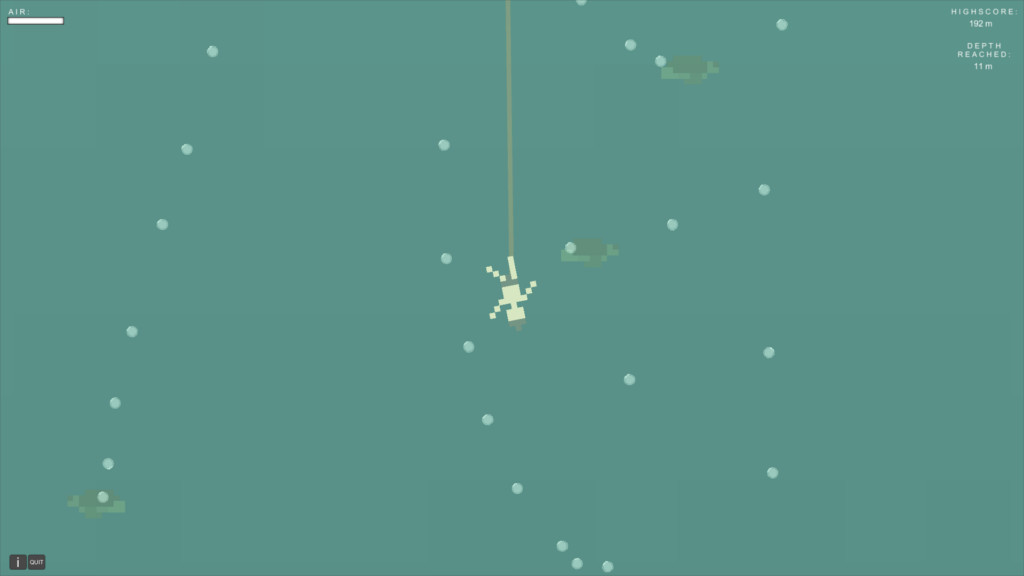 Feel free to download the game and try it out for yourself!
Download Links (Google Drive):
Windows
Linux
Source
In the following I will list the features of the game and will try to explain my thoughts behind them:
Mechanics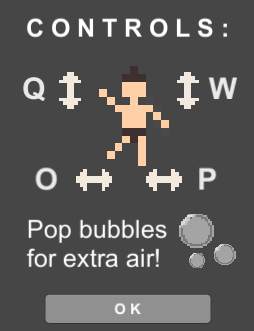 Agility based movement, similar to QWOP:
The movement is supposed to give the player full control over the character and is easy to learn - hard to master.
Risk vs. Reward:
Every movement costs air, which forces the player to make small but meaningful decisions at all times.
Highscore:
The highscore serves as basic player-movitation.
Sound-design
Whale sounds:
The whales become very important once reaching lower depths and should be able to be located by the player. Thats why I implemented whale noises that become louder when nearer to the player.
Wave sounds:
The wave sounds should immerse the player in the feeling of diving an ocean. The deeper you go the duller they get.
Art-Style
For me, the most important thing about art-style has always been consistancy - so I tried to at least make everything look equally bad. :P
Pixelart:
I decided on very oversimplified pixelart because time in a gamejam is scarce...
Lowframe animations:
I did not want to renounce animations, but did not have the time for animations with more than about 3 frames as there was just too much I wanted to animate.