Daily Contest: Riddle Game #1 (1SBD/1Steem for grab)
Hello Steemit Community!
@sfp-ilocosnorte is hosting a contest of our own, entitled:
Daily Contest: Riddle Game.
Through this contest, all earnings will go to our future community works.
It is as easy as commenting your answer! But I recommend to READ THE RULES FIRST
Daily Contest: Riddle Game #1.
Since we are just starting this, the prize pool will be 1 SBD/STEEM. We'll add more when it gains popularity.
This contest is very simple and easy. You will just answer the riddle by commenting. This contest will run every day so be sure to follow us.
Read the rules on how to be qualified.
---
Prize:
1SBD/1STEEM for the winner.
There will be no 2nd or 3rd winners, (sorry).
---
Rules:
Upvote and Resteem this post so more people can join this contest.
Answers: Strictly English only.
One (1) comment per contestant only.
We will choose the Best Joke Answer.
---
Announcement of The Winner
The right answer and winner of the said contest today will be revealed the following day together with the new riddle.
---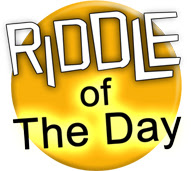 SOURCE
Upon arriving on the coffee shop, two fathers and two sons asked the waiter a table for three. Why did they ask for three?
---
Goodluck to all of the participants!
We are now accepting donations! The donations will be added to the prize pool. You will get special mention on the contest. Just send SBD/Steem to @sfp-ilocosnorte with "Donation to Daily Contest: Riddle Game" on the memo.
TODAY'S SPONSORS:
@gheghenrv
@xbudeh
@itsjessamae
@charmsantos
Please follow them and Comment/Resteem/Upvote their posts to show gratitude.
Please also support @steemitfamilyph and @sfp-laguna.

GOODLUCK AND HAVE FUN!!!