hello steemit hello everyone today i want to shear with you the best strategy for plankton and minnow for earning.when we all start we find one thing that is no body can noted our post. however post are good are not.on the other hand some other accounts that can post only one photograph and they found hundrad of upvotes and comments this is because his account is developed on steemit or his power is more then a average account.if you all want to start earning a part of his money from steemit.then you have to start comment on big blogger posts.as a response of that you got upvotes and followers from there.and this will also cause to earn more on your post.
but some people are not aware how to comment and which one to comment.thats is the reason i write this short article,some people on steemit can just write "good post" or "nice" or "amazing" on other people comment section.like this.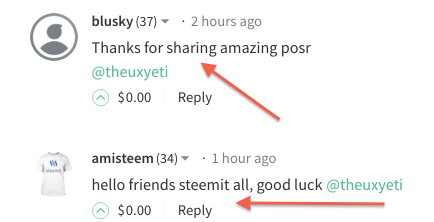 this will give you nothing instead of some flags or down votes or some insulting response from others.
one more thing that can seen that is dont bag for upvotes or " i just follow you please follow me back" or some other things like this.

this thing is considered as a spam dont do this.
while on the other hand some people earn great reward by commenting short but effective and related to the posts things.
 like this.

see this this is only seven to eight words but all this word is related to the post thats why he earn some cents from this.

see this one they got eight upvotes on this comment beacuse he just read the article before  commenting on the post.
so if you want to earn great rewards on steemit by commenting you have just to read the article and then comment and dont do the silly things thats other plankton or minnow does.i hope you find my this small article helpful thanks.
                                                                ** Welcome **
                       I hear you. Please show your support by comments, upvotes,
                                            and resteem. Don't forget to follow me!
                                                https://steemit.com/@saqibmirza