What Are The Characteristics Should Teachers Have In Teaching?
The success of the students is the dream of all teachers, every teacher want their students to be success and could achieve their dreams in the future. But is the success of their students as easy as turning a palm? The majority of teachers have difficultiy experiences in teaching their students, because of their different background of their character to their students in teaching, because the characteristic of teachers influence students' success in learning.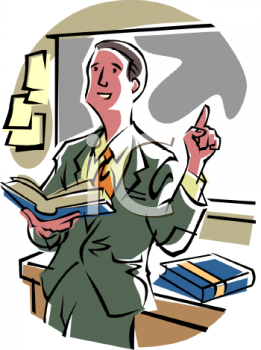 Source
Have we ever thought that we used to love a teacher and we also like the lesson that he taught, even the lesson is difficult, but it will be very easy for us to learn that lesson. In this case we have judged that the teacher who have a good characteristic towards his students whether it is in the study room or outside the room. So that not a few of his students are successful because they were motivated with the teacher.
Based on an increasingly improvement of education claim, teachers should improve their characteristic and attitudes in teaching their students. In this article, I will describe some of the characteristic should teachers have in teaching.
Be patient
The teacher's patience in the teaching is the key to student success in the learning. Teachers must be patient while explain the lesson repeatedly, the teacher must be patient when his students have not understood yet about a lesson, because the learning needs the process to be able. The teacher must be patient with the routine of his teaching schedule, the teacher must be patient with the unique characteristics of his students. Patience is the key to a teacher's success in educating and it will influence his students immensely.
Having the affectionate to the students
When a teacher have the affectionate to his students, he will always pay attention to them whether his attention is in the development of his learning or of his personality. So that the student will feel be cared and cherished by his teacher. Which in the end the student will love to his teacher will be always obey him. This is the cause of the student success because of the gentle impulse from his teacher characteristic.
Speaking politely and gently while in teaching
Everyone wants the politness and gentleness in speaking, it will be an attraction for the students to listen the advice and guidance from their teacher and also as a spiritual lesson to the students to don't talk harshly and berate their friends.
In the end, if all three characteristic are had by every teacher, I am sure, the teachers will be very easy to make their students succeed and achieve their dreams in the future.
This is my post for today. Thank you all for visiting my blog. Please do not forget to share if the article is useful to you and others :D
Best regards, @fataelrumy