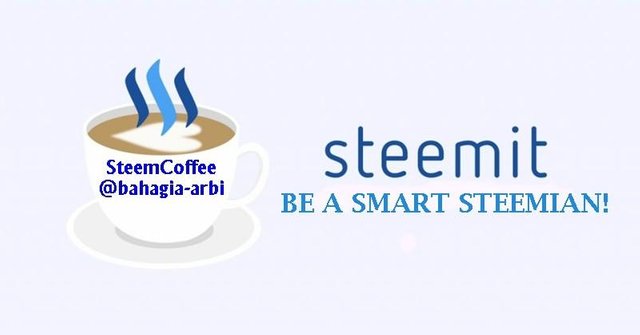 ---
_**ENGLISH**_
---
Hello my fellow Steemians. I am happy today. How about you? I always pray for all of you to be in a happy life and you are able to give a good and original post in Steemit.
Truely talking about the original post I'd like to inform you about @OriginalWorks . This account helps us in verify our post by protecting our post from @cheetah or @steemcleaner.
As a good Steemian we have to creat an original content in Steemit. You must try to mention @originalworks at the end of your comment at your follower's post. This is a very awesome way to help our friend as well. Is it a useful information for you?
I would like to help all of new steemian of The Indonesian Steemit Community (KSI) to be a proper and smart Steemian. We must be smart in Steemit! You can look for many Steemit Tools in Steemit App Center. We have to work hard as a newbie in Steemit. Some effort we must do while our best followers trying to help us to get more progress in Steemit.
A new Steemian must be a good reader. You must read some of awesome posts those are able to help you to get more informations to be a new knowledge for yourself. For example, you can visit a welcome page of Steemit. There ha ve been many posts written by some proffesional Steemians to help you to make progress in Steemit. You can find some useful explanations that could be a Steemit hand book for yourself.
Indeed, I realize the words I write you down in this post are not difficult to practice. You can do it at once. This is not difficult at all!
Be a good steemian then you will the best Steemian. Have a nice day. Warmest Regard from Aceh, Indonesia.[e20]
---
_**BAHASA INDONESIA**_
---
Halo Sahabat Steemian. Saya bahagia hari ini. Bagai mana dengan rekan-rekan semua? Saya senantiasa berdoa agar semua Steemian ada dalam keadaan bahagia dan mampu hadirkan postingan yang bagus dan orisnil di Steemit.
Berbicara serius tentang postingan yang orisinil tersebut saya ingin memberitahukan kepada rekan-rekan semua tentang satu akun @OriginalWorks . Akun steemit ini akan membantu kita dalam memverifikasi postingan kita dengan cara melindunginya dari kedatangan @cheetah maupun @steemcleaner.
Sebagai seorang Steemian yang baik, kita harus membuat konten orisinil di Steemit. Rekan-rekan harus mencoba gunakan layanan dari @originalworks dengan menyebutnya pada akhir setiap komentar pada postingan follower lain. Ini adalah salah satu cara luar biasa yang dapat membantu rekan-rekan kita yang lain. Apakah informasi ini berguna untuk semua Steemian?
Saya ingin membantu semua Steemian baru dari Komunitas Steemit Indonesia (KSI) menjadi Steemian yang cerdar. Kita harus menjadi seorang Steemian cerdas di Steemit! Banyak hal yang bisa ditemukan pada halaman Steemit Tools di alamat Steemit App Center. Kita harus bekerja keras sebagai seorang pendatang baru di Steemit. Beberapa upaya harus kita lakukan sambil rekan-rekan terbaik kita selalu mencoba membantu kita berkembang di Steemit.
Seorang Steemian baru haruslah menjadi pembaca yang baik. Semua rekan Steemian dapat membaca beberapa postingan hebat yang dapat membantu rekan-rekan dapatkan banyak informasi yang menjadi pengetahuan baru bagi rekan-rekan semua.
Misalnya, kunjungilah halaman welcome to Steemit. Ada banyak postingan yang ditulis oleh beberapa Steemian Profesional yang membantu rekan-rekan berkembang lebih baik di Steemit. Pada halaman tersebut dapat ditemukan beberapa penjelasan penting yang dapat menjadi Buku Panduan bagi rekan-rekan semua.
Memang, saya tahu bahwa kata-kata yang saya tuliskan dalam postingan ini tidak sulit dipraktekkan. Rekan-rekan Steemian bisa langsung mengikutinya segera. Ini tidak sulit sama sekali!
Jadilah Steemian cerdas untuk kemudian Anda akan menjadi seorang Steemian terbaik. Semoga hari Anda menyenangkan. Salam terhangat dari Aceh, Indonesia.[e20]
Salam KSI

Salam ASW

Salam PASUKAN ELIT 20

Salam BSM

Salam Damai Penuh Cinta

Don't forget to send your Gifts / Donation / Contribution funds to @bullionstackers to help whalepower Community Project.