How cool is skateboarding?  The freedom, the tricks, the hanging out with your friends.  It can be a lot of fun to learn new trick, but it can also be dangerous, so you need to follow a few rules to stay safe.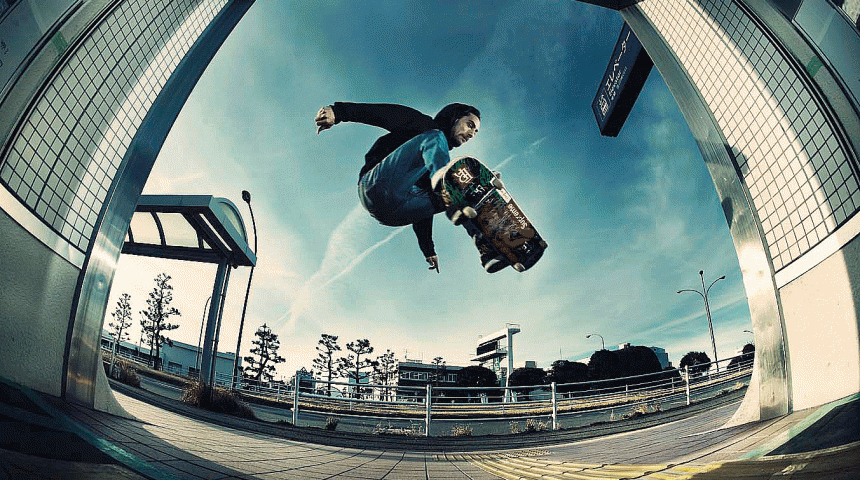 Getting scrapes and bruises comes with the whole skateboarding experience.  While trying new moves, there will be bruises, and sometimes even broken bones or sprains, but that does not mean you cannot try and prevent it.
If you are an experienced skater, your chances are less, even though it is still there, to get hurt, but most accidents happen to beginners.  They still have to sort out their balance, cannot always stop themselves quickly enough or can even go in front of a car.  But not matter how long you have been skating, take care and never think that it will never happen to you and you are above getting hurt.
If you can afford the correct gear, it is a good idea to wear it.  You may look at older boys or girls that have been skating for a while and think you only need the right attitude, but the truth is, after the first time you fall in the road or on the cement, you will understand why having some gear can help you.
In order for you to get started with your adventure skateboarding you must look at the following.
A skateboard... duh... but remember there are a wide range of skateboards and you would want to talk to a pro who can give you advice on which one will be best for you.  You will start with a standard skateboard and then as you get better or want to do more tricks, you can upgrade.  Before you use your skateboard make sure that the wheels are fastened tight and there are no cracks or sharp edges that can hurt you.
A helmet is very important, because many injuries occur because of falling and hitting your head.  Buy a helmet that fits properly and has a fastening strap.
You would want shoes that can grip onto the skateboard, so shoes with rubber soles are a good option and do not skate with open shoes.  Wear shoes that protects your feet and fits tight enough so that it also give some support to your ankles.
No matter on what level your skills are, it is a good idea to wear protection on your knees and elbows, especially if you are trying out new tricks, you will fall a few times before you get it right.
Make sure that if you are skating at a skate park, that you obey the rules and be mindful of the other people also using the park.  If you are a beginner, make sure you know how to behave and also stay on the side that is there for beginners.  Take it slow and do not try and compete with skaters that have been around longer.
You can also talk to a few skateboarders who have done it a while and ask for tips on how you can 'fall correctly' to hurt yourself less.
If you are trying new trick, practice it a few times.  Do not just give up if you do not get it right the first time, but also do not move on to more difficult trick if you have not mastered the basics.
Be honest about what you can and cannot do and do not let the pressure from others let you become reckless and try things that will endanger you.
Never hitch a ride by holding on to a car or truck.  This is extremely dangerous and you can easily land in front of oncoming traffic.
Be safe and have fun and the more you practice the better you will get and before long you will be part of the 'cool gang' at the skateboard park.