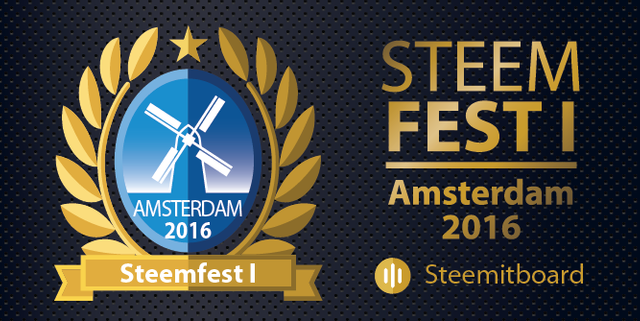 Do you remember Steemfest 2016 ... Amsterdam … the first meeting of Steemians around the world?
Memories … Memories
It all started September 12th at 22h15 when @roelandp posted his genius idea:
"Steemit is great, how cool would it be if many Steemians from all over the world would meet in real life"
Two months later, on November 11th, his idea has turned into reality
Could anyone have suspected that this would lead to such an extraordinary event for the entire Steemit community?
About 200 users from 31 different countries made the trip to Amsterdam to attend Steemfest!
Steemfest generated more than 500 related posts and an incredible enthusiasm among users.
Better late than never!
To commemorate this event, SteemitBoard has prepared a nice award that each user who attended Steemfest in Amsterdam will receive.

This award will be displayed in your personal tab on your board.
Of course, you can reuse it in your post to show it to your fellow steemians
You didn't attended Steemfest in Amsterdam? Did you registered for Steemfest 2 in Lisboa? Then stay tuned … you might get some nice gift too ...
You have not been able to attend any of the Steemfest events, do not worry, you will soon have the opportunity to win lots of other new dedicated badges.
Enjoy and Steem on!
PS: You will receive a notification with your new award. Since SteemitBoard has a lot of notifications to send, it can take a while. @steemitboard is sometimes limited by its available bandwidth to the number of notifications it can send. By upvoting this post or the notifications you receive, you give @steemitboard more power to communicate with Steemit's users.
Thank you for your support!
---
Support the SteemitBoard Project and all Steemit users by voting for its witness!


Learn more how and why here
Read SteemitBoard's latest witness report here
Steemitboard is a project created by @arcange - Follow him and support his witness too!