STEEMIT ANTIPOLO: the birth, and The beginning of a simple legacy.
STEEMIT ANTIPOLO: the birth, and The beginning of a simple legacy.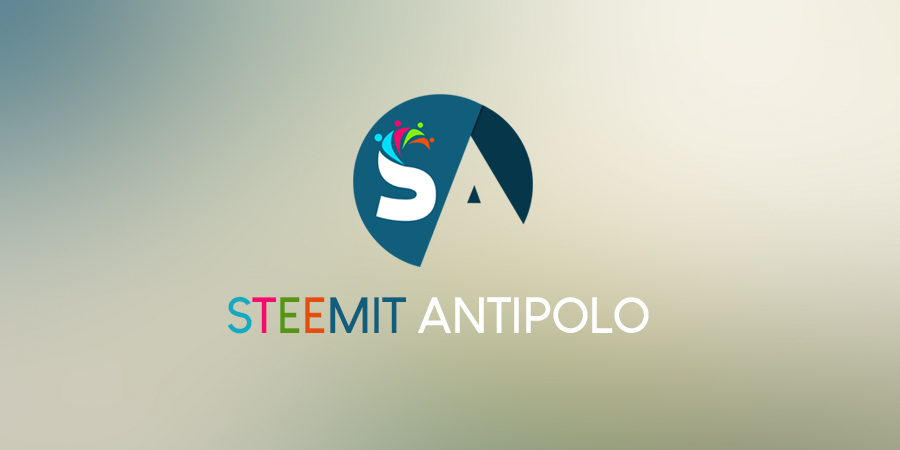 Steemit is life changing. Would you believe that upon doing things that you love, such things are what you usually do on facebook and youtube, you can actually earn. By doing so, a group of people from Antipolo City, Philippines gathered together to serve the community. It's a pay it forward thing. From the portion of their collective earnings they receive upon using Steemit, they reach out to Grade 1 pupils of De La Paz Elementary School, Antipolo City, Philippines.They gave away school supplies which can be used for the daily school needs of the students.
Coming from their personal experience of lack of school supplies when they were still studying, brings forth the idea of the first ever STEEM SHARE OF STEEMIT ANTIPOLO.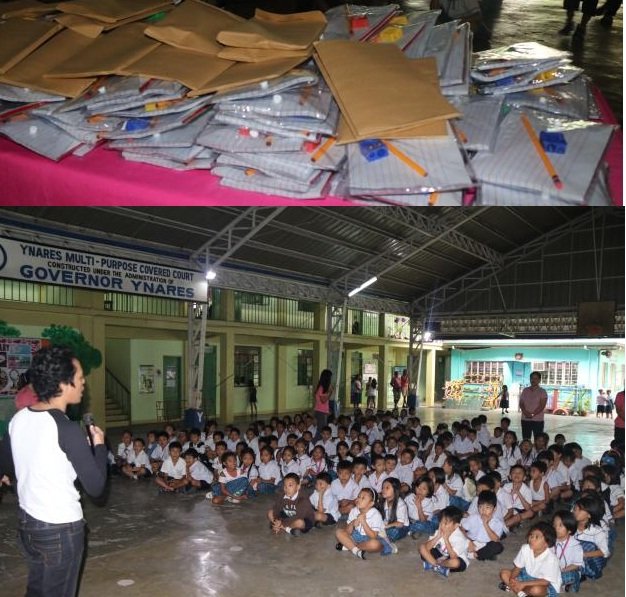 FROM A SIMPLE CONVERSATION
The Philippines is a third world country. Not all children were able to go to school. To the majority that is going to school every day, having enough school supplies on a daily basis is not perfectly addressed. Imagine a student who has a sheet of paper and most of his classmate will ask a piece from him in every situation they need it. Yes. truly it happens. And, it is a normal thing on public schools. So dare not put out your entire sheet of paper out on your table or else it will not last a week. This is also true for public high school students. Yours truly experienced it as well as the other members of Steemit Antipolo. From this personal experiences uproots an outreach program which started just from mere chattings of a group of friends.
[a cathcing up turned into a meeting]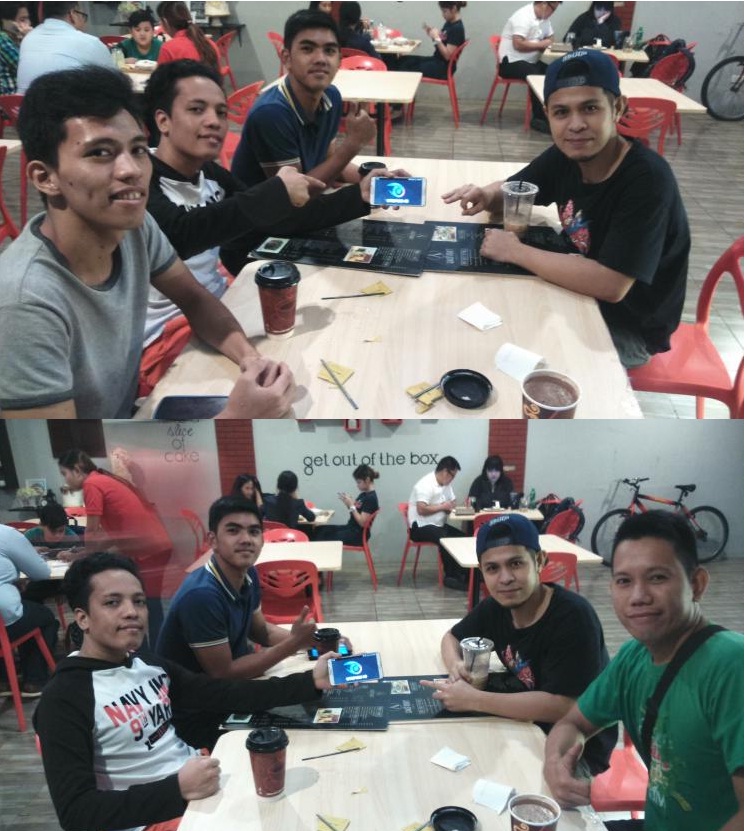 While laughing at those kinds of experiences, some said that hopefully children of today may not be in that same situation. Then another said why not let's give those children what they need. Then the others agreed and so on until they come to an accord of making it a reality.
[2nd meeting]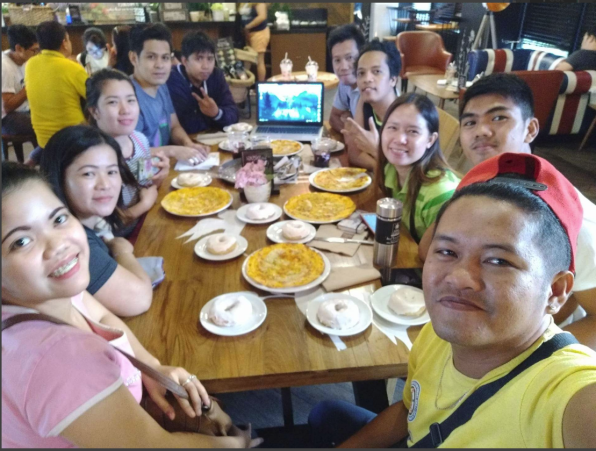 A good deed will surely grow. Upon knowing what is the purpose of gathering together of these group of friends which is lately kind of unusual, more and more friends came up and commit to joining to the said purpose. Millennials are known for always in the action. Creativity is supplied by good works. By the word of mouth, members grew rapidly. As they always say," the more the merrier". Such good spirited activity became a tool for this group of people to unite once again after being separated from personal life activities. Bonding with a purpose indeed.
[3rd unplanned meeting]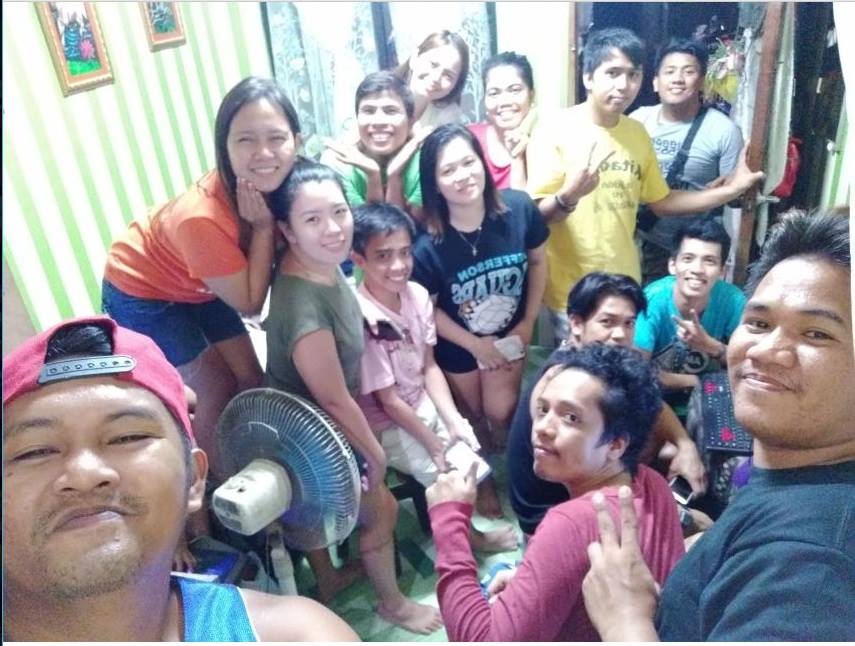 Meeting after meeting even unofficial once, that is an unexpected conversation, people keep on coming for a common goal...to reach out. These people are just ordinary ones... of no professional background, of no masteral degrees, of no government position, not an NGO either. They are just plain citizens with a heart of sympathizing those at the bottom like them. A portion of their earnings would not be of hurt for someone being more hurt. It was unexpected that this group will grow rapidly. Bonded by a common good, there they go and planned everything.
[4th meeting]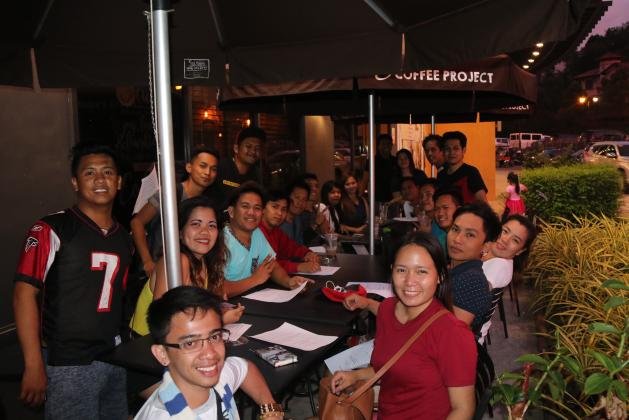 CHOOSING AN IDENTITY
"Okay, an official project is upcoming. So how should we call ourselves?", someone out of nowhere asked. A good point it is. There where suggested names of the group. Some uprooted from the activities they were up to. Hurricanewolves, which was a combination of the two organization which comprises the group. Antipolo Steemians, which is a good one ...describing what is common in the group. Steemers, which is another nice one. Until Steemit Antipolo was suggested, voted and finalize. Thus, Steemit Antipolo was born. Steemit Antipolo, a name that will propagate in its own hometown Antipolo. We may be limited as of now but for sure we will grow as enormous as our dreams.
Mission
This is the first ever steemit based group in Antipolo City, Philippines. It will not just be an organization for money making nor a group aiming towards success in various fields especially Steemit but it is a group that will be known for reaching out even in a small way. As a saying goes, "only empty hearts would not know how to reach out not empty pockets". And this is the mission of Steemit Antipolo. No single man has the capacity of not giving. Aside from treasure, we can also give share our knowledge, effort and time. Our mission is to warm people's hearts with an act of kindness and to help other people with the little we are.
Vision
Steemit Antipolo envisions a society of giving, sharing and caring that no small act of random kindness is left in vain. Rather it will be remembered and will make a mark in the hearts of fellow dreamers. Yes, because all of us are dreamers. We envision a chain of kindness that will be pass on and on until time possible. This is our legacy.
THE BENEFICIARIES
Choosing among who will receive the gifts was a fast deliberation. To start from the most in need was a good point. So the group came up in choosing Grade 1 students of a public school. From where the group lives in, they are surrounded by public schools. But they chose of serving the one not often seen. That is the De la Paz Elementary School. In addition to that, one of the members of the group is a graduate of the said institution. Witnessing the sad situation first hand, made the deliberation a success.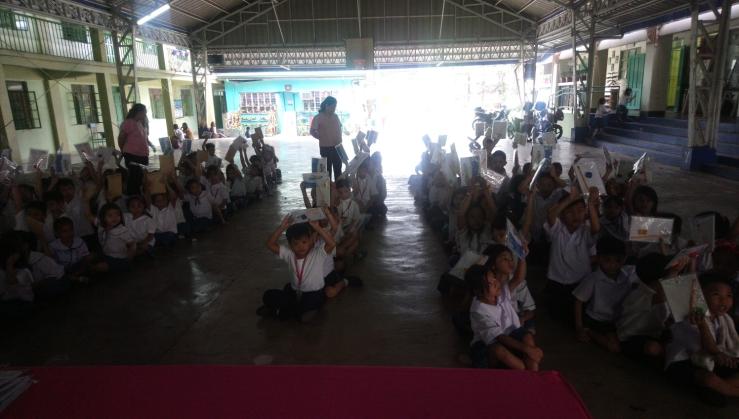 THE PREPARATION
Before anything else, of course, the first thing to do is to ask for permission from the school principal about the outreach project. Ms. Evangeline R. Quibuyen, the school principal, agreed to conduct the event on Feb 12, 2018 Monday at the school covered court.
After the granted permission came the purchasing of the school supplies at a local bookstore. Followed by repacking of it. The group of members worked full force for this despite their busy schedule, personal and family responsibilities and commitments.
Feb 12, 2018 was marked on the calendar. No matter what activity everyone was up to in their own lives, that day is Steemit Antipolo Day. That day is an outreach day. Of course, few sacrifices were made for the glory of humanity.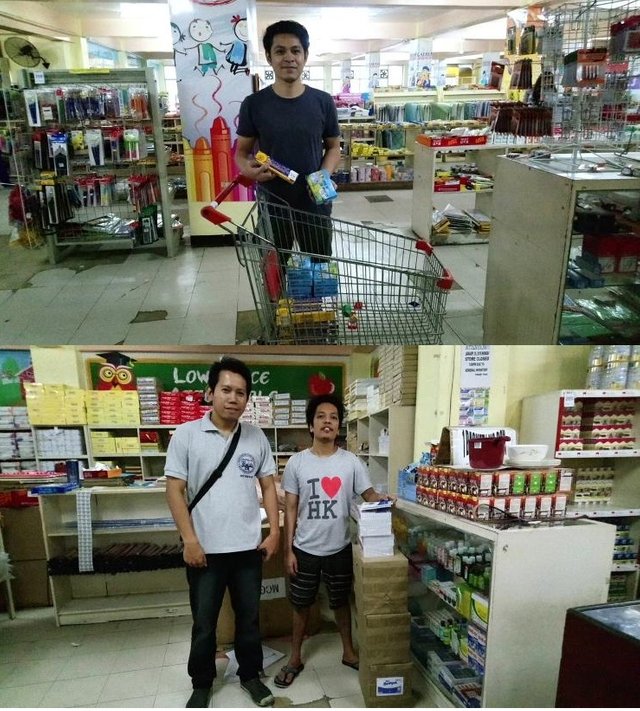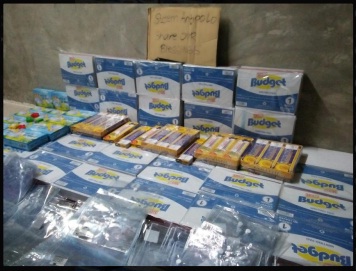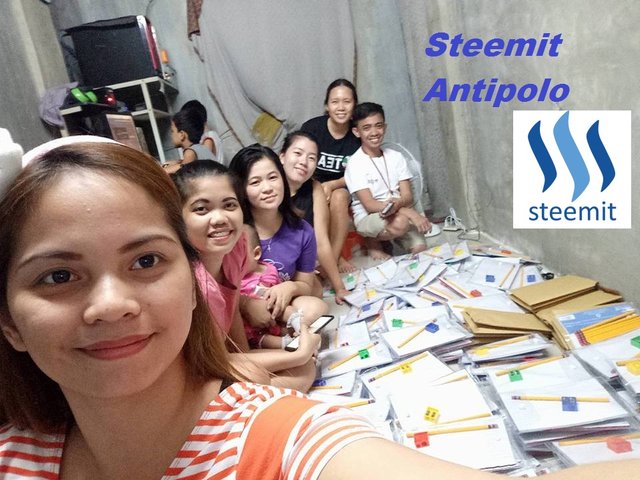 THE BIG DAY
The purpose was just a payback. Out of gratefulness, this activity was materialized. But the members of Steemit Antipolo experienced beyond that.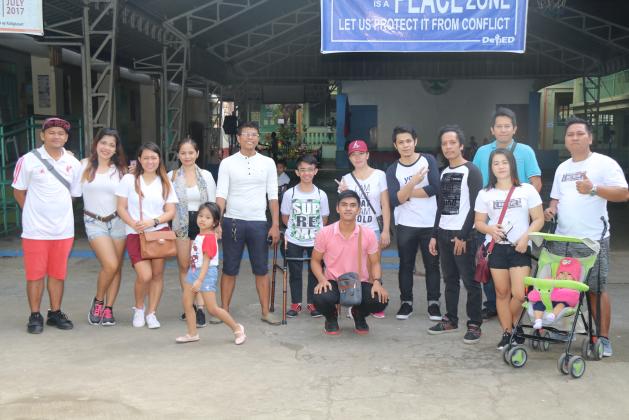 They gathered at 9 am at the said venue. As they place the supplies on the table, sparkling eyes can be seen from the little angels of the school. Happiness was filling the covered court. Never knew that so simple gift will bring that much joy to the kids. The excitement was blatant. Endless thank you's were pouring, coming out from the lips of honest young ones. What can be a greater joy than that?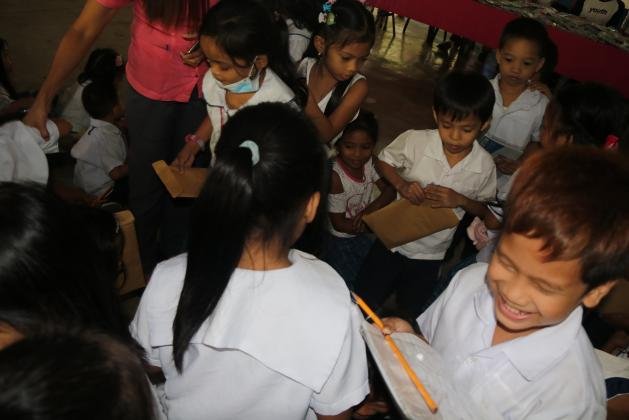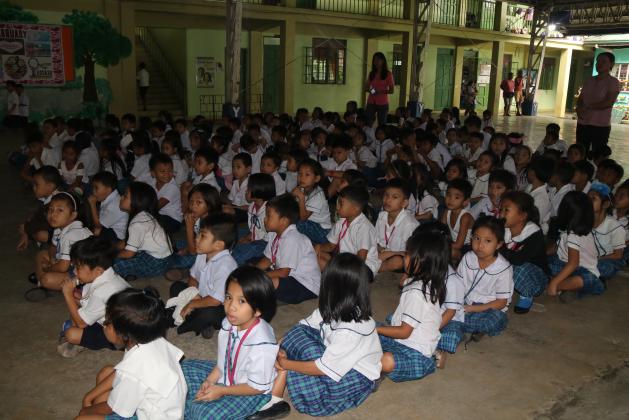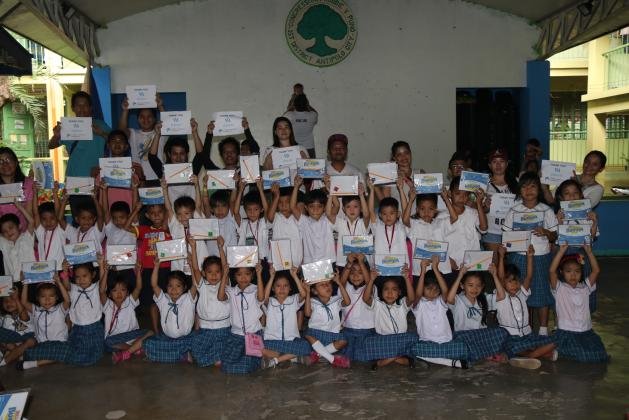 There were two sessions of gift giving, one in the morning and one in the afternoon. One at 9am and one at 11am. It was a very smooth flowing activity. It was very well organized. Despite the excitement, everyone is in harmony.Two sets of children exhibited same reactions. Outpouring love can be experienced. A feeling that cannot be explained. Never know that as simple as it is for each kid, upon receiving their supplies, they were jumping some wondering but of much more there was love. A celebration of humanity. School teachers were of great gratitude too. Warming words made us feel appreciated. Phrases of affirmation confirmed our vision. These strengthen us that we will be continuing our labour.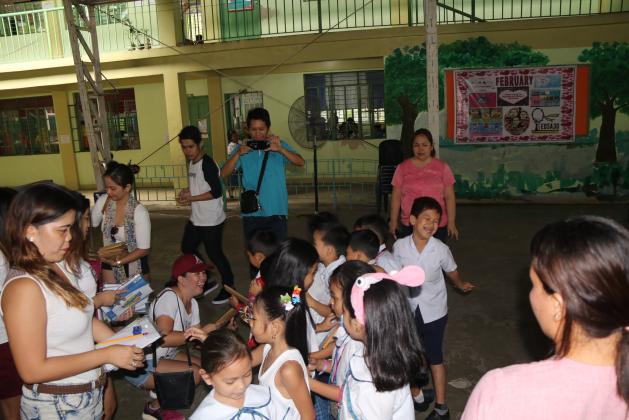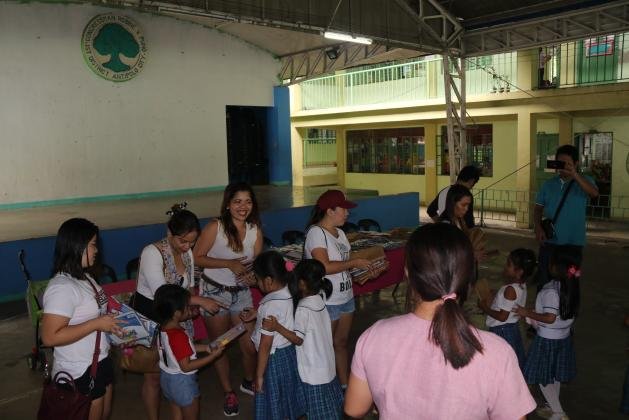 Making others happy is also a source of joy and satisfaction for the self. We went there and conducted the event to make others happy but the intention bounce back to us a thousandfold. We went there to make others feel appreciated but we were more appreciated. Smiles, thank you's, taps and pats were overwhelming. Memories that will forever be printed in our heart and tattooed in our minds.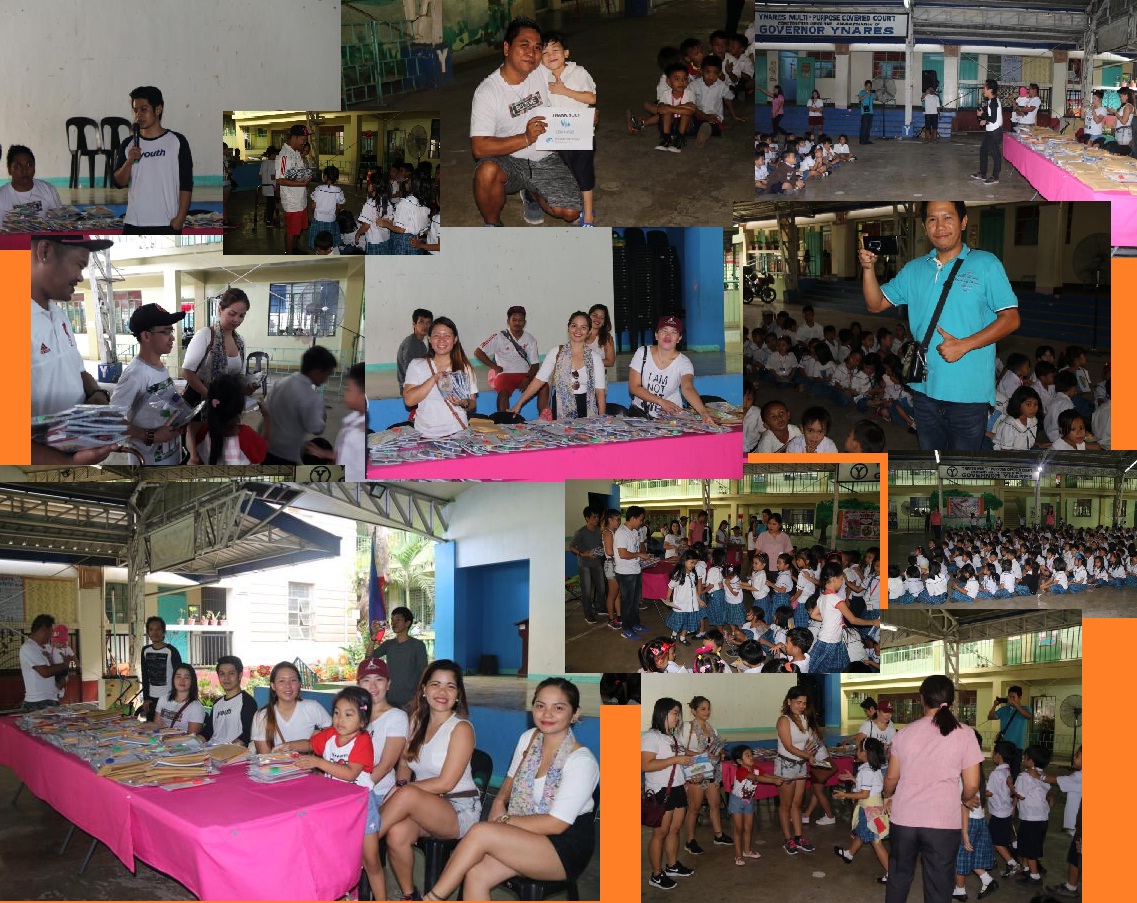 It was all so sudden that we didn't realize that the activity was already finished. The first Steemit Antipolo was a success!. The mission and vision was accomplished. And, this is just the beginning!