GLOBAL UNITY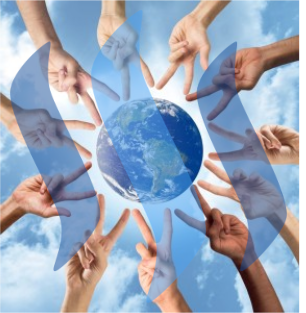 The song "MILE SUR MERA TUMHARA" was first aired in the year 1988 on Indian National Television. Since then Indian National Television started to broadcast it frequently for quite a long time as endorsed by the Indian Government.
The song says, "Mile sur mera tumhara, to sur bane HUMARA! Sur ki nadiyan har disha se behke sagar mein mile, badalon ka roop lekar barse halke halke." The raw translation of the lyrics could be read as, "Let my tune and your tune merge to become OUR tune! Let tunes from different streams (rivers) from every direction dive into the ocean, then let them take the formation of cloud to spray the rain of unity."
As we all know India as a Nation has got several languages and a diverse culture. So here in this video you can see people from differents parts of the country are repeating the same lyrics in their own language native language while wearing the traditional wear.

Almost 20 years later a new version of the song was made again.

While I was listening to the songs today, I just thought something which I want to share.
How about making a song with a message of GLOBAL UNITY which might become the STEEM ANTHEM as well.
What we can do is, we just make a video in our own languages with a certain decided lyric and a Steemian with a good video editing skill can compile (UNITE) it.
If you want this to happen kindly RESTEEM for a faster execution.

THIS IS JUST AN IDEA AND A LOT OF PEOPLE WILL BE NEEDED TO MATERIALIZE THIS. 
REQUESTING EVERYONE TO COME FORWARD WITH YOUR VALUABLE IDEAS FOR EXECUTION.