Hello everyone,
that my greeting and my message reaches the deepest part of this community, today I am going to address each user and member of this beautiful family, who every day give their best to either entertain, teach or show his talent, that every day awaken with the illusion of showing how talented they are, by those people who spend days writing a post and place their maximum effort, who do really beautiful jobs and stop sleeping, that their respect for the community is immense.
To you today I want to apologize, never come to think how important it was to give the rights to an author, or place a source to an image that is not mine, I've really read all the information post of
@steemcleaners
after this unpleasant transition , to receive a message that you are a spam is not cute, it discredits me, my followers I imagine that they are confused, because I am only apologizing for my faults, I am not identity theft or anything like that, simply that taking images and not place the source as well as the text (and not quote it) I am committing a fault, that without a doubt there is a large team prepared for this, and I must thank each one of you who assisted me and let me know the faults I was committing, each one arrives at the community without knowing, they recommend it to you and they tell you that you realize post, but it only remains for us to learn beyond what we see, I recollect my lack of information, I know I have to read much more, and from now create content of my authorship, I've always been doing, at first my blog was varied, you presented handicrafts posture photos and some other graphics, I went into the professional part and dedicated to what I am graphic designer , a week ago two of my posts were marked as spam with badera, that is my publication is ghost, and now I understand that it was deserved, so I took a picture of the web and I did not give the copyright because I use them as mine, I was recommended to remove that content so as not to deceive my users I think they made me do it because I was very innocent was a person by discord, but I still have proof that I did things wrong, which are the links published by the team
@cheetah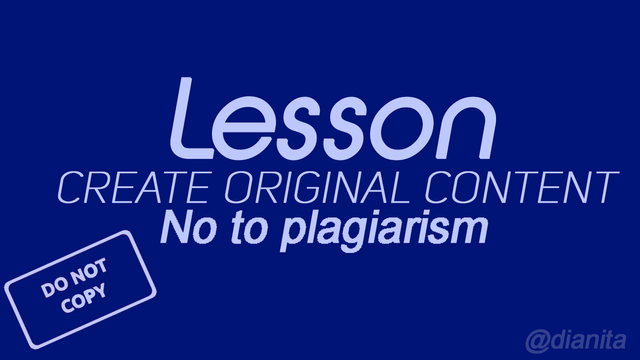 the first post taken as spam was one that realized the avila
https://steemit.com/spanish/@dianita/una-aventura-en-las-alturas-del-avila-venezuela-galipan

Make a publication of mandalas, and take images that had copyright, together with a copied text that does not quote, (I apologize from the bottom of my heart)
https://corporacionphantom.blogspot.com/2018/02/mandalas-conoce-su-origen-y-significado.html
Make a publication of mandalas, and take images that had copyright, in conjunction with a copied text that does not cite it, (I apologize from the bottom of my heart) and they told me a publication where plagiarism was seen, they placed these three pages where you take the references and do not place your copyright.
Realize a post of an illustration, and I did wrong to take a dog from the web and I did not know that it had copyright, and I covered it to vectorize, also with the illustration of thanos do not put copyright to something that was not mine, I If I illustrate more however take the image of the Internet to do it again, I apologize for the inconvenience caused.
https://steemit.com/spanish/@dianita/tutorial-ilustrando-a-thanos-avengers
https://steemit.com/slothicorn/@dianita/perro-realizado-con-tecnica-de-mandala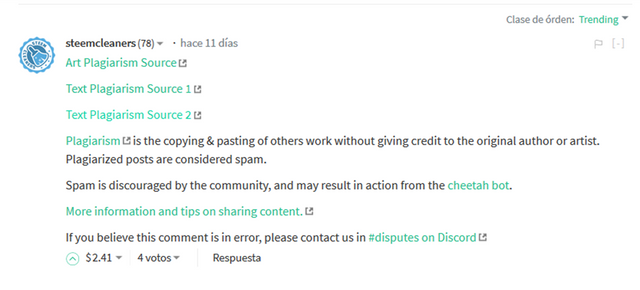 https://www.shutterstock.com/tr/image-vector/beagle-dog-head-zentangle-stylized-vector-486829588?src=9vIiDhQf3zIRYBU6WoFWtg-2-97
https://www.hola.com/decoracion/2017032292573/moda-mandalas-significado-origen-hk/
I usually post the posts in two ways in English and Spanish, that's why I was placed as spam, I admit that I did wrong in these, and I promise never to take images with copyrights again and if they have it, just like the text is an honest person that I like to work for mine.
I must confess that I am an honest person, and this subject has me very wrong, I apologize for not mentioning the origin of the photographs I took and for color words in my post that were not my own, I offer my sincere apologies to All the community, you are working hard for your benefits, I have felt hard days receiving this message that every day that I see it demoralizes me the most important thing of all this is that I learned and I would like to help more people so that they do not go through this, I PROMISE not do anything that threatens my reputation and community health, I will respect each person and each job, I will use the corresponding sources and appointments, I will not take photographs, and I will reuse them, I will be cautious and prudent, Nothing more beautiful than a quality content.
Quality content gives you impetus and impact presecia people are able to create good quality content without having to go to the web sometimes we feel decayed without ideas, but remember that before you happen something similar to what I do step is better to take a while and think cold, everything happens for something, I want to express the happiness I feel to be part of this community is a blessing and a great opportunity to show you what and what I am capable, thanks to the residents for having patience, although I did not write only at the beginning to ask for information.
@naturicia
always had a good answer and I implemented the necessary information thanks to each of you, for letting me know, this will never happen. Have everyone a happy day A thousand apologies, Greetings to all, we do not see in the next.
Nice day for everyone.