Dziś zademonstruję wam jak przeliczyć (steem dollary) na prawdziwe dolary: )
Zapraszam!

Wchodzimy na stronkę (Block Trades)
https://blocktrades.us



Gdy jesteśmy już na stronie, wzbieramy sobie czy to steem, czy steem dollars i ustawiamy, na jaką walutę chcemy wymienić nasze tokeny. W moim przypadku jest to Ether.Następnie wpisujemy, ile chcemy ich wymienić.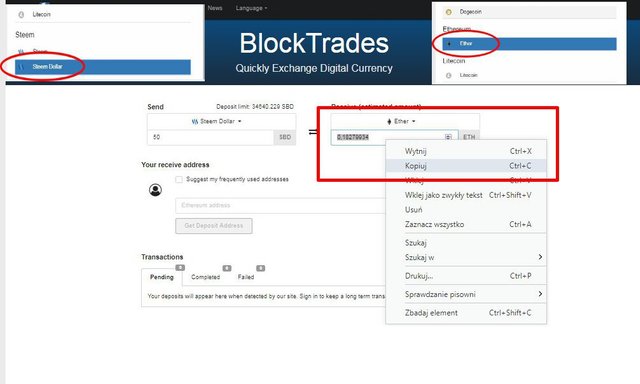 Ilość steem dollars przeliczone na Ether kopiujemy sobie.



Następnie przechodzimy na kolejną stronę o nazwie (E-KURSY WALUT) niżej link.
https://e-kursy-walut.pl/kalkulator-walut/?amount=0%2C003230&currency1=BTC&currency2=USD&submitted=true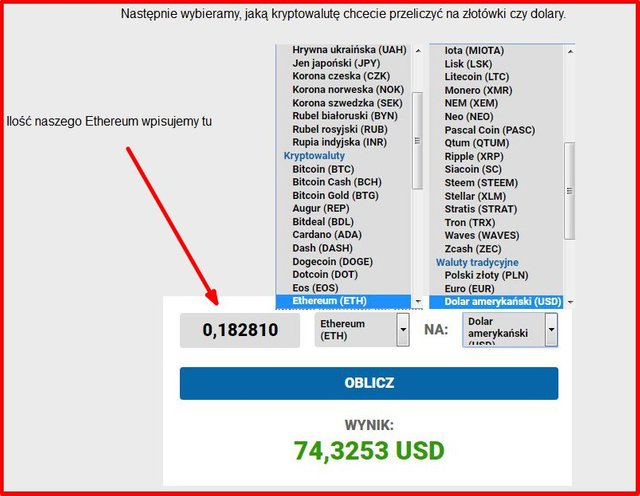 Wyszło ponad 74 dolary amerykańskie. Kwota, jaka wam wyjdzie, jest zależna od kursu walut. Przepraszam za rozbicie wszystkiego na części pierwsze, ale może przyda się nowicjuszom.
W produkcji.


Jak wypłacać zarobione Tokeny i za pomocą jakich stron jest to najbezpieczniejsze.
Jak kupić steem.