"Uncover the Truth Behind Spam" <Part 4>
How do spam message senders ascertain your email address? The Special Mission News Crew asked a 'List Broker' who buys and sells private information.
We visited an old, rundown apartment in Tokyo. "Don't start saying that list brokers are the root of all evil," Mr. Shimozato (alias) said with a wry smile as he welcomed us to his one-room office.
We asked, "Why do we receive spam messages?" He immediately responded, "Because your information is being leaked,"
List brokers turn private information into cash. Prices can range from 0.1 yen to ten yen per piece of information. Selling prices are usually twice the cost of ascertaining the information. The source of the information can range from memberships to golf courses, spas, bridal agencies, and neighborhood associations, to lists of people who buy health supplements and adult goods.
Where is this information leaked?
Mr. Kawakami (alias), another list broker, says, "When middle management are forced out of their job, they may take a list of customers or employees with them." Waste disposal companies and secondhand bookstores are also a source for information.
High school and university alumni associations often keep a database of members, which is easily be leaked. List brokers share information with one another and bankrupting brokers may sell off information to other brokers.
"There's also an abundance of private information that is extracted from free smartphone apps." Allowing games and fortune-telling apps access to your phonebook or address book gives an anonymous party access to email addresses, etc.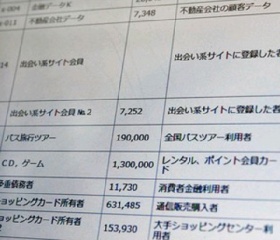 List of private information used by a 'List Broker' shows private information of real estate customers and members of online dating websites and rental video games. Could your information be used like this? (photo not related to article)
List brokers purchase and 'process' such information to create a value-added product. It would be easy, for example, to extrapolate a list of 'single men in their 40s or 50s', 'living in Tokyo', with a valid 'pornography membership'. This list would be sold to online dating websites, who would value such information.
Utilizing specialized software to make sure emails are being received, brokers can maintain the relevancy of their database by transforming a "high school alumni list into a list of young adults or a list of employees at a major company into a list of wealthy elderlies".
Is it legal to sell such lists of private information? It is legal as long as vendors register with the Personal Information Protection Commission and meet certain criteria. On the other hand, vendors cannot utilize lists that they acquired illegally nor can they be involved with loan sharks.
An external, former system engineer was arrested for crimes against the Unfair Competition Prevention Act for leaking the private information of the online educational giant, Benesse Holdings, Inc.'s 28.95 million customers. The Act on the Protection of Personal Information was revised in May 2016 in response to the incident. The revision now requires list brokers to manage records of where they ascertained information and to who they sold the information.
"Although mums the word, I would bet that the majority of list brokers purchased the Benesse information. Recently, however, people will not purchase data if it seems at all suspicious," says Mr. Kawakami.
Mr. Shimozato, on the other hand, is certain that there are deceptive brokers. "These vendors are connected to online dating websites and loan sharks and stay hidden in the shadows. As long as such demand exists, they won't disappear." In other words, even though strengthening regulations appears to improve the state of the nation, underground list brokers still exist.
A list broker was arrested in February 2016 for being an accomplice to a bank transfer scandal. "I was caught for knowing that the information would be used illegally, but if I didn't know it would have been ok. Business is business."
System developers, sweet-talking hosts and hostess, and list brokers; these are the 'professionals' who work in the shadows of spam messages. We wonder who may have received spam to their smartphone today.
---
迷惑メールを追う(4)名簿屋、流出情報カネに
迷惑メールの送信業者は、どこから私たちのアドレスを入手しているのか。特命取材班は、個人情報を売り買いする「名簿屋」と呼ばれる業者を訪ねた。
東京都内の古ぼけたビル。「名簿屋を諸悪の根源のように言うのは勘弁してよ」。セーター姿の中年男性、下里さん(仮名)が苦笑しながら、ワンルームの事務所に迎えてくれた。
「なぜ迷惑メールが届くのですか」と聞くと、即答だった。「あなたの情報が漏れているからですよ」
名簿屋の世界では、個人情報はお金に換算される。買い取りは1件0・1円から10円程度、販売価格はおおむね仕入れ値の倍というのが相場だとか。取り扱うのはゴルフ場やエステ、結婚紹介所、町内会の会員名簿から、健康食品やアダルトグッズの購入者リストまで多岐にわたるという。
こうした個人情報はどこから漏れているのか。
取材に応じてくれた別の名簿屋、川上さん(仮名)は「不幸せな辞め方をした企業の中途退職者が社員や顧客の名簿を持ち出すんですよ」と言う。廃棄物回収業者や古書店も含まれる。
高校や大学の同窓会名簿なども今は電子データ化されていることが多く、流出しやすい。名簿屋同士で融通したり、倒産した業者が別の業者に売り渡したりすることもある。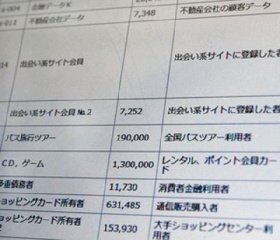 ある「名簿屋」が取り扱う個人情報リスト。不動産会社の顧客や出会い系サイト、レンタルゲーム会員などが並ぶ。あなたのプライベート情報も、ひょっとすると…(写真は本文と関係ありません)
さらに「スマートフォンの無料アプリから抜き取られたとみられる個人情報も出回っています」。ゲームや占いといったアプリの設定で「電話帳」「住所録」へのアクセスを許可すると、何者かによってメールアドレスなどの個人情報が抜き取られるケースがあるという。
こうして流出した情報を仕入れて"加工"し、商品として付加価値を高めるのも名簿屋の仕事。データベース化して整理すれば、例えば「アダルトサイト会員」で「九州在住」の「40~50代独身男性」といった具合に、出会い系サイトを運営する業者など取引先が欲しがるターゲットを絞り込むことも容易にできる。
特殊なソフトでメールが届くかどうかを確認するクリーニングという作業で「鮮度」を維持すれば、「高校の卒業名簿は2年後に新成人名簿に、大手企業の古い名簿は高齢富裕層の名簿に生まれ変わります」-。
■
プライバシーに関わる名簿の販売は許されるのか。国の個人情報保護委員会への届け出など一定の条件を満たせば合法だ。もちろん名簿を不正に入手したり、ヤミ金融に関わったりすれば摘発される恐れはある。
2014年、通信教育大手ベネッセコーポレーションの顧客情報約2895万件が流出し、外部業者だった元システムエンジニアが不正競争防止法違反容疑で逮捕された。事件をきっかけに規制が強化され、昨年5月の改正個人情報保護法の施行で、名簿屋は仕入れ先と販売先の記録を全て残すよう義務付けられた。
「ベネッセは大半の名簿屋が買ったんじゃないかな。黙ってるけどね。今は出どころが怪しげなデータの持ち込みがあっても表の業者は買わない」と川上さん。
一方、下里さんは「もぐりの業者はいる」と断言する。「出会い系やヤミ金と直接つながって稼いでいるから表に出る必要はない。ニーズがある限り、なくならない」。規制強化によって表向き健全化されたように見えて、地下に潜った名簿屋がいるという。
16年2月、振り込め詐欺に加担したとして警視庁に逮捕された名簿屋もいる。「犯罪に使うと知ってて売ったから捕まったんであって、知らなきゃいい。あくまでビジネスですから」
システム開発の技術者、言葉巧みに課金させるホストやキャバクラ嬢、そして名簿屋-。飛び交う迷惑メールの裏側では「プロ」がうごめく。今日もまた、誰かの携帯やスマホに届いているのだろうか。