When I re-started my efforts to blog on Steemit, I read a couple of lines of chat in the Steemit Telegram community I was part of that went something like this:
SteemianA: Why do people still upvote when their votes don't have any value?
SteamianB: LOL maybe because they just wanted to show their appreciation?
Seriously, those are only two lines, but until today it stuck in my mind. As a n00b and plankton, I thought, duh of course it's to show their appreciation. I do that myself! Upvote someone even though my upvote is of no value.
And I kept doing that. Reading and learning more techniques as I continue using this platform, I attempted to expand my value by following curation trails on SteemAuto, indiscriminately upvoting, and even started delegating my Steem power. I really thought I was doing the community a favour by giving back, although in Steemit reality I wasn't giving anything at all. At the back of my mind, I constantly reminded myself to watch my voting power from depleting.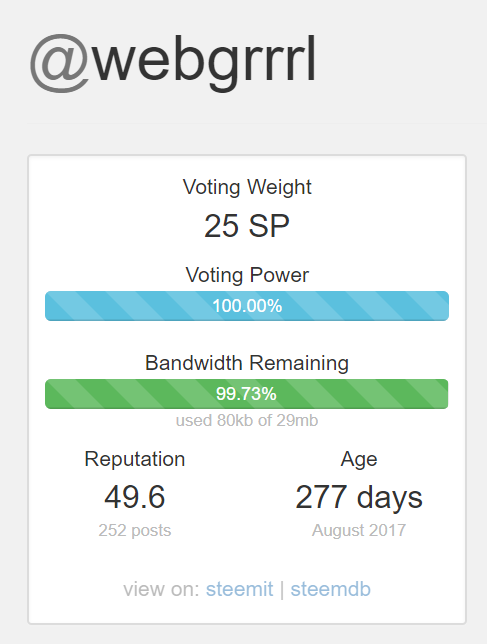 My voting power has only recently looked like the Steemd screenshot above. Before this, it was constantly at a 60 to 70 percent level, which, for a plankton like me, doesn't really matter in a way because even at 100% power, my upvote only costs 0.01.


I knew, from reading the advice of the dolphins and higher, that it's better to resteem and comment well on a post, that it'll bring more value to the authors. But I DIDN'T GET IT. That thought didn't click in my head.
Then recently, I joined a Steemit Discord community called Dynamic Steemians, and one of the requirements was that members must follow a curation trail to promote their content. Another curation trail? I thought.
When I checked my stats, my voting power was at 50%. For the first time in my Steemit experience, I panicked. This is wrong. I feel so "powerless".
It made me look at my Steem power delegation, too. Why did I even do that?! It's only 2 Steem powers, but I'm not at a Steem level to even do that and make it worthwhile for anyone.
I finally get it.
Around that same time, I read about the recent SteemConnect + Utopian.io attack. It was a blessing in disguise, and started doing housekeeping and stop all curation trails and fanbase upvoting, and went back to manual upvoting.
I realise now. There's nothing wrong with upvoting with no value.
But it's just not worth it.
So I'll continue with commenting and resteeming until I reach Minnow status, as well as sparing my upvotes on people who comment well on my posts. Even if it's only 0.01.