NEW WORLD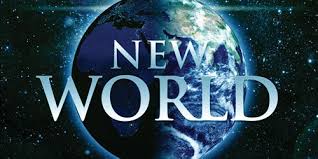 Image Source
This is only my 3 months here in steemit and in that short period of time I have come to observe this steemit platform that we are on.
It feels like we are just an experiment. This steemit.com is our world, our steemit world. We are the new colony to inhabit this world which make us the steemians.
This is an experiment on how we are going to mould this world that we are in. The steemit inc are just there to observe us and throw in some good stuff every now and then to make our world a little bit better.
We the steemians form our own communities, elected our elders or leaders, whom we think that will give value to our world.
Almost every day new shuttle of new inhabitants get drop in to this world. Some get in to the different communities and some just being on their own trying to survive in this world.
Many could not survive this harsh environment and faded away.
There are others who are self-proclaimed leaders because of their found wealth or resources. These people may be appointed themselves in that position but many will follow them as subjects hoping that they will get a little piece of that wealth or resources.
This world have no central government we have no rules, regulations and law for everyone to follow to keep everyone in line.
We created our own rules and regulations. Some decided to put out an ethic guide to follow and they made sure that these guides are adhered to. If you go against these rules you will be warned or punished. You know that this world shouldn't have these type of rules and regulations or police but you can't do anything but follow because you don't have much wealth. You might not agree with them but you can't do anything in fear that you might get punished more. So you end up as one of the subjects and must follow this made rules.
There are few who don't need to follow or be kept in line with these rules and regulations because they know that they have the wealth. They can fight back.
Disagreements arises with these wealthy people, these leaders, on how to manage best the steemit world.
All this are happening because there are not set guidelines to follow by everybody. We have to make our own rules.
We have to figure out how to make our world to be a better place.
WORLD SUMMIT
Recently there was a meeting held recently that was attended by observers, leaders and common citizens.
Every body had their turn in suggesting how to make our world a lot better.
A few suggestions are mostly on how our world look like. How to make it more attractive, more social and more valuable which will attract investors.
These suggestions looks like it only directed to the steemit inc, the observes. Make our world more beautiful, we asked.
The problem is I don't think they have much plan on doing that. I think they left us to fend for ourselves. They are probably thinking why would we grant you all these wishes, why won't you create the world that way you want it. You are able to clone this world and are open to change it suit your needs.
So they must be hoping that one of the developers will copy steemit.com and put in the necessary improvements. Clone this steemit.com and mould it to what the steemians want. So why no developers done that already? Well there is this busy.org they are trying to make the platform better but I don't think they are listening to the steemians either. Busy.org served its purpose when steemit.com was suffering attacks but that's about it, and then they made busy.org worst.
If these developers can clone steemit.com then implement all the steemians request regarding making the platform more attractive and more social then most of steemians will prefer to live in that cloned world.
There are also different views and approaches on how to bring or add value to the platform. How to make our main currency more valuable, because our main currency steem is what keep us here. Without that we might as well go back to facebook or reddit.
Other steemians suggest that we should just keep good quality post always, nurture the people that are putting in good quality content. Get more people in who do give good quality content and support them. They think that more people will join steemit world the value of steem will go up.
Other steemians also suggest that we should put in to the steemit platform. It does not matter how small it is, it all adds up and will increase the value of steem. Investors are the ones who drives the price of steem go up or down. When more people bring in money in the platform, the accumulated volume will increase the price of steem. We all know how the market works, when investors pump price of the currency goes up and when they dump price will go down. So when people in steemit will keep pumping and holding for long term price of steem will just keep on rising.
So here we are at present, trying to make our new world a lot better. Trying to make it more attractive so others will follow and join us in search of that fame and fortune.
So much good suggestions but we really don't have anything concrete to say we are doing this and this. We started making this. This is because it is all reliant on steemit inc. We the steemians can only do so much but how can we do more if we got nothing to show for, to attract others.
How can we say to our friends it is a social media when it is lacking the social function which is the most important part of "social media". You have to go to steemit.chat or discord to message each other. This means steemit.com is lacking functions for interactions.
How can we say to a future investor that steem will shoot to the moon in the near future when they see the chart is barely moving and sometimes worst on constant decline and also we are not doing any other projects to attract investors. The SMT might get us out of flat line and we will see the rise on the chart. But until then we are still in the state of hibernation.

Crossposting
This article/post will also be published on my personal web pages webcoophost.com and steemitblog.com

Advertisement:
Australian Business Number (ABN): 60 686 036 118


webcoophost.com offers free and cheap web hosting for your blog, e-commerce and personal website. Please don't expect top notch support, remember you are getting a good free and cheap web hosting

USD Prices | AUD Prices | PHP Prices