STEEMIT is experiencing SPAM and ABUSE problems
Just now I have been notified that using Facebook there is a problem to Sign Up a new account on steemit.com


The error shown is the following: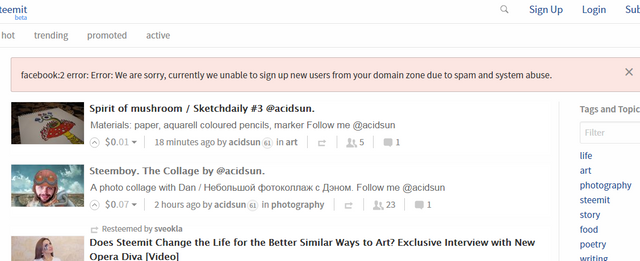 The error says:
facebook2:2 error: Error: We are sorry, currently we unable to sign up new users from your domain zone due to spam and system abuse.


So as I can say from the error it is dedicated to Facebook users. And to user's domain zone. This user is from Russian Federation and his E-mail is in .ru domain zone, so this problem is dedicated to .RU domain only as far as I can see. User's E-mail service is @yandex.ru I do not know if other services are in steemit block list too.
Any thoughts on this? Anybody has similiar issues? What advice can I give to such users?


So seems like Steemit is being abused and spammed. No news for me here. I have feeling for this things and also as you can remember I predicted the first hack of steemit.com when nobody did not know about it.
Feel free to write down your suggestions in comments. Also vote up to raise discussions on the subject and follow me to stay updated.