Concurso Make a Minnow #30 - Apoyemos a Eugelys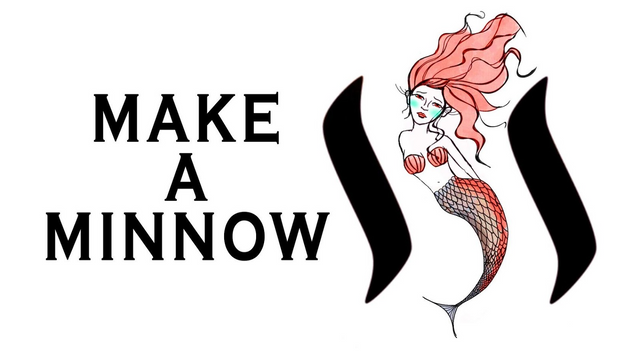 Fuente
Este post tiene dos objetivos:
1.- Realizar la traducción al español del Post
https://steemit.com/makeaminnow/@msp-makeaminnow/make-a-minnow-30-contest-nomination-post-10-000-sp-and-pal-delegation-contest-for-pal-msp-members
para que pueda ser entendido por todos, sobre todo aquellos que no dominan el Inglés.


2.- Los compañeros @enrique89 y @edwardstobia han realizados sendas nominaciones para la amiga @eugelys, consideramos que la compañera @eugelys cumple con los valores de PAL (Paz, Abundancia y Libertad) además de ser solidaria, esforzarse por ayudar a los demás, produce contenido de calidad y cada día se supera más y más, sabemos que es una excelente candidata a estas delegaciones, y que en caso de ser ganadora sabrá apoyar a los minnows que producen contenido de calidad en nuestra red Steemit y PAL.




Welcome to the Make a Minnow #30 contest! This is the nomination post!
Bienvenidos al concurso Make a Minnow #30! ¡Este es el post de nominación!
This initiative is about awarding a minnow who creates quality content and supports fellow content creators by giving them a delegation prize as a reward for their efforts! Giving our minnows the opportunity to have increased curation influence benefits the entire Steem ecosystem and should be considered a great honour.
Esta iniciativa consiste en premiar a un minnow que crea contenidos de calidad y apoya a otros creadores de contenidos dándoles un premio de la delegación como recompensa a sus esfuerzos. Dar a nuestros peces más pequeños la oportunidad de tener una mayor influencia en la curación beneficia a todo el ecosistema de Steem y debe considerarse un gran honor.
We have decided to try something a bit different, the rules have been loosened a bit to allow more participation and a bigger delegation prize! The details are as follows:
Hemos decidido intentar algo un poco diferente, las reglas se han flexibilizado un poco para permitir una mayor participación y un mayor premio de la delegación! Los detalles son los siguientes:
The prizes for this round:
Los premios de esta ronda:
10k PAL POWER delegation for 4 weeks for first place. Sponsored by @minnowsupport
Delegación de 10k PAL POWER durante 4 semanas para el primer lugar. Patrocinado por @minnowsupport
10k SP delegation for 4 weeks for first place. Sponsored by @eturnerx
Delegación de 10k SP durante 4 semanas para el primer lugar. Patrocinado por @eturnerx
10 SBI units (@steembasicincome) for first place, 3 for second, 1 for third. Sponsored by @eturnerx.
10 unidades SBI (@steembasicincome) para el primer lugar, 3 para el segundo, 1 para el tercero. Patrocinado por @eturnerx.
some additional surprise tokens sponsored by @eturnerx.
Algunos tokens sorpresa adicionales patrocinadas por @eturnerx.
Contest details
Detalles del concurso
The nomination round lasts 2 weeks. The voting round lasts 1 week.
La ronda de nominación dura 2 semanas. La ronda de votaciones dura una semana.
Nominations may include a link to a post in support of the nomination. Only one nomination per user.
Las nominaciones pueden incluir un enlace a un post en apoyo de la nominación. Sólo una nominación por usuario.
2a. Nominations with posts give the nominator a double vote in the voting round.
2a. Las nominaciones con posts le dan al nominador un doble voto en la ronda de votación.
2b. Donation of liquid rewards from nomination posts gratefully received, but pledges are not required. Donations will be powered up to @msp-makeaminnow
2b. Donación de recompensas líquidas de los posts de nominación serán recibidos con gratitud, pero no se requieren promesas. A las donaciones se les dará power up a la cuenta @msp-makeaminnow
Any personal account that has less than 10,000 SP that adheres to PAL values is eligible for nomination. Community/group accounts are not eligible for nomination.
Cualquier cuenta personal que tenga menos de 10,000 SP que se adhiera a los valores PAL es elegible para la nominación. Las cuentas de la comunidad/grupo no son elegibles para la nominación.
The eligible nominator rules remain, but we have removed the need for a minimum chat rank. In summary; the nominator must be a member of PAL/MSP in good standing, delegating at least 10SP.
Las reglas para los nominadores elegibles permanecen, pero hemos eliminado la necesidad de un rango mínimo en el chat. En resumen, el nominador debe ser un miembro de PAL/MSP en pleno goce de derechos, delegando al menos 10SP.
Nominees need at least 2 nominations to go into the voting round and a maximum of 10 nominees will move forward.
Los nominados necesitan al menos 2 nominaciones para entrar en la ronda de votación y un máximo de 10 nominados seguirán adelante.
Anyone can participate in the voting round if they are PAL registered, even if they did not nominate.
Cualquiera puede participar en la ronda de votación si está inscrito en el PAL, aunque no haya presentado su candidatura.
How to nominate
Please make a top level comment on this post (meaning a direct reply to the post and not another commenter)!
Cómo nominar
Por favor, haga un comentario de alto nivel sobre este artículo (lo que significa una respuesta directa al artículo y no a otro comentarista)!
Please use the format:
I nominate @username
The bot will then reply confirming whether or not your nomination is valid. If you have made a post in support of your nomination, then link it in your nomination comment.
Por favor, utilice el formato:
Yo nomino @nombredeusuario
El bot responderá confirmando si tu nominación es válida o no. Si usted ha hecho un post en apoyo de su nominación, entonces enlácelo en su comentario de nominación.
We trust you will nominate carefully with the PAL (Peace, Abundance and Liberty) values in mind! Best of luck to all nominees!
Confiamos en que usted nominará cuidadosamente con los valores de PAL (Paz, Abundancia y Libertad) en mente ¡Mucha suerte a todos los nominados!

Apoyemos a Eugelys, unamos nuestros esfuerzos en lograr que obtenga las delegaciones mencionadas las cuales resultarán en beneficio a los usuarios que produzcan contenido de calidad.