I have always thought that I should share more information about the various steemit tools such as apps and sites around for the benefit of my followers who might be new to steemit, and then every other steemian keeps posting "how to" stuffs about steem every now and then, that I felt it would be a thankless and wasted effort.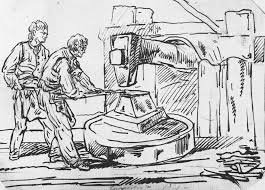 Today I was reading a blog of @neoxian where in the comments section another senior steemian @hitmeasap who has been in steemit for over an year now mentioned that he was not aware of one of the popular steem facts site where one could gather info on steem power and reward points details. I was naturally taken aback and that set me thinking.
Steem has about 3, 00,000 accounts and new accounts are created every day. That means there is always a batch of new Steemians who are new and green and eager to learn the ropes. I have about 300 followers and more than 80% are newbies.
Now steemit is based on blockchain technology and everything is open source and out there in the public domain, only if you knew where to look for.
Hence I thought I will share some of the steem related tools sites / apps that you guys might find useful in knowing some of your stats and also fine tune or tweak your blogging habits. This is not an exhaustive list and there are many more steemit tools around. But these tools will by far get you what you are looking around normally.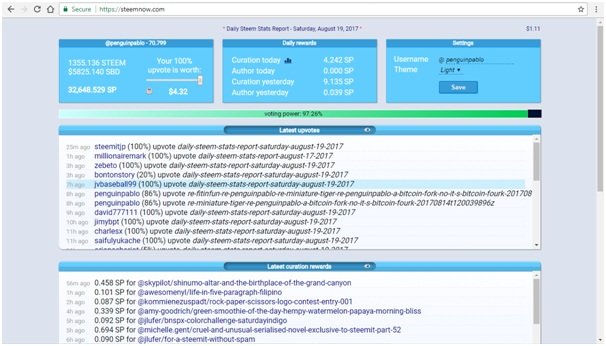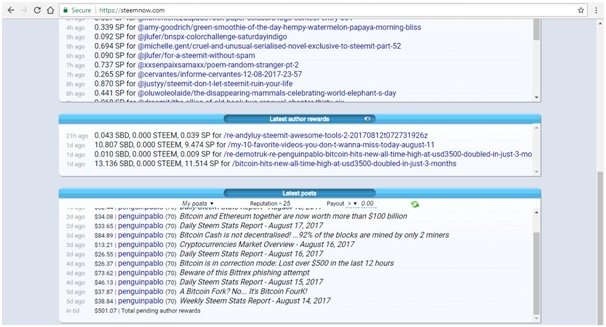 This is one awesome site created by @penguinpablo and is my favourite. In this site you get most of the your steem related details that you look out for, like your
Steem power, your daily rewards, steem value as of now, your upvote worth, latest upvotes, latest curation rewards, latest author rewards, your posts, your pending payouts, your voting power ( always try to keep it above 85% for full 100% voting power).
There is a small calculator icon next to your voting power where you can actually calculate and see how much SP = how much voting power. Overall you get everything that you want to know about your profile here.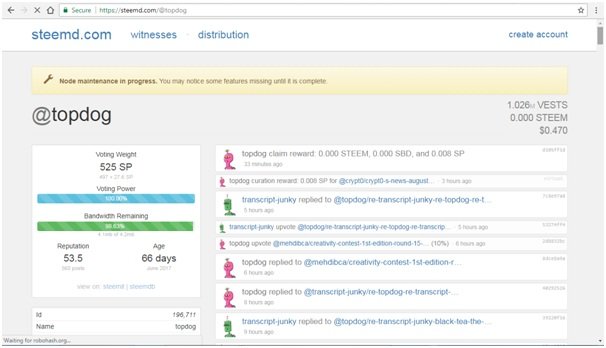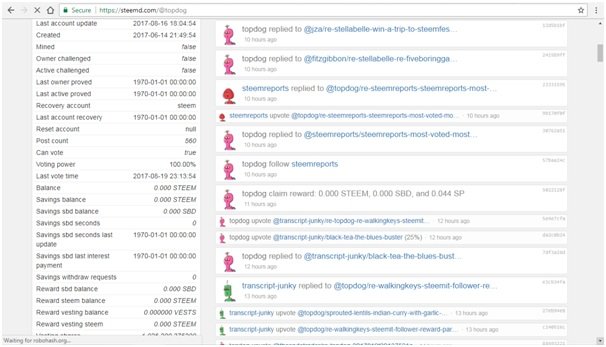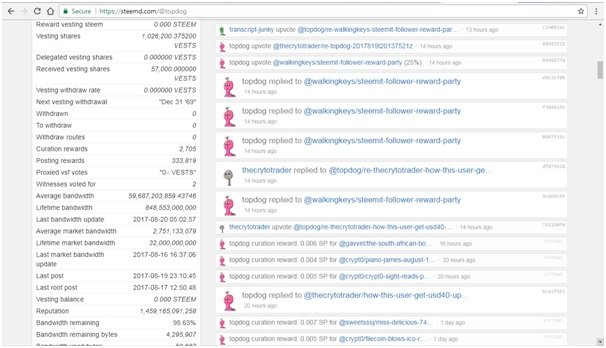 This website is the front end of steem blockchain and is a blockchain explorer wherein you can find all the relevant information that has been recorded in the blockchain in raw format. Your page shows all the transactions, log entries, your blog, upvote details etc. In the witness tab you can see more details about the witness (steem miners are called witness in steemit). They are the ones who make the entry into the block chain.
The advanced mode in the steemd site gives you more info about each post and the comment. Please go ahead and explore it. This is an awesome site for deeper exploring the steemit platform.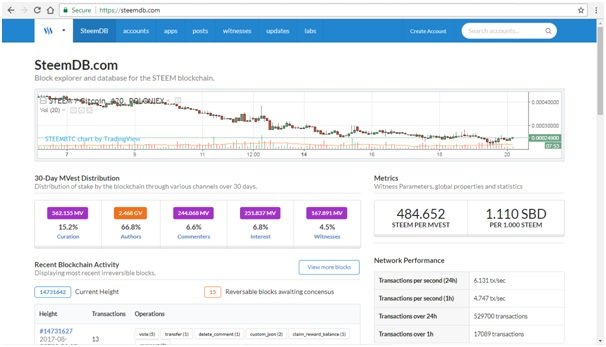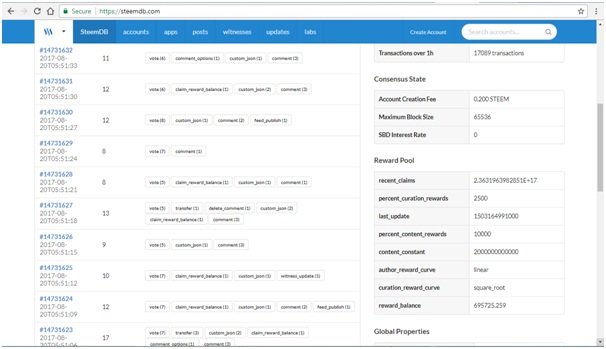 This site is created by @jesta and is one of the most important and useful steemit tools. It gives you all the blockchain metrics and much more. It gives info on account statistics, incoming votes, author and curation rewards boards, power down statistics and much more.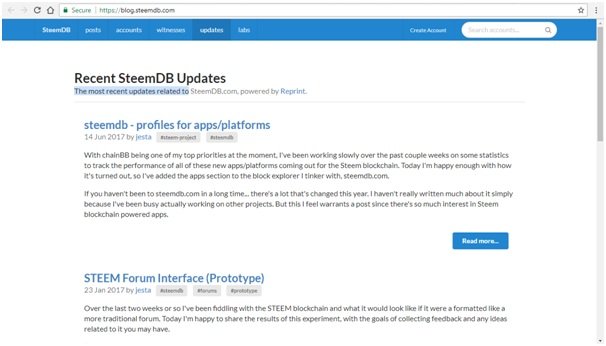 You can follow the happenings and the most recent updates related to steemdb site in a separate blog https://blog.steemdb.com/ created by @jesta.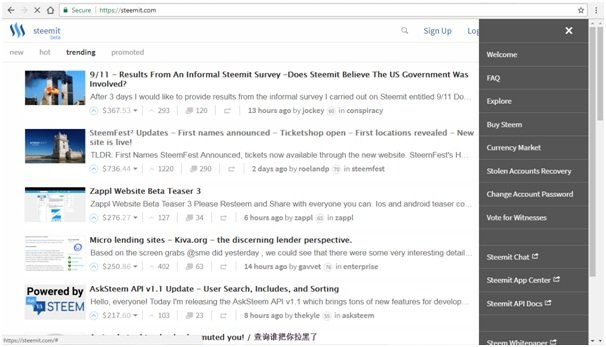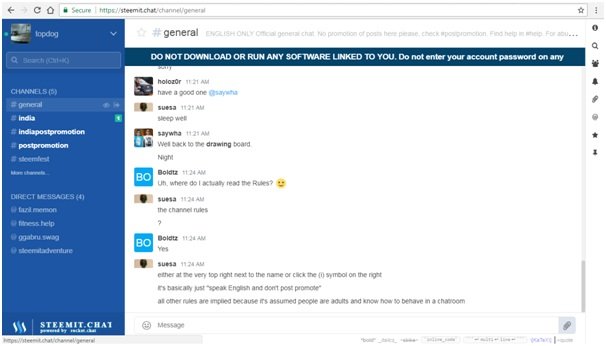 You can go to steemchat from your main profile page easily. Click on the right most tag and in the dropdown list you will find the steemchat link. Click on the link to take you to the chat site.
This website is for chatting and post promotion and much more. There are numerous chat rooms. You can chat one to one with someone if you like or in general chat rooms. This is an awesome place for meeting like minded friends and exchanging thoughts and some light banter. It is a place to relax and have some fun too. It is an awesome site. Try it some time.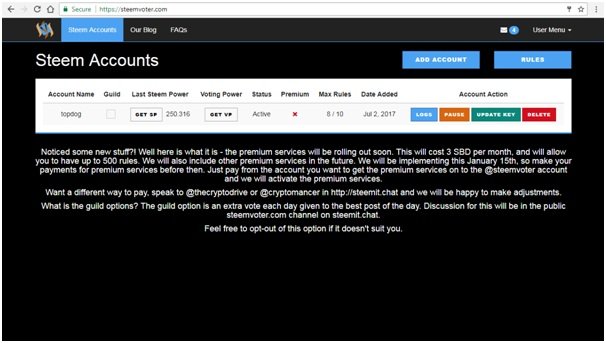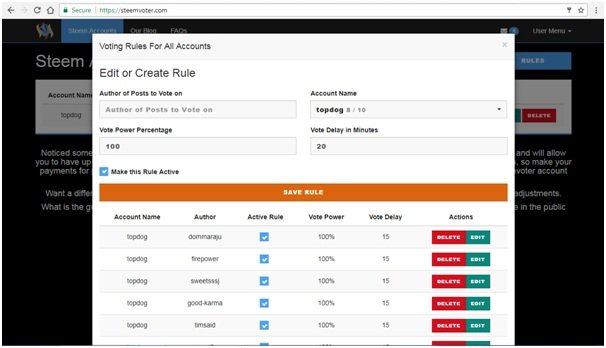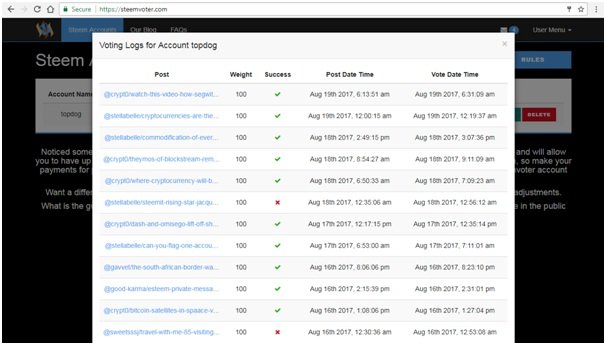 This site is useful if you have some favourite bloggers / authors whom you would want to upvote and get curation rewards. (curation rewards simply means if you upvote some post and later that post goes to earn a big payout, you get a share of the payout for contributing to the post. Normally author gets 75% or payout while rest 25% goes to curators). So if you have some authors whom you are closely following and believe their blogs have great value, you can create a rule to upvote them after a pre-decided time interval. You can have rules ( adding a blogger / author to your upvoting list with voting time and all). So steemvoter upvotes the blog on your behalf and you can always come at a later stage and read it and add comments in you feel so. There is a free version ( 10 rules meaning you can make a list of upto 10 authors to upvote automatically) or a premium version where you can have an unlimited number of rules ( you can have any number of authors in your list of automatic upvoting)
Did you know: you will forfeit full 100% or partial curation rewards if you vote within 30 minutes of a blog posting. If you upvote a blog within the first minute of its posting, all your curation rewards will go the author. If you upvote after 15 minutes of a blog posting your curation rewards will do down by 50%, if you upvote after 30 minutes of a blog posting your curation rewards will be full up at 100%. So please keep it in mind while upvoting , if you are also looking at curation rewards.
This site requires login registration to protect the privacy of the accounts.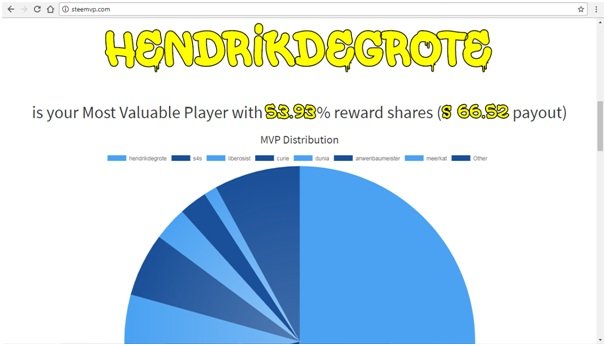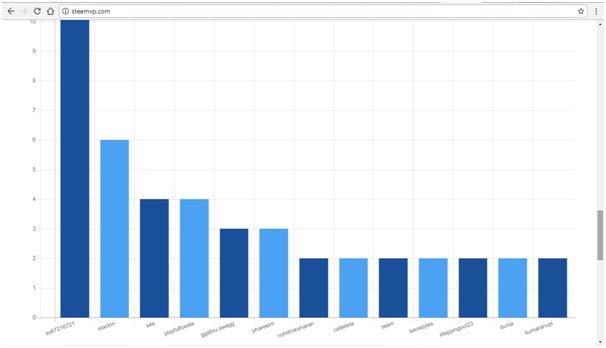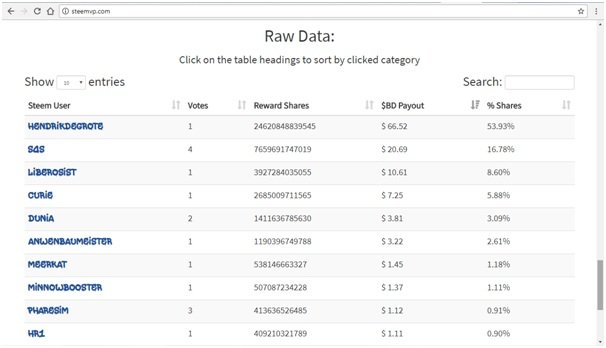 This is an interesting site which gives you detailed stats of your steem mates, about who voted you, how much they voted, who is your most valuable follower all in pretty graphic images. You can see who contributed how much in your blog reward and much more. You can use these stats to thank and appreciate your valuable followers and perhaps upvote and comment on their blogs too.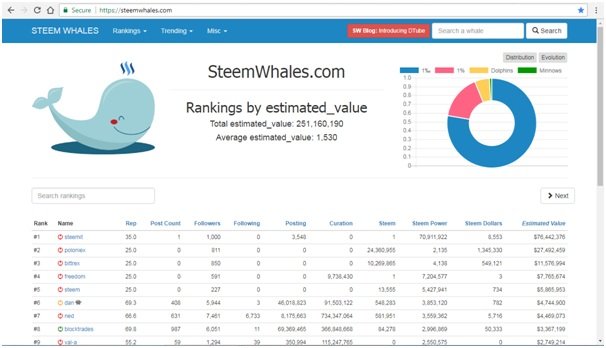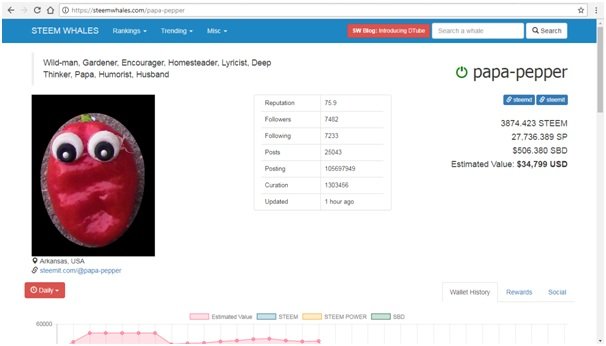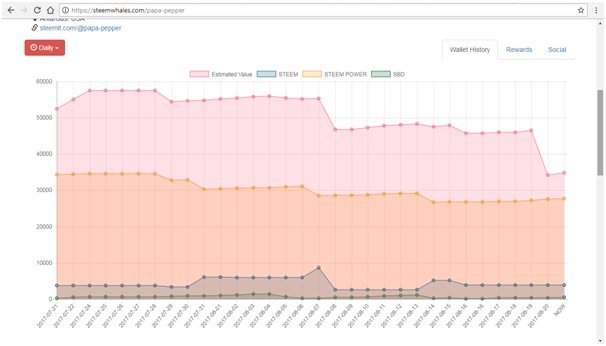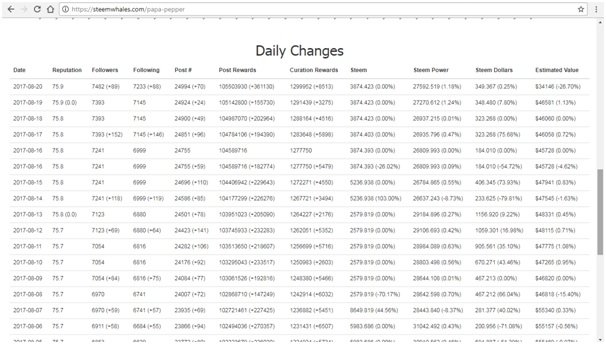 If you wondered about the whales and were trying to lookup their stats and more info, look no further. This website gives you all the info about the whales. Their reputation, their followers, their steem value, their steem power and much more. You get everything that you need to know about steemit whales in this website. Very useful tool to strategise your way into steemit by closely following a particular whale or a group of whales.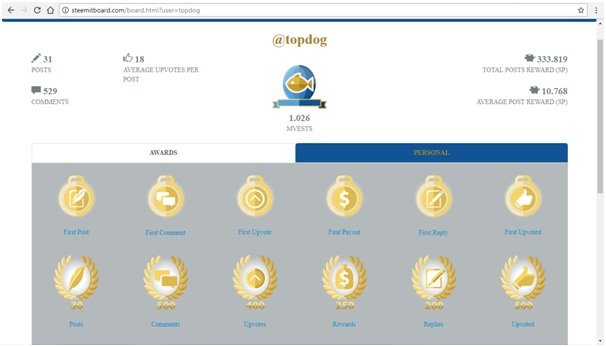 This is a fun website that boosts up your morale and awards you for all your achievements in steemit. You get awarded for a lot of things that you do at steemit. You get awarded for you first post, first upvote, number of followers, weekly authors, top commentator and much more. Its a nice way to keep a tab on your achievements and boost your morale a bit. This is an incredibly fun site.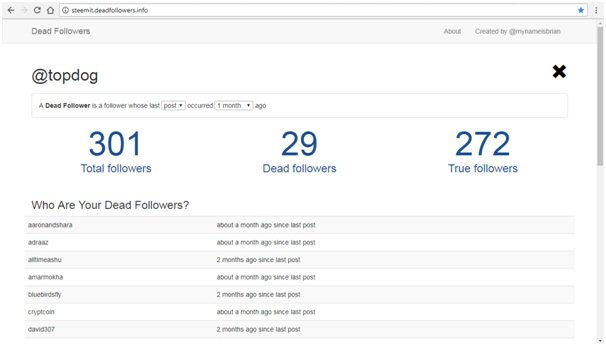 How many steemit followers do you really have? You may have a 1000 follower but do you know are dead followers? A Dead Follower is a follower whose last post occurred 1 month ago. So in all probabilities he is an inactive member or has left the steemit platform and is no more useful to you in your number of followers.
I have about 10% dead followers. That is out of 301 followers actually only about 272 have posted atleast 1 post in last 1 month indicating that they are still active on steemit. So next time if you get 1000 followers do not celebrate with a blog in a hurry. Infact there could only be much lesser actual / true followers for you.
I think as a thumbrule you can say 10% of your followers will be dead followers or who no longer post or active on steemit. So your 1000 followers could mean only 900 true followers. Think about it. This site brings you the reality of followers.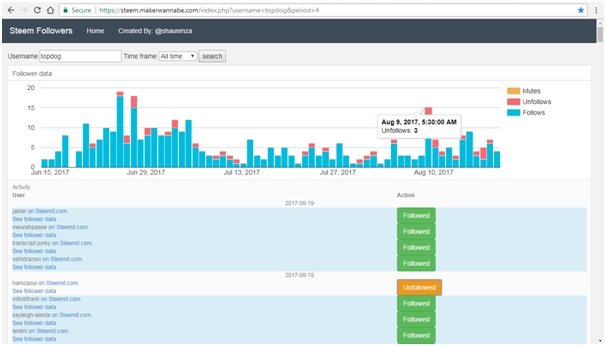 This is another cool site which gives you follower data. It gives you data on who followed you when, who unfollowed you and when, on which date you got maximum followers ( check if you blogged that day and see if you can create more blogs on that theme to get even more followers) I see that I got maximum of 18 followers on June 25th and that was the day I posted a cool blog. So that gives me a hint on what type of blogs my readers prefer and enjoy. Right? Check it out. It will help you fine tune and tweak your blogging subject decisions.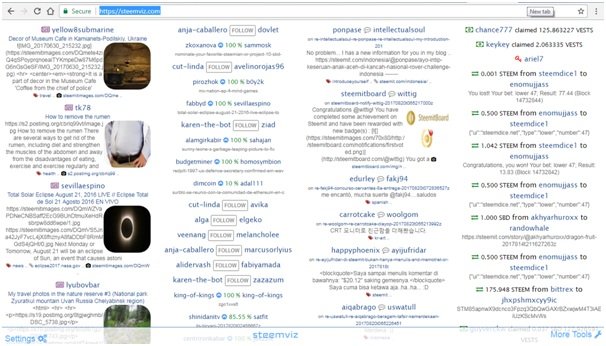 It gives a continuous running statistic of the upvotes, comments and payouts etc. It is a continuous running commentary. I don't know how this is useful to an average dude like me.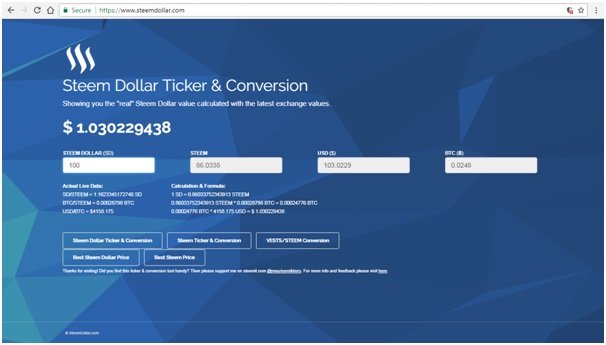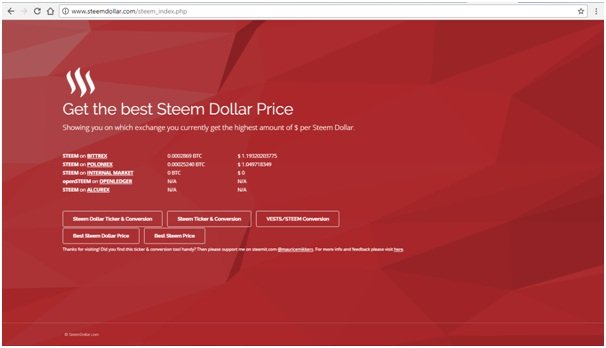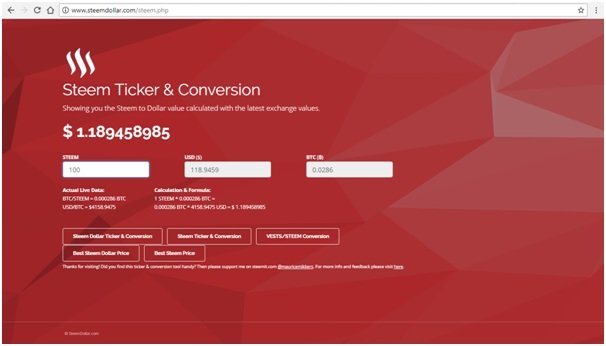 This is basically a ticker and conversion information site. Here you can check out the latest SBD or Steem vs dollar or bitcoin price. This is a dynamic site which gives you the latest price / statistic. Quite useful I guess.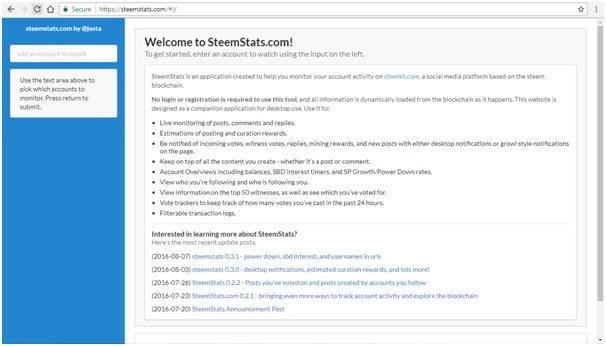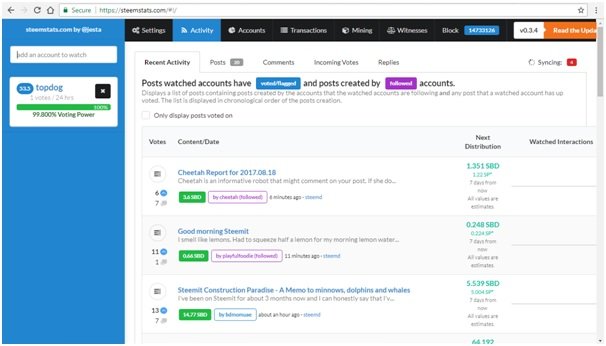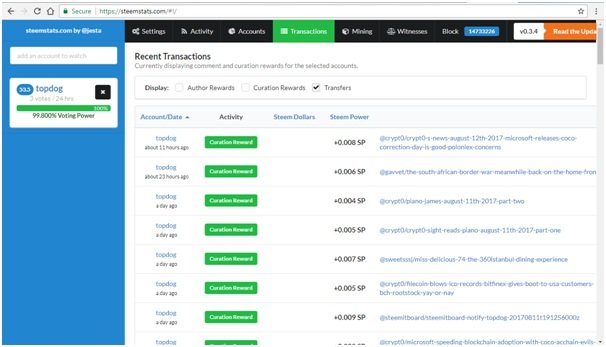 This is again a steem statistic site where you can watch your activities, accounts, transaction etc at a predetermined block time such as 5 seconds or 10 seconds of 30 seconds. The data is dynamically populated. An interesting site for your steem statistics by @jesta.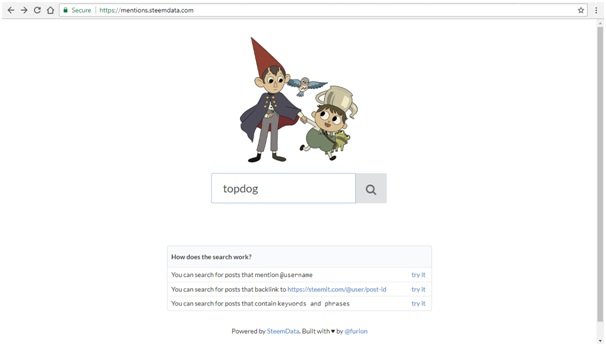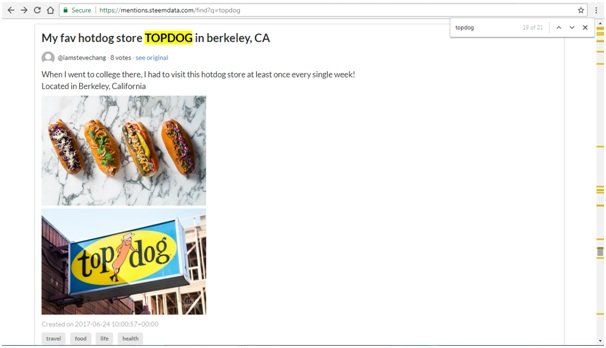 This is a tool if you were to search the steemit database for a particular word or phrase or a post or mention of any account. I searched for topdog and the site apart from my own blog info also gave me the image of a topdog posted by a different author some time ago. Nice website to check out.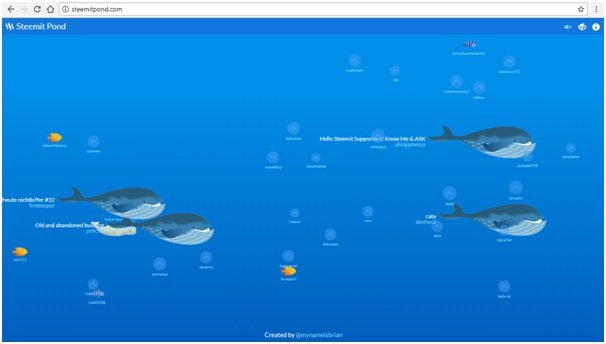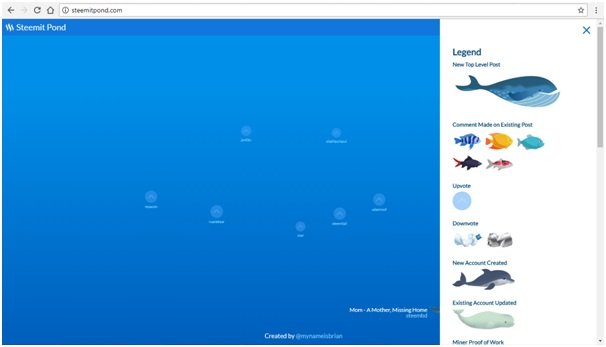 This is a dynamic page where all the present posts are depicted in the form whales, dolphins or minnows. You can click on any of the moving images. Each image has a specific meaning and it will show you that data like taking you to that blog or info on upvote or down vote, comments, replies, transfers and much more. It gives you the latest blogs and dynamic data as it happens in steemit.. I really love this tool. This is simply mind-blowing. Thank you @nameisbrian for this awesome tool.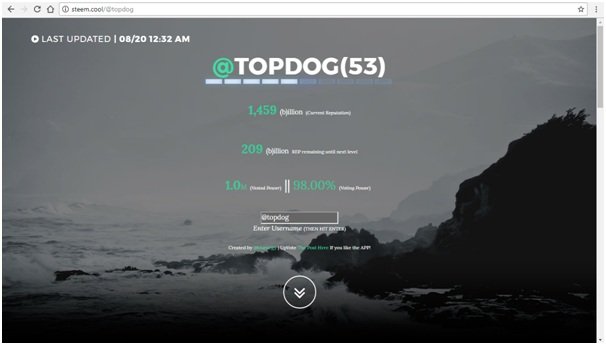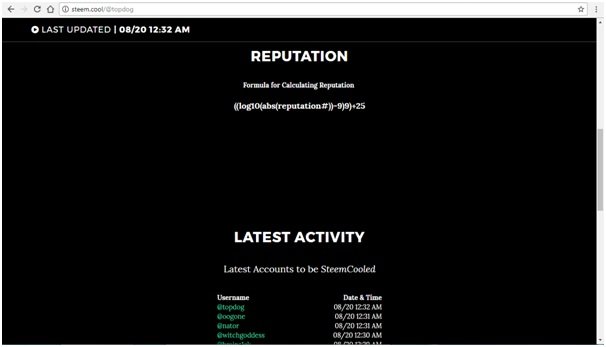 This is a very cool app to know more about your reputation. It gives stats about your current reputation and how long for your next reputation,your voting power, the reputation calculation formula and much more. Interesting site to check out.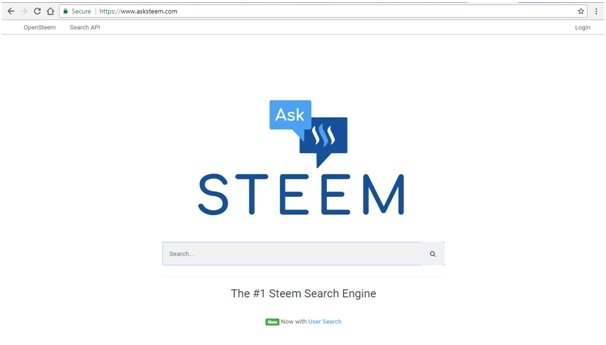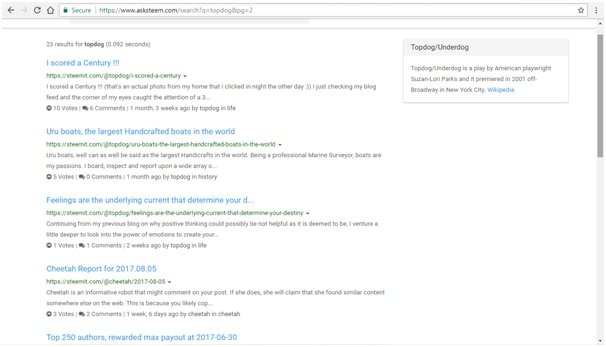 This is the google of steemit platform. You ask anything regarding authors or blogs or any other details, ask steem will provide you with all the information. It is steemit's very own search engine. Good site to explore.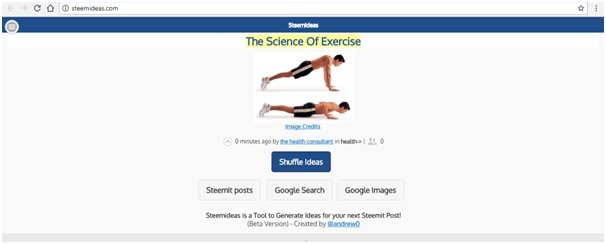 One daunting task in front of every steemian is to get the idea for the next blog. With 3 Lakh accounts on steemit it is no easy task to get an original idea and create a useful / helpful/ meaning ful blog that will create value in the platform and generate a big payout. This is where steemideas come into picture. Created by @andrew0 this is a Tool to Generate Ideas for your next Steemit Post.
Just click on the Shuffle Ideas button to get some amazing and awesome random ideas for your next blog. Now you have the idea, all you have to do is to develop the idea, do some research, Google a bit and turn the idea into a super cool blog that will create value on the steemit platform and generate a large payout for you.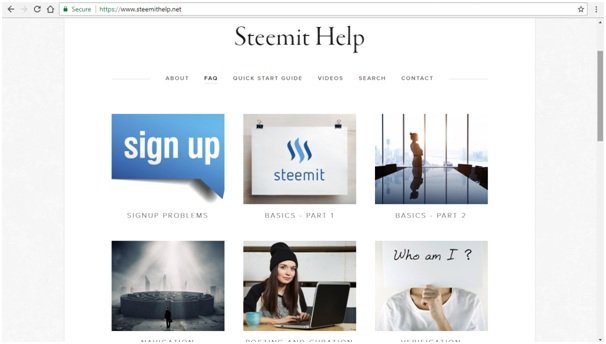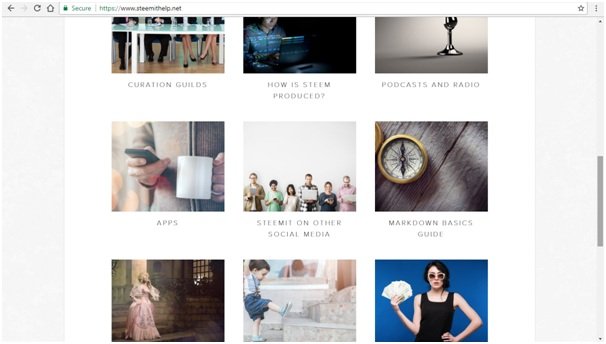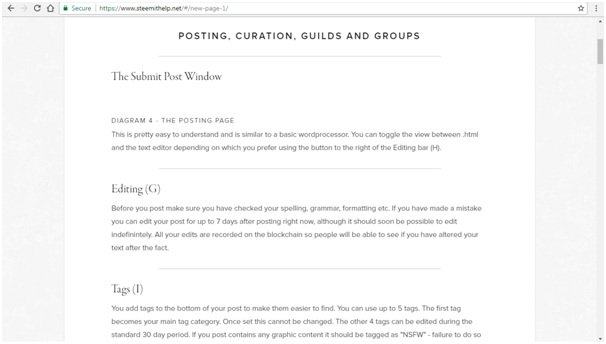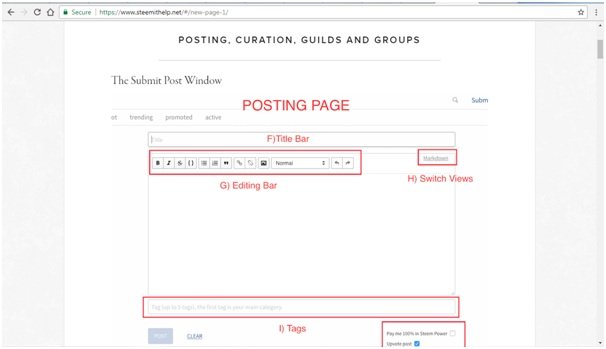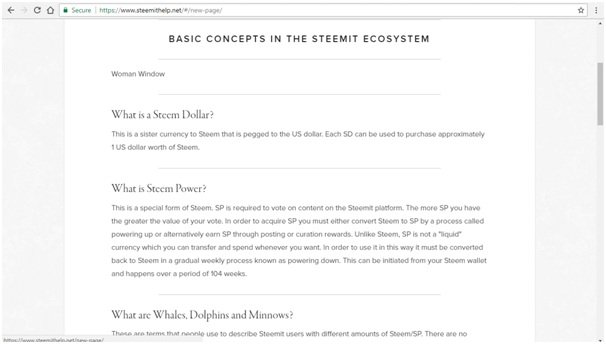 Need more help on start up? No problem. Steemithelp site does exactly that to you. Everything that you need to know about steemit platform explained in very simple, very graphical, layman terms. You cannot go wrong with the help this site offers. Every minnow should check it out.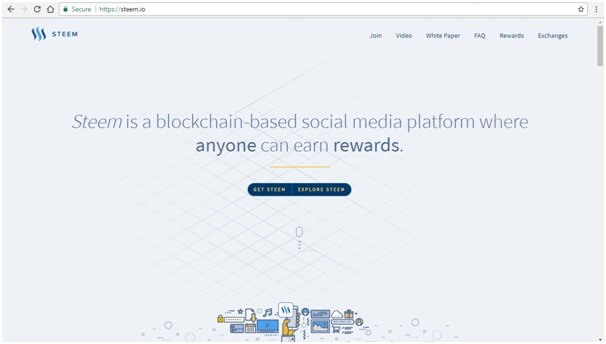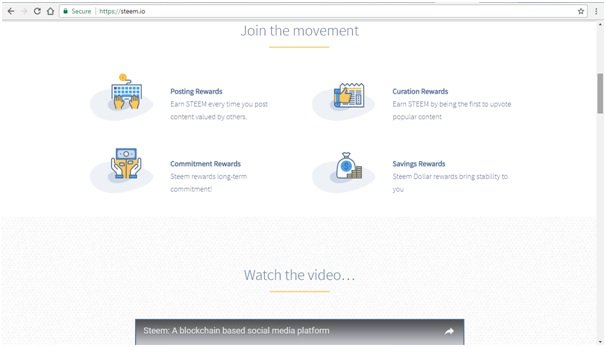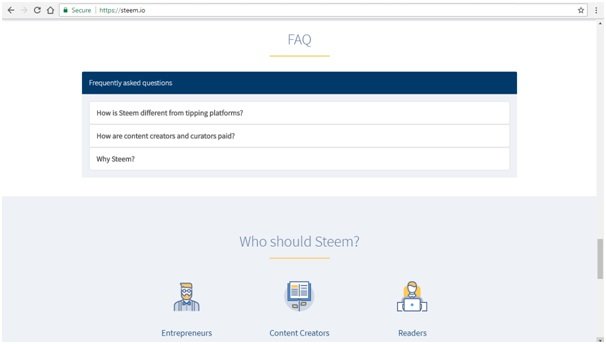 This website is all about what is steem. The steem whitepaper, frequently asked questions, videos. You can use this site to invite some friend to steemit platform. This site has nice videos that explain steemit in a very simple and educative way. Use this site to invite friends to steemit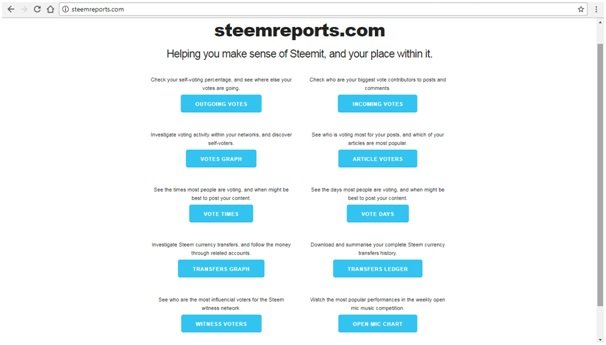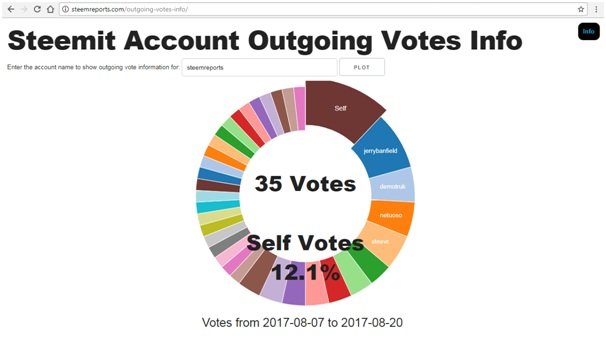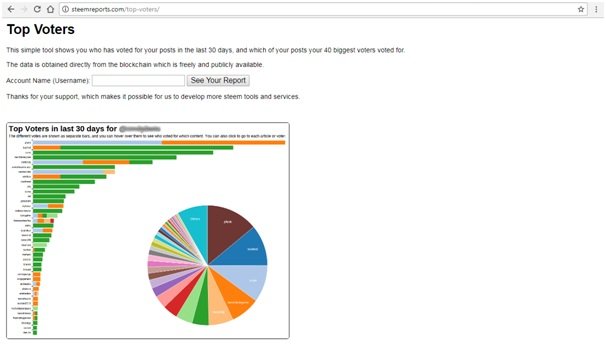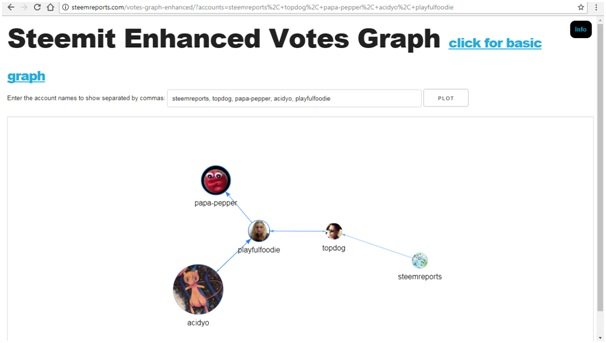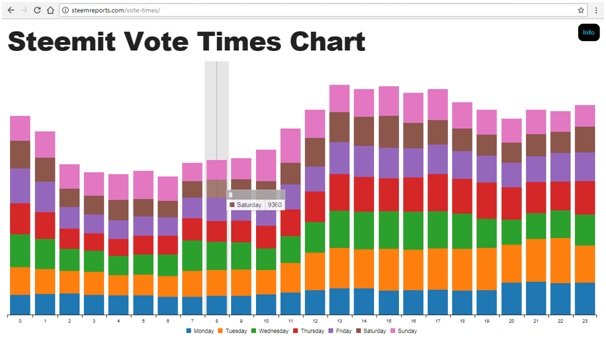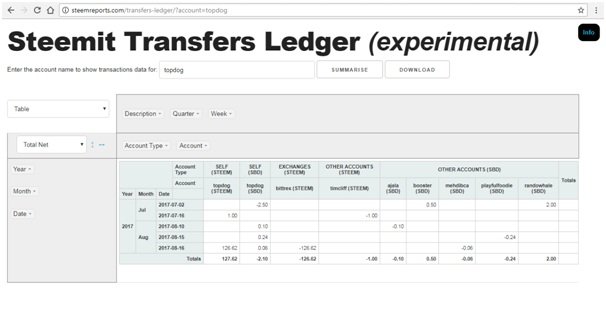 This will help you make sense of steemit platform. Its all reports and more reports on every activity on steemit platform. Various reports, statistics in cool graphs and charts will give you everything you ever needed to know about your blogs, your connections, best time / best date to post etc and much more.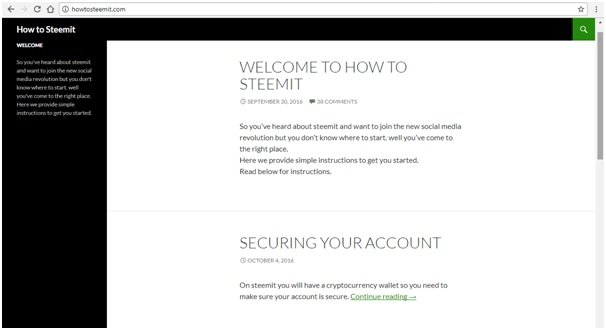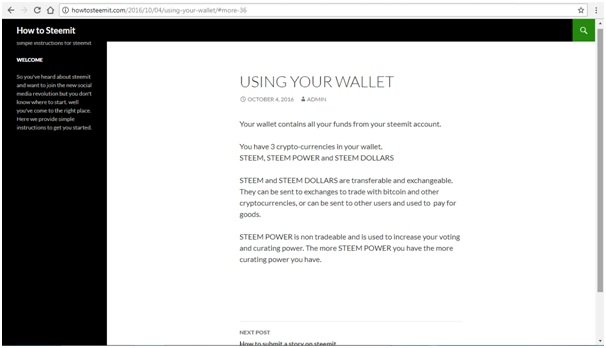 This site provides you lot of useful articles on how to go about the steemit platform like blogging, wallets, settings etc. Useful for a newbie.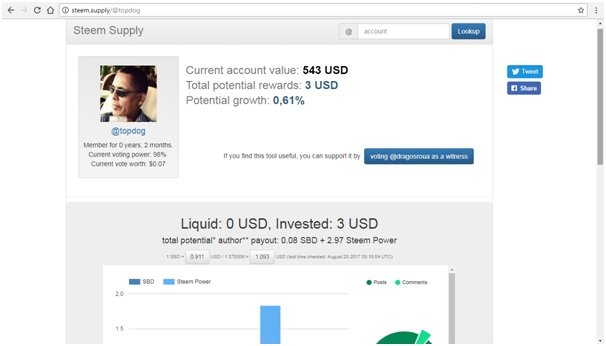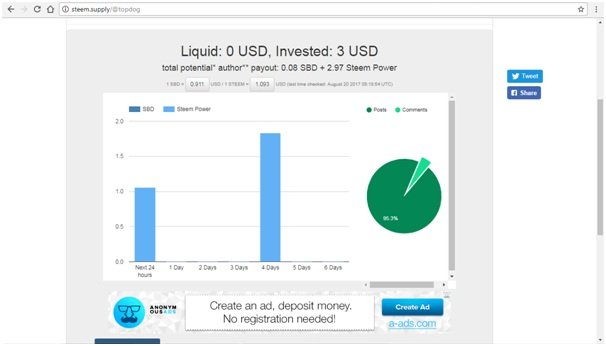 An awesome site that gives you a lot of information about SBD, steem their immediate values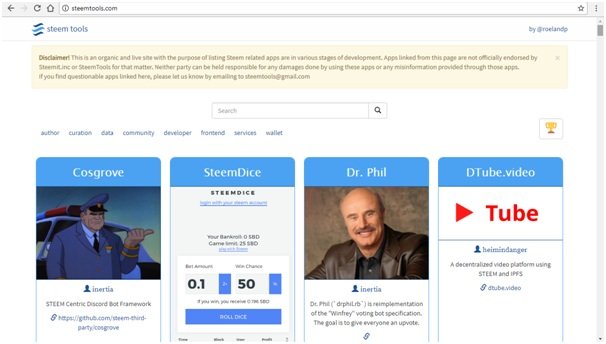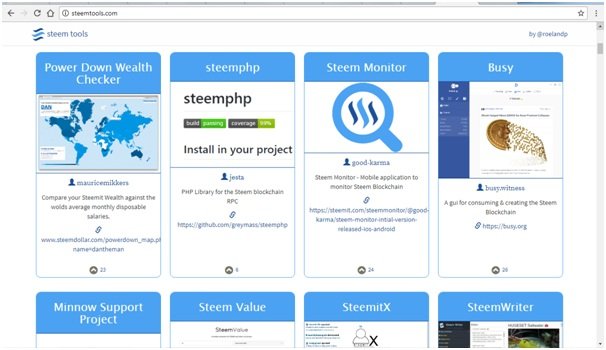 And finally an organic and live site that lists steem related apps in various stages of development by @roelandp. There are hundreds of apps / tools here related to steemit that you can check out at leisure and use it at your own discretion.
Then there is mobile app e-steem. Download it from Google play and you have steemit on the go at your finger tips. Very useful and awesome app. A must have for true Steemians 
Further there are quite some more apps/ sites that I might have missed out. Please mention the same in the comments so that readers could benefit from them.
Disclaimer: Guys please use your own discretion in using the above links. All I am doing here is facilitating so that all the steem related tools in one blog. I have found many of them useful and continue to use them. But again, please use your own discretion in these matters.
Ok guys, that's it. This is a list with brief description of each site / app that you can make use of.
I wish you all the very best and hope you guys learn from these useful tools and create awesome blogs and write meaningful comments thereby creating more value to the platform, earn larger payout, help fellow Steemians, create an amazing decentralized eco system with steemit at the pinnacle of this crypto world.
Thanks for your time. May you all flourish and prosper here.