Platform POZESS supports its multi-channel sellers is helping them with the promotion. It has built-in components of viral networks that reduce the cost of marketing. It does not limit the space to search for new products, as the buyer and the seller interact directly with each other. With the ability to reach a larger audience both inside and outside the platform, POZESS promises to increase sales and double conversions at no additional cost. Some channels include email, push notifications, referrals, paid ads, blogs, social media promotions on Facebook, Twitter, Instagram, app store optimization (ASO) and search engine optimization (SEO). This is in addition to the built-in shares, likes and referrals that create a network effect. POZESS presents more products in a shorter time in real time or so-called "live sale". Consumers feel the urgency of opening new products every few minutes, which leads to an increase in conversion and sales. Sellers can create, promote, and share their coupons, discounts, and other promotions on POZESS.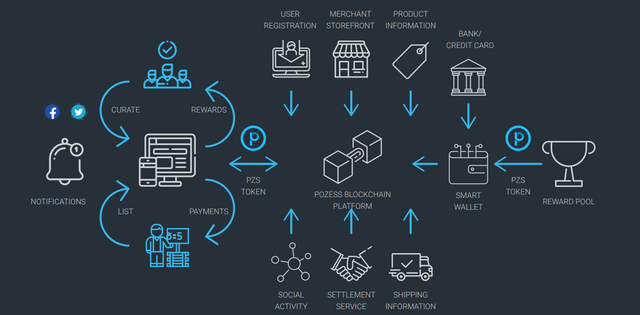 Incentives for market participants
The PZS token is periodically distributed to users and new members depending on their activities and participation in the creation of the network. Types of awards are as follows:
connecting to your social accounts. Users should combine their social account to gain the right to receive tokens and 5 points for connection. These combined account help to promote POZESS, when users perform such actions as the placement of photos, likes, publications and attraction of new users. The platform encourages users to find and publish unique fashion lifestyle products from around the world. The number of likes and shares measures the quality of the uploaded photos. Therefore, the quality of the content is a reward;
reward for loyalty. Users must be registered and must install the POZESS mobile app to be eligible for rewards. Every time a user deletes an application or deactivates an account for any reason, the accumulated points that can be used later are lost;
social reward. Users earn reward points for actions such as posting images (5 points), likes (1 point), promotions (2 points), reviews (2 points).
Users are rewarded for liking and exchanging goods. Users can exchange rewards for PZS tokens;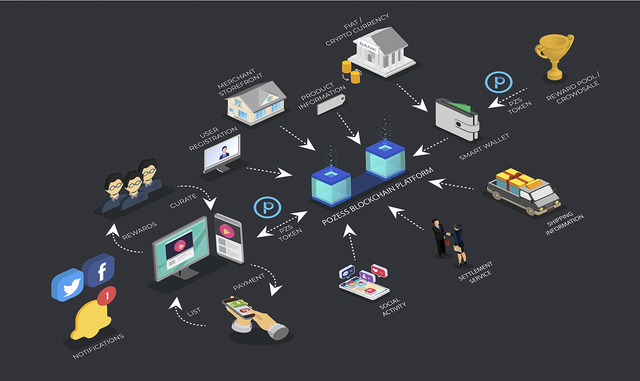 the reward for reputation. Users earn reputation points based on factors such as the number of subscribers, the number and quality of posts;
referral and affiliate rewards. Users can invite their friends via email, messenger or social networks. This can be done using your unique ID embedded in the link. Their friends earn points when they join the platform. Users also get points when their friends join the network. Bloggers receive compensation, setting the widget POZESS on your web site or blog, and selling the item;
advertising rewards. Users are rewarded for activities such as viewing in-app advertisements posted by partners and platform sellers by reading promotional push notifications, messages, and emails;
the remuneration for the review. User gets 1 point for rating and 2 points for each comment;
in-app purchase fee. Users can use PZS tokens to purchase products on POZESS. The platform charges a percentage of the goods sold. In this case, part of it is returned to the reward pool to support the pool and supply tokens for the rewards;
advertising in the application. Advertisers use PZS tokens to purchase ads, some of which are returned to the rewards pool;
shares sellers. They can use tokens to purchase premium exposure to exhibit their products and storefronts. They can also promote their products using discounts and coupons.
Personalized mobile web application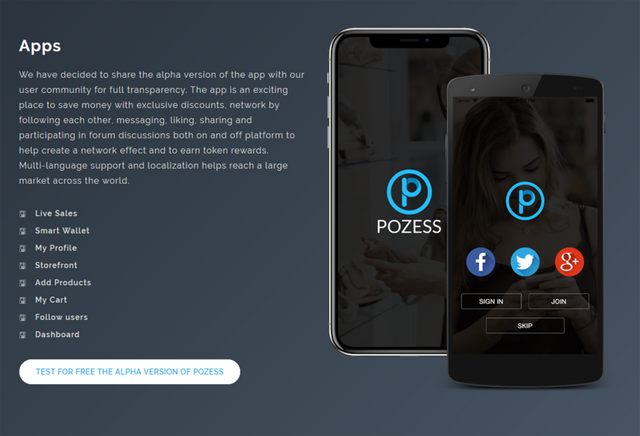 POZESS helps sellers create a personalized mobile web application (PWA) using the POZESS PWA platform at a low cost. This app will provide sellers with the best marketing for their products. The benefits of PWA and features are as follows:
instant creation of a mobile web application allows you to manage content in real time;
marketing campaign management allows to provide end-to-end communication in mobile Commerce;
analyzing customer behavior and interacting with them in real time can significantly reduce costs and reduce time to market.
The appearance of PWA is very similar to the original mobile applications. PWA stores data in the user's browser cache, which can be accessed offline. This is ideal for small and medium businesses where there is little time or resources to build a mobile app.
About the token: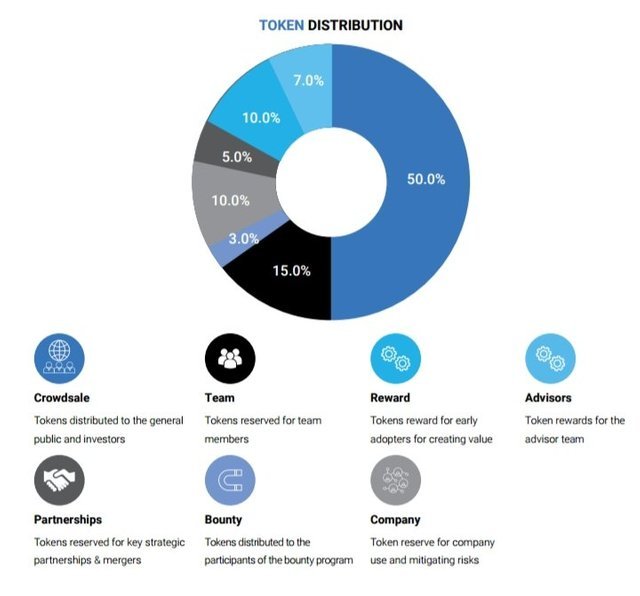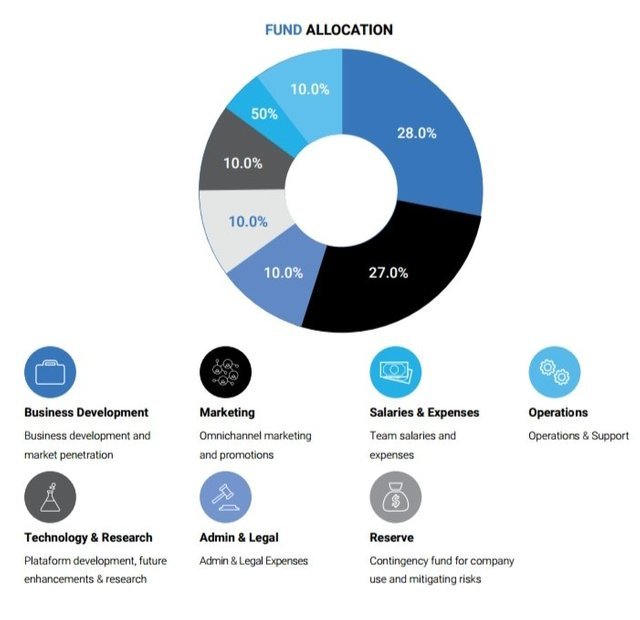 Project team: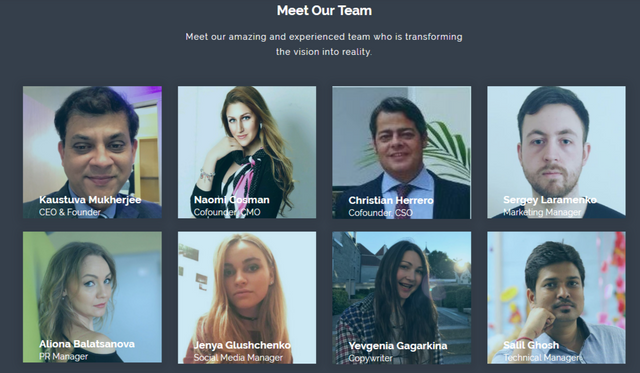 Project road map: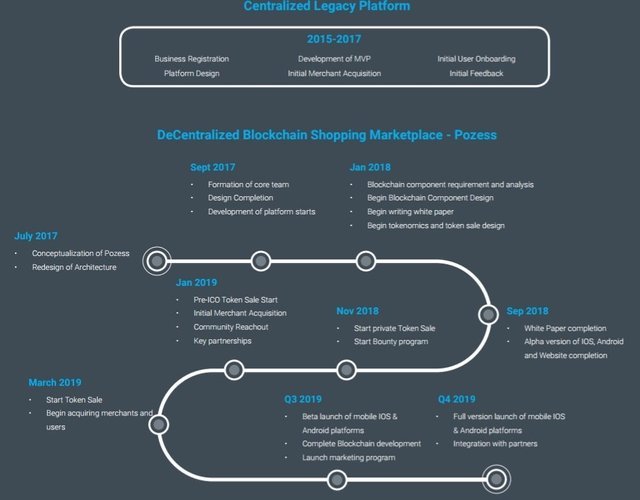 Thank you for attention!
All useful links can be found below:
Website: https://pozess.io/
Whitepaper: https://www.pozess.com/ico/uploads/PozessWhitePaper.pdf
ANN THREAD: https://bitcointalk.org/index.php?topic=5070535.0
Telegram: https://t.me/joinpozess
FACEBOOK: https://www.facebook.com/joinPozess
TWITTER: https://twitter.com/joinPozess
MEDIUM: https://medium.com/@Pozess
REDDIT: https://www.reddit.com/user/PozessICO
LINKEDIN: https://www.linkedin.com/company/pozess/
YOUTUBE: https://www.youtube.com/channel/UCTHV8sL6yVskkObfPv3i5WA
INSTAGRAM: https://www.instagram.com/joinPozess/
==============================================================
MY BITCOINTALK USERNAME: tomson777
MY BITCOINTALK PROFILE LINK: https://bitcointalk.org/index.php?action=profile;u=1766687
MY ETH ADDRESS: 0x20C834700ACF061af481C4B95B58C6787dB4B052
UNIQUENESS 100%: https://text.ru/antiplagiat/5c69bf888cca9