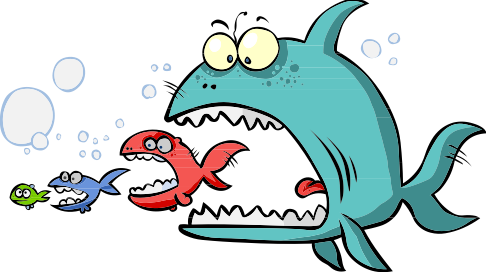 Steemit users can be roughly put in one of 3 categories depending on how much STEEM POWER (SP) they hold.
If you're on steemit to make money (or to help others make money), it's important you know which category you call under because the people in different categories are rewarded differently (or not) for their behaviour on steemit.
Minnows
This is likely you if you have just joined steemit and if your SP is below 1 million.
As a minnow you won't make any money curating
The only way you can earn STEEM is by writing valuable content. My definition of valuable content is content which Dolphins and Whales will want to upvote. Remember that steemit is growing very fast so the competition to get noticed by Dolphins and Whales gets stiffer every day.
Some ways you can get noticed by Dolphins and Whales are:
Sharing your posts on Facebook & Twitter - this is because: if your friends sign up, your post will climb the "hot" category which will in turn make it more visible to the Dolphins and Whales.
Tagging your posts with a trending and hot category/s - this will make it easier to get discovered by Dolphins and Whales
Dolphins
Dolphins don't have as much SP as whales buty they have enough to make a different when they vote. 
I would put Dolphins as people with 25,000+ SP. Or someone who will give you 50 cents or more when they upvote your post within the first 15 minutes or so.
Dolphins earn curation SP by voting on posts that will become popular and that will be voted on by the Whales so they want to move in and vote before the Whales come in.
Whales
I would define a whale as someone with enough SP in their wallet to give you $10 or more when they upvote your post within the first 15 minutes.
Whales have the biggest influence on posts. Their votes have a big effect on which posts get attention and which  posts make the most money.