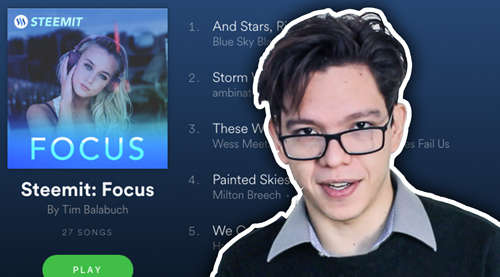 How's it going steemians?
Do you have a hard time focusing on work, small tasks, study or writing a post for steemit? With the absurd amount of distractions and the ease with which they reach us, keeping focus becomes a challenging task. But luckily, some habits can help us significantly.
Listening to music while we work can be a great ally to stay focused. But lyrics with lyrics may not be as positive for focus. A study by Fu Jen Catholic University came to the conclusion that letterless music is preferable to work environments because lyrics music can reduce your attention and performance.
---
🎧
So, here's a playlist created exclusively for the steemit community:
Playlist on Spotify: Steemit Focus
Don't forget to spread the word, recommend this tip to the community and resteemit.
Best,
Tim Balabuch,
Designer & Cryptocurrency enthusiast

---
Videos:
• Bitcoin's History In 2 Minutes 🔴 Quick Video
• An Invitation To Value Quality Rather Than Quantity