My first 100 days here on Steemit [ITA-ENG]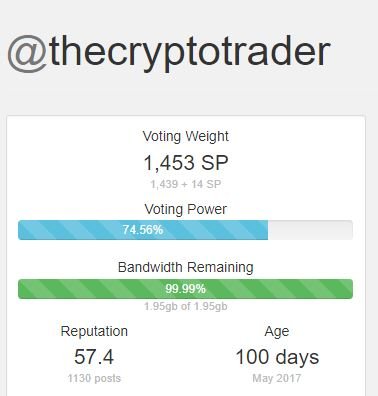 Screenshoot took from Steemd.com
Mi sembra ieri il giorno in cui mi sono iscritto a steemit. Stavo curiosando su facebook mentre ero dall'oculista nella sala d'aspetto quando vidi un post riguardo steemit ed i suoi guadagni. Vidi che effettivamente molti guadagnavano scrivendo in questo nuovo social network e quindi, dopo essermi informatio, mi iscrissi. Ricevetti la mail di conferma proprio mentre era il muo turno dall'oculista, quindi la cliccai e loggai su steemit. Avendo fatto tutto di fretta, una volta svolta la visita e tornato a casa, mi dimenticai completamente di essermi iscritto! Me ne accorsi soltanto un mese piu tardi, curiosando tra le mail ricevute nella mia posta elettronica. Iniziai a scrivere pensando soltanto al guadagno, ma dopo poco tempo iniziai a seguire alcune persone molto interessanti e trovai un gruppo dedicato all'aiuto dell'intera comunità italiana; ci misi poco tempo per far passare il guadagno economico in secondo piano, perchè la parte sociale e della community era molto piu importante. Effettivamente sono passati 100 giorni dalla mia iscrizione, ma per pigrizia e distrazione iniziai circa 30 giorni piu tardi..quindi diciamo che sono i miei primi 70 giorni effettivi!
It looks like yesterday when I joined steemit. I was curious about a facebook post that was talking about steemit while I was from oculist in the waiting room. I see that actually many earned writing in this new social network and then, after doing some research , I joined. I received the confirmation email right when it was the turn of the oculist, so I clicked it and logged on steemit. Having done everything in a hurry, once I had a visit and went home, I completely forgot to enter and check steemit! I only saw it one month later, browsing the mails I receive in my email. I began to write, thinking only about the gain, but soon after I started to follow some very interesting people and found a group dedicated to the help of the entire Italian community; it did not take long before I put the economic side in second place in favor of the social side, which was more important. Actually, 100 days have elapsed since my subscription, but for laziness and distraction I started about 30 days later. So let's say it's my first 70 days!

Mi ritrovo ora, 70 giorni circa piu tardi , in un bellissimo gruppo italiano che al momento conta piu di 100 persone ( grazie
@steempostitalia
) , i miei post contano un totale di oltre 1100 e sono seguito da piu di 400 persone ( sono poche direte voi, ma per me sono tantissime, grazie! ). Quindi si continua l'avventura su steemit, cercando di creare nuovi rapporti con gente meravigliosa e chi lo sa, magari un giorno neanche ci ricorderemo piu di Facebook!
Io, 70 giorni fa ho iniziato un bellissimo viaggio e spero che intraprenderete insieme a me questo cammino!
I find myself now, 70 days later, in a beautiful Italian group that currently has more than 100 people ( thanks
@steempostitalia
), my post counts a total of over 1100 and i'm followed by more than 400 people (you you can say "not much", but for me are so many, thank you!). So i continue the adventure on steemit, trying to create new relationships with marvelous people and who knows, maybe one day we will not even remember nothing about Facebook!
I, 70 days ago, started a wonderful journey and I hope you will take it along with me!