"WHO ARE THE KACHINS?
Comprising six ethnic sub-groups (Jinghpaw, Lawngwaw, Lashi, Zaiwa, Rawang, Lisu) are called Kachin. These six groups are the same traditions, customs, dialects and practices live mainly in northern Burma, as well as parts of China and India. The Kachin in Burma are estimated to number between 1 - 1.5 million.
WHERE DO THE KACHINS LIVE?
Total area of the Kachinland measures about 33,903 square miles, located between 23o-3' to 28o - 29' N Latitude and 96o - 99o E Longitudes. Kachin land is adjoining with Peoples Republic of China in the East, Democratic Republic of India in the West, Tibet in the North and Burma in the South. About 50% of the total area of the Kachinland is hills and mountains up to the height of 5,881 metres above the sea level.
Kachin land is rich in natural resources, like Jades, gold and teak-timbers etc.. The land is covered with undisturbed-natural forests. The rarest natural species like Black Orchids, White Pheasants, and golden fishes in the confluence of Mali and Nmai rivers are observed. There are mainly three seasons in the Kachinland, Rainy Season., middle of May to middle of October; Summer Season is from middle of February to middle of May, and Winter Season starts from middle of October and ends in February. Annual Mean Daily Temperature ranges from 4 - 36 oC with 60 - 95% Relative Humidity. Hill cities, like Putao, have a very low temperature ranging from -4 to 18oC with low humidity. The uppermost part of Kachinland, including the Putao falls in temperate zone. The maximum temperature of 40 oC was recorded in 1996. Annual rainfall ranges from 80 to 200 inches. More rainfall has been observed in mountainous parts of the land.
How did the Kachin People Convert into Christian?
The Kachin of Myanmar originally religion was animism. Christianity spread among the Kachin people since 1837, like Eugenia Kincaid was the first Baptist missionary met Kachin people in northern Burma, Kachinland in 1837. He wrote letter to the mission society in America to send missionaries to Kachin land of northern Burma ( Myanmar). The first Baptist missionary to Kachin people was Albert J. Lyon, he died from malaria on March 15, 1878, one month after his arrival. Then William H. Roberts came to over to Bamo the Kachin Land, northern Burma, on January 12, 1879,he re-accomplished great mission work among the Kachin people and the first seven Kachin had been converted into Christian and baptized at Bumwa in 1882. He also started opened primary school for Kachin people.
Dr.Ola Hanson came over to Bamaw in December 22, 1890 and created Kachin's alphabet from Roman alphabet in to the first kachin literature. Dr. Ola Hanson also compiled a Kachin-English dictionary and translated hymnal and the Holy Bible into Kachin.
Late after another twenty-four American missionaries where opened mission schools, hostels, hospitals, health centers and other development programs over the Kachinland, but on August 1960, the first Priminster of Union Burma banned and abolished the freedom of religious regulations act and declared Buddhism as the State religion. Since all the western missionaries where left from Burm (Myanmar).To day majority Kachin are Christian.
How does the government systems of the Kachin (1947) before Independent of Burma (Myanmar)
The Kachin' Government system is used to be ruled by village and clan chiefs. The territory of Kachin State never came under direct British administration, nor had they been directly under the authority of the Burman (Myanmar) court before the Kachin Hill Tribes Regulation Acts 1895 was introduced. However, many of the areas actually within the orbit of the regulation were still governed through a system of indirect rule, which relied upon the authority of selected local chiefs and elders for the successful implementation of Government policy. During British rule of Burma (from 1886 to 1947), most Kachin territory was specially administered as a frontier region (Kachin Hill Regulation Act 1895).|
How did the Kachin jointly gaining Independent in (1947) with Burma (Myanmar ) from British
The Union of Burma (Myanmar) is a nation-state of diverse ethnic nations(nationalities),founded in 1947 at the Panlong Conference by pre-colonial independent ethnic nationalities such as the Kachin, Chin, Shan, Karen, Karenni, Mon, Arakan, and burman (mayanmar), based on the principle of equality. As it was founded by formerly independent peoples in 1947 through an agreement, the boundaries of the Union of Burma today are not historical. Rather, the Union of Burma, or myanmar in its current form, was born of the historic Pang long agreement signed in 1947, Shan state of eastern Burma . Burma (maynmar) gained Independent from British on Feb 12, 1947. Today in Burma' government is military dictatorship.The population is about 50 millions, and half of them are Burman (mayanmar) and the rest of them are ethnic minorities. 30% are Christian."
Read more : https://m.facebook.com/story.php?story_fbid=430214680407695&id=338358646259966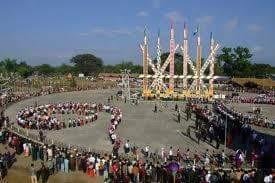 Ref: KNO