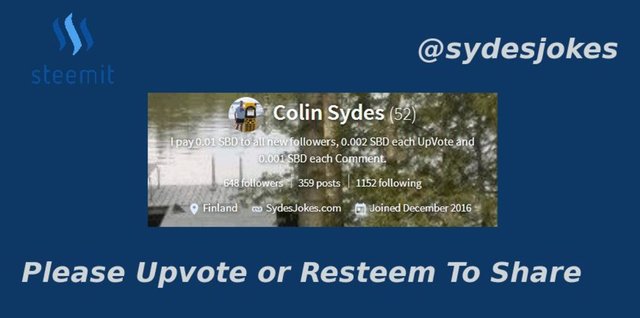 SBD Payout: 12.00
SBD Price in USD: $7.90
This week I had 10048 actions on my posts which is 0.00119427 SBD per action.
This is to share my Steem Dollar around the Steemit community.
I will prepare this blog post for the intereactions for the previous week every Sunday.
Last week have had 913 people interact with my posts so thanks to you all. Today I will combine the weekly payout with my Faucet payout to avoid sending those of you that do the Faucet 2 payments. Will take longer than usual to send all payments so please be patient.
Because of Steemit Bandwidth Limits I have been hitting over the last few day I now have to set a minimum 0.200 SBD withdrawal limit (this may need to be changed later) to reduce the number of payments I send out a day. I have created a Pending Payments page where people can check their SBD balance to see how close they are to getting their next payout --> http://csyd.es/Steemit/PendingPayments/
Top Steemit Interactions by Total SBD