It was no coincidence that TRUMP kept on referring to "RIGGING"..!!
TRUMP and BLOCKCHAIN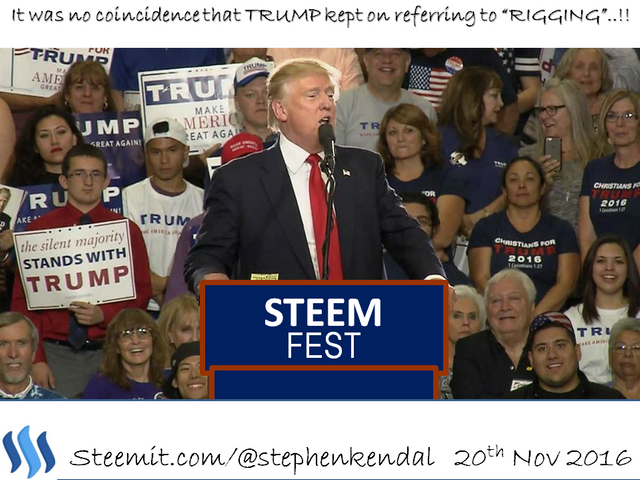 STEEMFEST is what will set STEEMIT out from the rest of the pack..!!
As STEEMIT develops it will be STEEMFEST that will be its USP.
More people are waking up to the fact that unlike other Mainstream Social Media Sites STEEMIT is the first that is Decentralised.
Being a Decentralised Social Media Site was what SOCIAL MEDIA had always set out to achieve.
What is the point in having a SOCIAL MEDIA SITE if it is conditioned by SHAREHOLDERS and in essence RIGGED..!!
A REAL SOCIAL MEDIA SITE should be OWNED by the USERS and totally DECENTRALISED.
BLOCKCHAIN, Bitcoin's underlying technology is about to totally revolutionise not just SOCIAL MEDIA but the entire INTERNET.
For the first time since the dawn of the INTERNET the Internet is about to undergo a transformation that not even the smartest of people of the Planet can begin to comprehend the RESULTS..!!
The INTERNET is about to take itself to the next level and change from being the INTERNET of INFORMATION, to the INTERNET of VALUE.
This truly is a TECHNOLOGICAL CHANGE OF EPIC PROPORTION..!! 
A once in Generation CHANGE.
Soon there will be no where to hide and the TRUTH will be evaluated on the BLOCKCHAIN.
TRUMP's arrival in The White House IS NO COINCIDENCE..!!
In the coming weeks, months and years as STEEMIT and STEEMFEST develops people will look back at the Election of TRUMP and remember that it was at this time the RIGGING stopped..!!
It wasn't TRUMP that did it, it was BLOCKCHAIN. 
TRUMP was just the right person at the right time to take on the job..!!
STEEMIT and STEEMFEST will be catapulted into orbit when the penny finally drops, and it will.
Just to finally re-cap once more, BLOCKCHAIN cannot be RIGGED, MANIPULATED, CONTROLLED, ORCHESTRATED, CHOREOGRAPHED, INFLUENCED, CHANGED, ALTERED, FIXED nor TAMPERED..!!
Thanks for reading.
Stephen