Surfing with STEEM..!!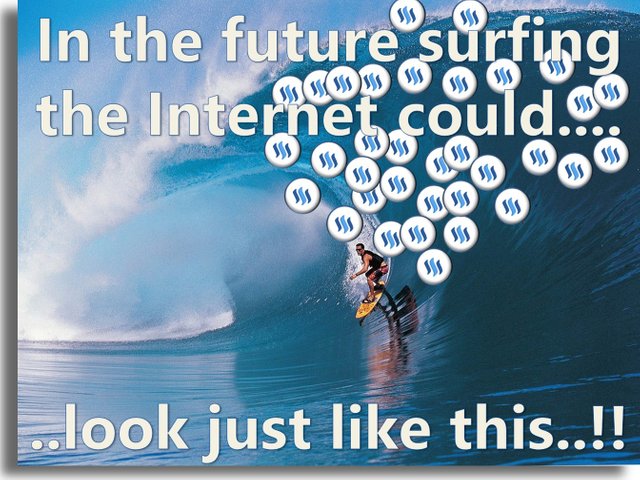 A lot of people tell me that I don't think like most people, and I am never sure whether to take it as a complement or a criticism, but having achieved some stunning personal goals in the last 30 years I am opting for it being a complement.
Today we are witnessing a Technological Revolution of Biblical Proportion that is set to make the invention of the Internet itself appear to have been dreamt up at a children's tea party..!!
Don't get me wrong I am not knocking the invention of the Internet, on the contrary, I strongly believe that it was a ground breaking invention of its time, however I am talking about taking the Internet and putting a value on it.
In the future every click will be Rewarded..!!
In case you thought your eyes were playing tricks, I will just repeat this. Every time you interact with the internet you will be paid..!!
Now before anyone runs off and starts ordering a new boat, car, suit, dress, or pair of shoes, just hang on.
What I mean is that in the future every time you make a Blogs, Upload, Download, Share, Like, Dislike, Documents, Photos, Videos, Music, Films, Games, Streams, Feeds, Links ...(this list is ENDLESS) you will be rewarded a MICRO PAYMENT..!!
These MICRO PAYMENTS will be tiny in comparison, let's say $0.00001, but they will have VALUE..!!
It will be these MICRO PAYMENTS that will in essence for once in over 30 years put a value on the Internet.
Where does this leave STEEM and STEEMIT you may be asking?
Well if my vision is right, and this is the course that STEEM and STEEMIT takes, I will let you do the numbers..!!
Inspired by the famous line from a great film..... "....I think we are going to need a bigger calculator..!!"
Thanks for reading.
Stephen