💰 100 STEEM TO WIN! 💎 Discover a NEW GAME and dig up SteemStone! 💎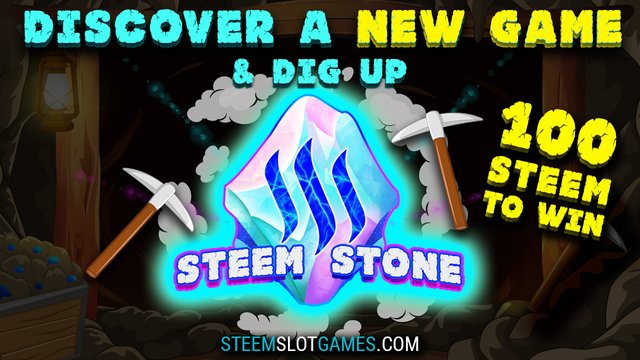 Brave explorers! 🤠🗺
Gates of the Old Mine has been opened! Discover the treasure they are hiding and take part in our CONTEST!
The prizes are waiting for you just for the participation!
You
broke the code
to the Old Mine gates! Congratulations!
Now you walk through them and you see a long shaft inside. You take a look around and then you noticed the old kerosene lamp. Fortunately there is still some oil inside, so you light the wick and the cave filled the warm light of the lamp. What you see around you makes you feel dizzy!
Fragments of precious stones are sticking out of the rocks on the walls of the mine, they are everywhere! You look around and see an old rusty pickaxe - it's time to dig your way to richness!
Now take matters into your own hands and start digging treasures yourself! For a good start, we have prepared STEEM for those of you who will dig a special stone SteemStone! ⛏
In the prize pool we have 100 STEEM so don't wait, just take a part!
How to win STEEM?
⭐ Follow our profile
@steemslotgames
!
⭐ Log in to
SteemSlotGames.com
and click PLAY button under the SteemStone game.
⭐ In the comment post a screenshot showing that you have dug up the SteemStone!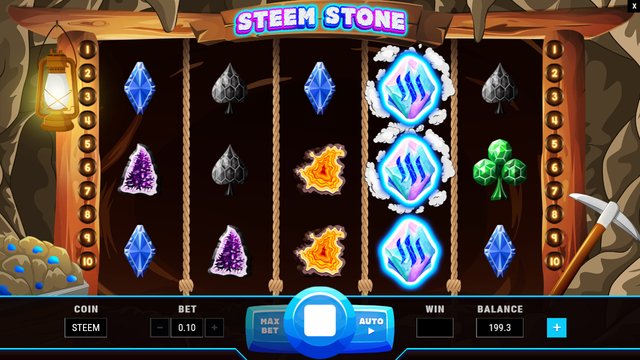 Discover the great power of SteemStone!
When this special stone appears, it changes symbols on the reel into SteemStones in a magical way and you get a free Respin!
Take a screenshot when SteemStone will appear on the reels. In theory, SteemStone appears on the reels once every ten spins, so it should be pretty easy! :)
Everyone who completes the task will receive a part of SteemBounty activated for this post! 💰 We have 40 STEEMs to share! 💰
🔥 But that's not all! 🔥
From the entries, we will draw 3 lucky players who will receive the main rewards!

💎 First place 30 STEEM
💎 Second place 20 STEEM
💎 Third place 10 STEEM

We are waiting for your entries until 05.06.2019 to 23:59 UTC. We will publish the results of the draw one day later, then we will also distribute the votes from SteemBounty.
Each user can make only one entry. Only users with a reputation 40+ can take part in the game. Only entries from real money games take part in the game and you can be sure that we will check it out. 😉
GOOD LUCK AND HAVE FUN!⛏
Are you ready for a new adventure? 🤠💎⛏
Visit SteemSlotGames.com, grab your pickaxes and dig up SteemStone!



SteemSlotGames.com is the first slot games platform based on the Steem Blockchain!
To provide our players the maximum level of security the login is possible through SteemConnect. Thanks to this all your keys are encrypted on your cookie file and they remains 100% private. You can learn more about safety and rules of the game on
www.steemslotgames.com
in "How to Play" tab.