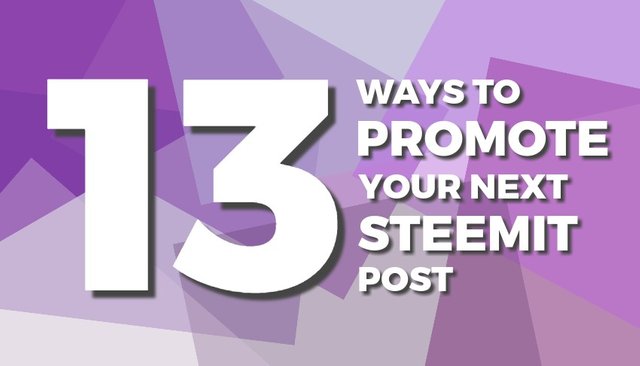 I began writing posts on Steemit in Mid-August and ever since then, I've noticed that there is a lot of great, high-quality content floating around Steemit that has gone unnoticed. People get frustrated since they put so much effort into a single post, and then they get very weak results. If you're writing great content, then that's great. However, writing incredible content is only half the solution. Promoting your content is the other half that many people seem to forget or underestimate.
To help you with this, I've created an infographic that you can easily use as a checklist for promoting everything you write. Make sure to save it in case you need it for future reference.

I would also greatly appreciate if you added more ways to promote your content in the comments section to help others out.
---
Conclusion
If you liked this post, make sure to upvote and follow for more awesome content. Also, please share or reSTEEM this with anybody you know who is struggling to get their blog off the ground.
Make sure to comment below any questions or comments.
Links:
Follow SteemRocket on…
Recommended Posts:
Best Time to Post on Steemit [Infographic]
Why 95% of Steemit Blogs are Doomed to Fail Before they Even Start