Every Thursday night at 8:00PM EST @freedomexists hosts the Promote Your Post Live event over on the Whaleshares Discord where all the participates have an opportunity to share a recent post they created with everyone and receive feedback, upvotes, and win some WHALESHARE Tokens.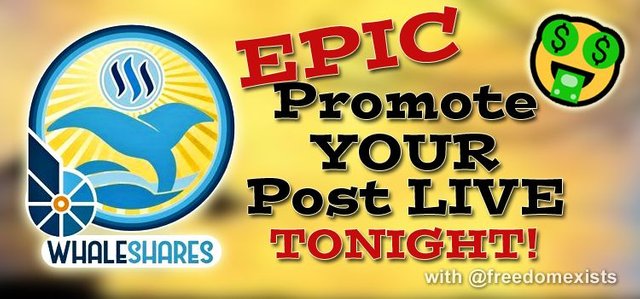 ANOTHER EPIC SESSION IS ON TAP TONIGHT!
Over the last 9 weeks this event has grown to become the most popular live event we host on the Whaleshares discord. Each week it gets bigger and bigger, so swing by and have some fun with us tonight.
But you have to get involved, be prepared to spend 1 or 2 minutes talking about your post with everyone and answering any questions people may have about it.
You WILL NOT earn any rewards just sitting in the chat and not interacting with everyone. Get EXCITED and tell us why your post is worth upvoting!
🌟You MUST be in the room at the time we start to guarantee your spot to present your post and earn upvotes.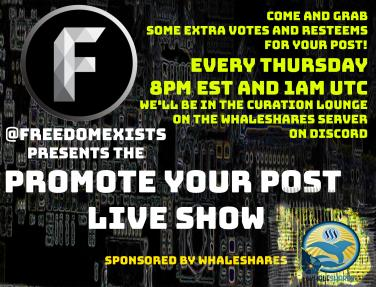 ---

If you haven't done so already...
Join the Whaleshares Discord
https://discord.gg/E9Rm9yT
Create a Bitshares/OpenLedger Account
You will need this to receive your FREE WHALESHARE Tokens
CLICK HERE TO SET ONE UP - IT's FREE.
Not Sure on Your Local Time?
🕢 Check your local time zone for this event here.
---
Let me know what you think, please leave your comments below.
As always, please upvote this post and follow me if you like my work and want to see more.
If you think others will enjoy this
Please ReSteem it!
Thanks for reading!