👀The Most Unbelievable Use Of Steemit.com For 2019 - [READ HERE]
Imagine this for a moment.
You are an average guy working hard to get ahead in life. There's one problem… You made some bad decisions when you were younger and ended up with a big amount of credit card debt which has been following you around for years! This debt is holding you and your family back because every spare dollar you earn goes towards late fees and you can't even pay off the principle it's grown so big.
Unfortunately, this is a true story, I'm the guy who ended up with a credit card debt totalling $15,767.90 and I have been struggling to pay this off, it's been crippling me financially for way too long.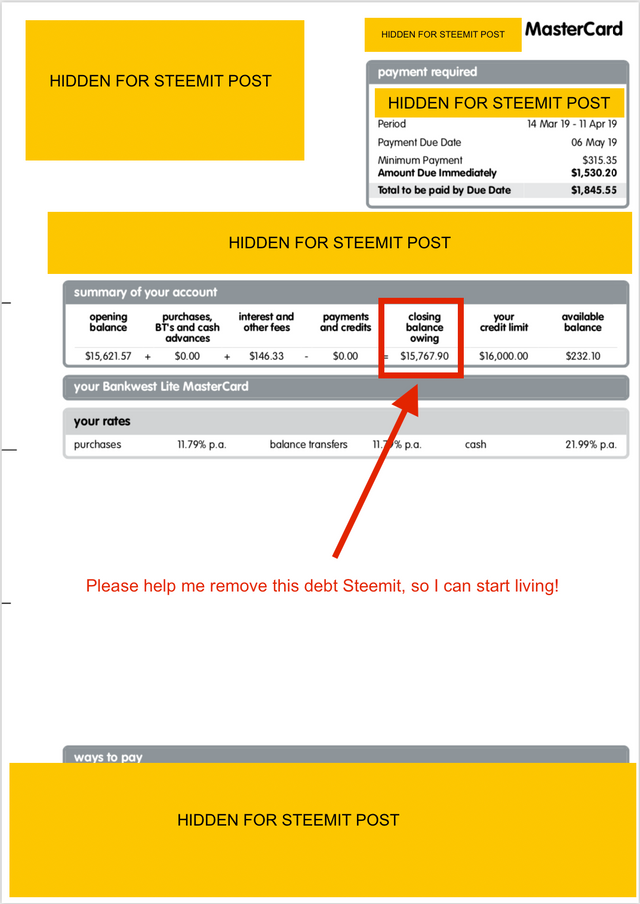 There is some great news! Last week I had a discussion with my bank and they offered me a payout deal, I had no idea this was even possible!
Here's how it works. When a bank determines you're a high risk they offer you a payout figure which is a less then the total balance owed on the credit card, if you can pay this figure in the agreed upon timeframe they will forgive the remaining debt, close your account and best of all, this doesn't report badly on your credit.
My bank offered me a payout figure totalling 50% of the outstanding amount.
My outstanding amount is: $15,767.90
The payout figure is: $7,883.95
I have 15 days to come up with $7,883.95 or I miss the opportunity to finally live debt free and start getting ahead in life!
I've been a Steemit supporter and advocate since the very early days and really believe in the collective power this community provides. Now I ask you to use some of your superpowers to help me with my problem.
Steemians, Steemit and Busy Communities, help me make this post go viral!
My goal is to raise the finds I need by getting this post seen by as many people on Steemit as possible over the next 7 days.
How To Help
Upvote this post
Resteem this post
Comment world of encouragement below
Please, please, please help me change my life and live debt free for the first time in 10 years!
Let's do this Steemit :)