Update: Townhall & Witness Meeting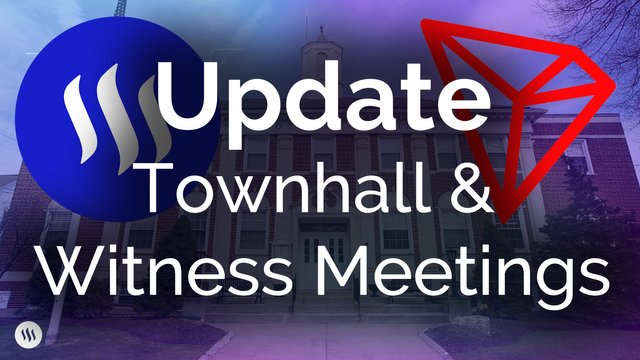 Hello Steemians, we apologize for not updating you sooner but the last thing we wanted to do was give you inaccurate or untruthful information. We have now met with the TRON team and are excited to share with you the outcome of those meetings.
Town Hall
We will be hosting a Town Hall meeting a week from today, March 6th at 9 pm PST. We will provide Zoom meeting information prior to the meeting. Please leave any questions or comments to this post that you would like to be addressed during this forum.
Prior to the Town Hall, there will be a meeting between Steem Witnesses, Justin Sun and other TRON members, as well as the Steemit team. The meeting is tentatively set for Wednesday, March 4th at 9 pm PST. This will be a great opportunity for the Steem Witnesses to share their ideas and vision for Steem. The community asked for this, so we are happy to deliver on that request.
Our Visions
The most important question in our minds going into these meetings was not whether we share the same vision for Steem, but whether these two organizations, each with their own strengths, can work together to help realize one another's visions. We were happy and somewhat surprised, to discover that this is the case.
Both organizations are trying to onboard the masses to the blockchain through amazing applications. But while Steem is taking a more application-specific approach that enables it to provide speed, consistent user experience, and free transactions, TRON is constructing an ecosystem of interconnected databases like the TRON blockchain and BTFS each of which serves a specific purpose. They see the Steem blockchain as the perfect addition to this ecosystem.
Making History
After meeting with the team we all agreed that the best way to progress our missions and add value to one another's stakeholders is to connect our two powerful blockchains through Cross-Chain Atomic Swaps!
This would be the first time in history that two blockchains of this size will be connected to one another so that tokens can flow freely, and voluntarily, between the chains without the need for trusted intermediaries like exchanges.
New Path, Same Destination
We know that there is still a lot of work to be done to mend the wounds created by previous leadership and a rocky transition, but we are now confident that this partnership can be the new beginning that Steem so desperately needs. We hope you will join us on this new path toward achieving the same mission: to onboard the masses to the blockchain by tokenizing the web.
But let us know what you think. Do you think Cross-Chain Atomic Swaps sounds like the type of win-win solution that could help Steem and TRON explode into the mainstream? Let us know in the comments below and we will see you next week at the Town Hall.
The Steemit Team