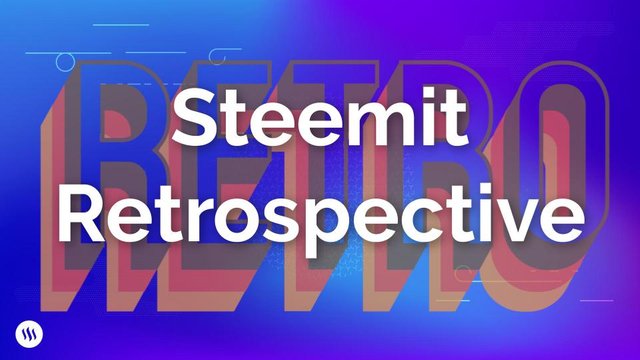 At Steemit we perform monthly "retrospectives." Retrospectives are conducted at the end of a "sprint" and are a time for teams to reflect on how they have been working with the goal of continuously improving their processes. We want Steemians to have as much insight into what we are doing as possible, so today we'd like to share with you a summary of what we discussed in our most recent retrospective which covered the past month. If you would like to see last month's retrospective, go here.
What went well?
All ad slots are now working with our 3rd party service provider Freestar
Hardfork 21 was released and the hard fork date was set
Things went relatively smooth despite having a critical team member on vacation. This made us realize how well we do with 'shielding' other team members from distractions (because we ourselves were handling distractions that normally would have been handled by Michael).
A lot of SMT work was accomplished over the last month even with all of the testing and bug fixes necessary for HF21.
HF 21 Testnet caught bugs that we were able to fix prior to release. We have increased our confidence in this hardfork as a result of successful testing.
Community developers and witnesses pitched in quite a lot with testing of the hardfork which lead to finding and fixing bugs that may have otherwise not been discovered.
We (the engineering department) have been interacting with the community more. We've had both discord shows and posts from our own accounts in order to facilitate this communication.
HF21 Steem-js support was released
We were able to make headway on Hive communities by beginning to implement the core logic into Hivemind
We decided to re-write the wallet proposals UI instead of merging in additional technical debt
Released a MIRA performance tuning guide
Merged in more community contributions to condenser
Completed our first SMT burnup post since development on SMTs has rebegun
Clumping ICO work in to a single PR made Steve happy and more productive.
What didn't go so well?
Failure to keep steem-js up-to-date over time made it very difficult to troubleshoot a problem with integrating new SPS operations.
Because we don't have adequate tests in steem-js for serialization we didn't identify that it was a problem immediately
We've been unable to handle quite as many community PR's because of our focus on HF21 related tasks and Hive Communities.
We still found bugs after HF21 testnet. API issues are minor, but the BMIC database revision bug is problematic and will likely lead to another release or retagging of the current release.
Deployments are dependent on three cloud services to succeed. (AWS, DockerHub, and GitHub). This can be problematic if one of the three is down (namely GitHub earlier this month).


Escalations

Check AWS billing heat map for next cost reductions as this has drastically changed since our last review.
Look into the possibility of adding the ability to use an API key with the public API.
Check AWS dev EC2 list monthly to ensure that there aren't any forgotten/abandoned developer test instances still running.


Your Feedback


What do you think went well over the last 3 months and what do you think we need to improve the most? Please leave your feedback in the comments section below.
The Steemit Team