LINK THE FUTURE - TRON Ecosystem Virtual Conference 2020
The 2020 TRON Ecosystem Virtual Conference is being held on Wednesday, December 16th, 2020.

It will include keynote presentations from Justin Sun, Founder of TRON and CEO of BitTorrent, and a whole range of leading industry experts. Justin will be speaking at 13:00 UTC.
The conference will also feature the launch of BitTorrent X - an ecosystem comprising BTFS, the BitTorrent apps, the BitTorrent token (BTT), and DLive.
Elizabeth Powell, Managing Director of Steemit, Inc will be giving a presentation about what is happening on the Steem platform. This presentation will be starting at 14:15 UTC.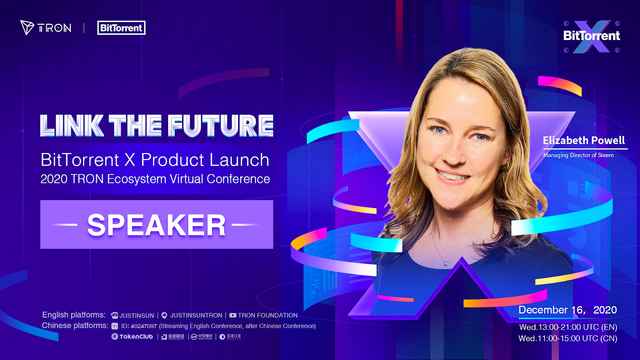 ---
The conference will have a Chinese stream running from 11:00 UTC to 15:00 UTC, and an English stream from 13:00 to 21:00 UTC.
The event will go out live on DLive(https://dlive.tv/JustinSun), YouTube(https://bit.ly/34el4uq), and Periscope(https://www.pscp.tv/justinsuntron/) for the English stream, and on 一直播, 火星财经, 金色财经, TokenClub for the Chinese stream.
Details of all the speakers at the Link The Future conference can be found on the Tron Foundation's Twitter feed…
https://twitter.com/tronfoundation
---
We hope you will all come along to watch this special event.
Thank you,
The Steemit Team