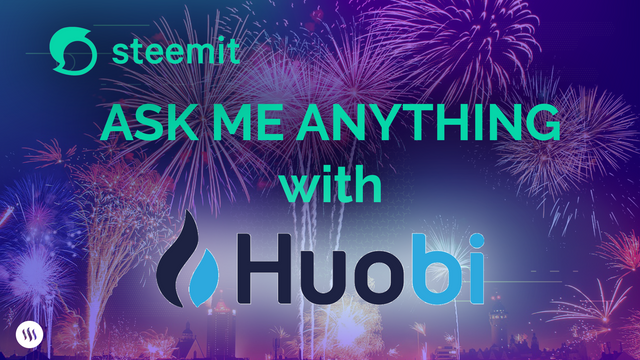 Join the AMA!
Today we will be hosting an AMA with Huobi through @steemitblog at 1:00 PM CST (7:00 PM UTC) where Steemians can ask the Huobi team any questions they might have about their exchange. This will also be an opportunity for those from the Huobi community to ask any questions they might have about the Steem ecosystem. Just come back to @steemitblog at that time where there will be a new AMA post. Post your questions to the comments section of that post.
About Huobi (from huobi.com/about):
Huobi is an advanced U.S. digital currency trading platform operated by HBUS Holdco, Inc. ("HBUS"), a U.S. company and strategic partner of Huobi Global, one of the world's largest digital asset trading and management service providers. The Huobi service offers a wider variety of token options and giveaways to American audiences, with 24/7 personal customer support, and unparalleled security.
Located in San Francisco, HBUS is founded by a team of proven technology executives and disruptive founders, and operates the Huobi marketplace platform under the highest of ethical standards with a commitment to U.S. legal compliance.
The Steemit Team