Community Contributions to Steemit.com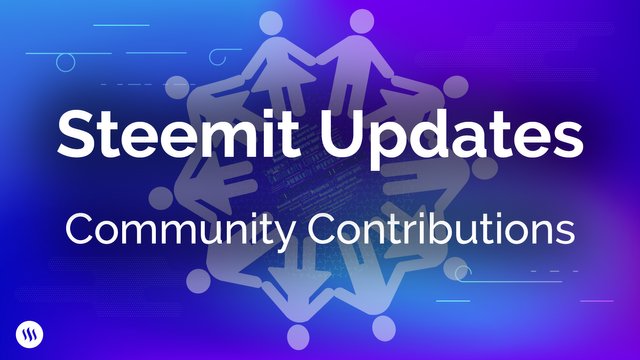 At Steemit, we want to empower community developers to improve steemit.com and steemitwallet.com, which is why we are so excited about all the community contributions we have been getting lately!
Look at all of these community PRs!
If it wasn't obvious, @quochuy is without question this week's MVP, if only based on pure volume! But @quochuy didn't stop there, also contributing what we feel is a significant aesthetic improvement to how comments are displayed on steemit.com ("Condenser"). Many of you might have noticed this change already! If not, just take a look at the comments section below.
Contribution Guidelines
In an attempt to make it easier to contribute to Condenser we have simplified and unified our Contribution Guidelines. The guidelines should provide developers with a way to make contributions with confidence. At the same time, they give the developers who are reviewing those contributions more clear guidance on how to evaluate submissions.
The Backlog
We've made an initial pass through our backlog, but some issues still require confirmation that they can be reproduced. If you'd like to help, be sure to check out the "help-wanted" tag on the condenser repo.
Steem's Secret Weapon
The software that powers steemit.com is one of the secret weapons of the Steem ecosystem. Steem is the easiest, most low-cost, blockchain for powering web applications. By offering a powerful, open source web application that anyone can use to bootstrap their blockchain-powered business, we are ensuring that there will always be a vibrant and growing community of developers looking to improve the software. That's why we are excited to see teams like those behind RocketX and Nitrous essentially offering "Condenser-as-a-Service" and users like @quochuy not only helping to make it function better, but to make it look better too.
One Small Step
We know that organizing the backlog and updating the contribution guidelines is just one small step toward showing community developers how to best get involved and that we are serious about being a collaborative community project. We have to continue reviewing PRs, providing feedback, and demonstrating our commitment to this flow if we want to regain the trust of community developers.
But in order to do that, we need community PRs to review! So if you're a developer who wants to help improve steemit.com or steemitwallet.com, be sure to check out our updated Contribution Guidelines and the help-wanted tag!
Tutorial
New to developing for Condenser? Check out this tutorial we just published to @steemitdev which goes through how to write your own features.
_The Steemit Team