Account Approvals Enter Thrive Mode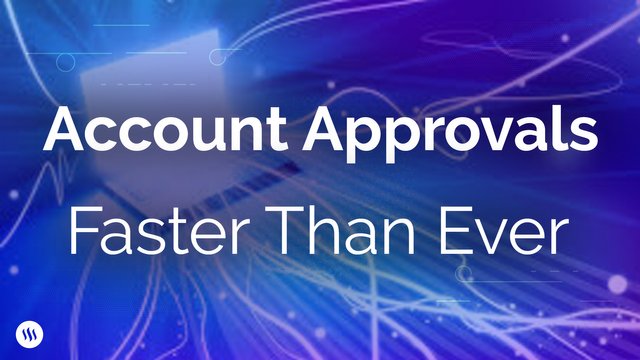 Hello Steemians, we are excited to inform you about changes to our account approval process that have occurred behind the scenes. While we cannot disclose too much information about our account approval process in order to mitigate against attack vectors, we do want to inform you that the average wait time for a Steem account that is processed steemit.com has been dramatically reduced. Account approvals can take as little as a few minutes, and as long as a couple of days.
Signup Abuse
There are some important caveats to this announcement. These approval speeds are dependent on the current rate of signups and the current quality of signups. One of the challenges we've always faced is that the easier it is to sign up, and the faster the approval process, the more prone the faucet (the system for distributing blockchain accounts) becomes to abuse.
Invite Your Friends!
The more people who sign up with their real e-mails, and their real phone numbers, the faster they get approved, and the faster everyone else in the queue gets approved. Malicious signups on the other hand clog up the system.
For anyone who has been holding off on inviting their friends due to the long wait times, that should no longer be a concern.
That being said, it will benefit everyone if you only encourage high quality signups, and encourage those people to use their real e-mail address and phone numbers to maximize their user experience, and the user experience of other faucet users.
Problem Solved?
This is by no means a permanent solution, but it is a major step in the right direction. One of the most common complaints we hear is that the sign up process takes too long, and we agree! That's why we've reduced that time frame by 85% in many cases.
RCs: Another Onboarding Bottleneck
One important feature that is coming with SMTs is RC Delegation Pools which are critical to improving Steem onboarding. We don't want to onboard an order of magnitude more users if it means that everyone's ability to transact on Steem is greatly diminished. Steem has finite resources, and the RC system is designed to ensure that those resources are not over-consumed, while keeping Steem free-to-use.
The RC system is incredibly innovative and has performed extremely well to mitigate blockchain spam. That being said, there are far more resources available than are currently being used because large stakeholders often have tons of RCs that they don't use.
Getting RCs Into More Hands
Those RCs represent network resources that could be used by smaller stakeholders and new users to have delightful experiences on Steem, but because RCs are non-transferrable by design, they remain "locked up" in the large stakeholder's account. RCs are implicitly transferable via Steem Power delegations, but transferring voting rights is often not desired by larger stakeholder's and can even be detrimental to the ecosystem as a whole.
RC Oversubscription
RC Delegation Pools will enable large stakeholders to delegate their RCs to "pools" from which a multiple of those RCs can be distributed, without delegating Steem Power. For example, imagine I have 10 Steem friends all of whom only ever use 10% of their RCs max. We can delegate RCs to an RC Delegation Pool which in turn could distribute 10 times the number of RCs we delegate to it without experiencing any diminution in service! We call this "oversubscription."
In many cases that could mean that just a few Steem stakeholders could delegate RCs to thousands of users. Just a few groups like these could easily support an order of magnitude increase in the user base without creating a negative user experience on Steem. RC Delegation Pools will enable a major leap forward in blockchain onboarding, and a large piece of the puzzle for onboarding the masses to the blockchain.
To learn more about Resource Credits and RC Delegation Pools, check out this interview with Steemit's Senior Blockchain Engineer, @vandeberg: