Calling on Steemit Inc and Witnesses to Fix This Major Problem!
Exchanges are blind to STEEM and SBD Deposits and Withdrawals are not functioning.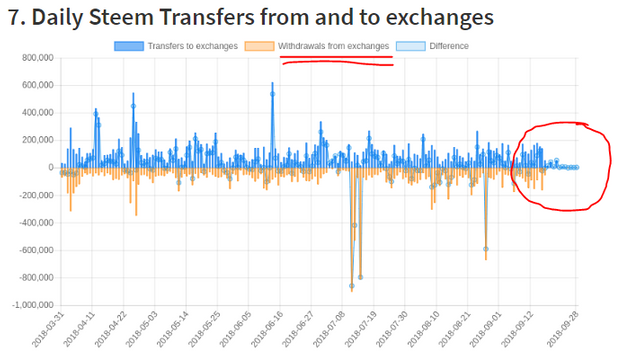 Source: https://steemit.com/steemit/@penguinpablo/daily-steem-stats-report-saturday-september-29-2018
This is a Major problem that has been going on for almost 2 weeks. It started when the STEEM blockchain had a problem and was down for a number of hours. A patch was rolled out to the nodes and the STEEM blockchain was started back up.
The problem is that Exchanges run their own STEEM nodes to keep track of deposits and withdrawals. They have not upgraded to the latest software and gotten their nodes in sync. A week later the STEEM hard fork has taken place. The exchanges presumably haven't upgraded to the new blockchain. Are they even aware that there has been a fork?
This is a serious problem. People need to transfer STEEM and SBD that they purchased on an exchange to their wallets. Why? because it is not safe to store currency on an exchange. Now people are unable to store any STEEM or SBD that they purchase on the exchanges because the exchanges are unable to transfer STEEM and SBD. People will not be willing to buy STEEM or SBD on an exchange because there is no way to transfer it to a wallet.
What is worse is that many Steemians have already deposited their STEEM or SBD to these exchanges and those exchanges are blind to those deposits. Those STEEM or SBD deposits will remain in limbo until the respective exchange gets their node back in operation. If you have a deposit stuck in one of these exchanges, it is imperative that you voice your concern by messaging @steemitblog aka Steemit Inc.
I am calling out witnesses and Steemit Inc to address this massive issue.
If you are voting for any of these witnesses, please reach out to them to remind them that this needs to be corrected.
@gtg
@timcliff
@jesta
@good-karma
@roelandp
@someguy123
@aggroed
@ausbitbank
@blocktrades
@smooth.witness
@lukestokes.mhth
@curie
@followbtcnews
@anyx
@clayop
@cervantes
@xeldal
@thecryptodrive
@utopian-io
@pfunk
@drakos
@riverhead
@abit
@yabapmatt
@bhuz
@pharesim
@liondani
@busy.witness
@furion
@netuoso
@teamsteem
@therealwolf
@themarkymark
@reggaemuffin
@blockbrothers
@ihashfury
@patrice
@aizensou
@arcange
Please Upvote and Resteem to get this important message seen.