I will donate 100% of the SBD from this post in cash to one lucky Uber driver!  Next week, I will create and post a video of myself presenting the driver with a "tip from the Steemit community."  The SBD generated from THAT video will be converted to U.S. cash and given to another random driver the following week!  And so on!  Hopefully we can start producing some massive tips which will encourage the public to start tipping their rideshare drivers, raise awareness of this amazing Steemit community, and provide some life-changing cash to some regular people that probably really need the help.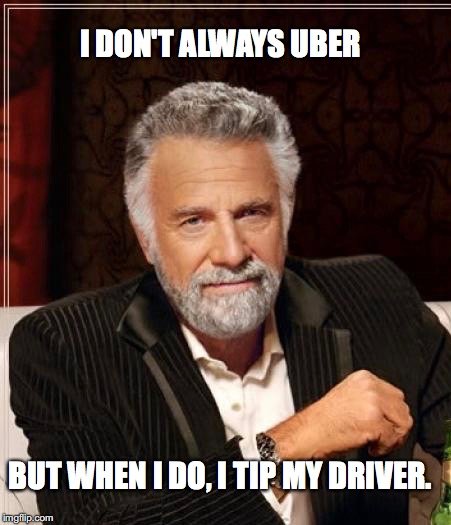 WHY SHOULD YOU TIP YOUR DRIVER?
We live in a tipping society and are EXPECTED to tip our servers, barbers, entertainers, and even taxi drivers.  So why on earth don't we tip our Uber drivers?  Although they have softened in the last few months, Uber actively discouraged tipping for years.  They told riders that "a tip was included," and even instructed drivers to refuse cash tips, creating mass confusion on both sides.  Just so there is no confusion, your Uber driver IS ALLOWED to accept tips and would be GREATLY appreciated.
If you get a bad server, you might eat cold food.  If you get a bad barber, you might have uneven hair for a couple days.  If you get a bad Uber driver, you may never go home again.  Do not underestimate the responsibility that your driver assumes the second you step into his or her car.  They are required to be well-rested and sober, resist distractions, and navigate through an obstacle course full of danger just to get you safely home.  This is why it is so important to reward the quality drivers with some extra cash that they are probably desperate for.  
HIDDEN COSTS OF UBER DRIVING
Most people do not consider the "hidden costs" of Uber driving.  I have given over 1200 Uber rides and over 2200 Lyfts, so let me break down my income after subtracting fees, taxes, and car maintenance.  
First of all, Uber charges 20% - 30% in fees on EVERY trip.  This percentage varies based on location and the date you began.
An Uber driver is also solely responsible for purchasing their own gas and for car maintenance.  I would consistently spend 15% - 20% of my income on gasoline alone.  Once you factor an oil change every few thousand miles and the money spent on things like brake pads and tires, I think a conservative estimate is that about 25% of your income will go back into your vehicle.
Finally, an Uber driver files taxes as an independent contractor and no taxes are withheld from your paychecks.  This means they get hit hard on tax day.  I paid 15% in 2016 but 25% in 2015 (different income brackets).  You can use a mileage tracking app to deduct 56 cents per mile, so we'll say 10% - 15% go to taxes if you deduct miles.
20% - 30% (Uber fee) + 25% (Gas and maintenance) + 10% - 15% (Taxes) = Up to 70% of income gone
Imagine keeping less than a third of your income.   This is why a $2 tip makes the biggest difference in the world.
MY DRIVING HISTORY
I started Uber driving in September 2015 down in New Orleans.  Although I was happy with my income at Felix's Restaurant on Bourbon Street, I quickly started making MORE money providing safe rides around the city.  During New Year's Eve, Mardi Gras, and Jazz Fest, I was making hundreds (sometimes thousands) of dollars a day.  
Word spread quickly however.  As more and more new drivers were logging in every day, Uber began to cut rates to the bone to attract more riders.  Getting a surge rate became a fantasy as I would wait hours for a ride request to come in.  By the time I left New Orleans, I couldn't even make $10/hour.
After traveling around the country and ending up in Nebraska, I'm now driving in Lincoln and Omaha.  I have become somewhat minimalistic and the freedom of choosing my hours is invaluable!  I'm now taking some time off from driving to focus on myself and my Steemit account!
Please upvote and follow! @skycornish