Greetings steemit
Here are some interesting data I dig up for you to check out.
I was wondering how well or bad steemit does compared to 4 of the greatest brands in social media.
and here are my results.It is unfair for every new social media platform to be compared with those giants that is for sure,but as you may see for yourself on my post some very positive things are going on.
But first thing first.
Lets start with the traffic share pie: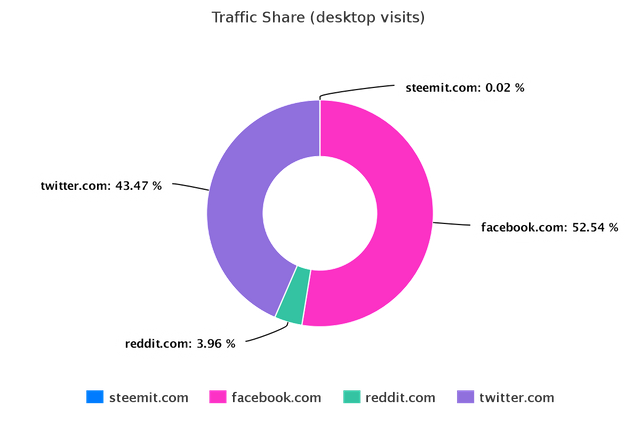 you can clearly see the dominance on social media of the well known brand names of Facebook twitter reddit compared to steemit with a 0.02% of share,well that is not unexpected.so let's move on.
Steemit its a new platform with an amazing growth
which will continue to grow as we will see on the charts that will follow.
References chart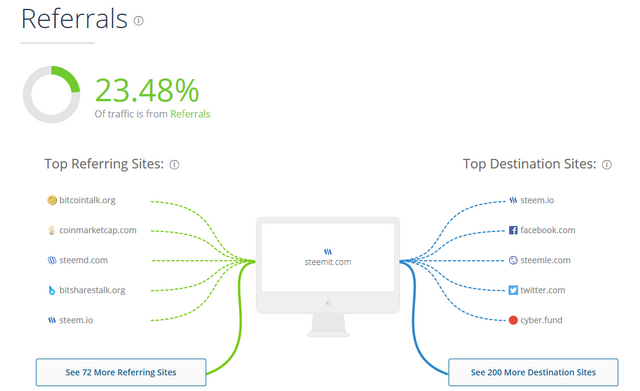 Steemit is getting feed by the most powerful references sites in modern society.facebook and reddit are way ahead advertising steemit than the 3rd twitter and 4th youtube,this is a clear evidence that more people are going to join our community soon.Actully steemit is about to be flooded with newcomers.
So expect a big explosion of #introduceyourself posts really soon.
Engagement chart



This is the key statistic for steemit in my opinion.We all know time is money,right?And as it seems people are very happy with steemit,so happy actually they are willing to spend a good big chunk of their time on steemit's platform.You can clearly see that they are on par with reddit and so close to facebook that makes you wonder.
What can the future bring to steemit?what are the platforms potentials are?
There is no ceiling for steemit,It will go as far as facebook did in terms of adoption and for not worthy to even mention reasons.It will probably surpass it if facebook does not evolve to the new era of social media.the only think steemit lacks is some social networking tools for its users,in my opinion once that is done steemit will be the new king of social media and that must be considered as a de facto.The ball is now on facebook's side will they remain relevant in they future or will they perish like every so other old tech did in the past.Where would you put your bets.Mine goes that they will try to replicate steemit's model in some ways.
We'll see.till then.
embrace yourselves steemers this looks like a fun ride,from the kind of rides that stay on history.
writen by:
aggelos rossidis.
Edit:wow you guys do you now how much money that is for a Greek


yearly tax note for comparison
I feel obligate for a part 2 of steemit analytics.
follow me and I will deliver @skapaneas
| source analytics used by similarweb |