These last couple of days, it seems my account votes at 100% on posts published by people who have upvoted mine. I could use some help figuring out why this happens...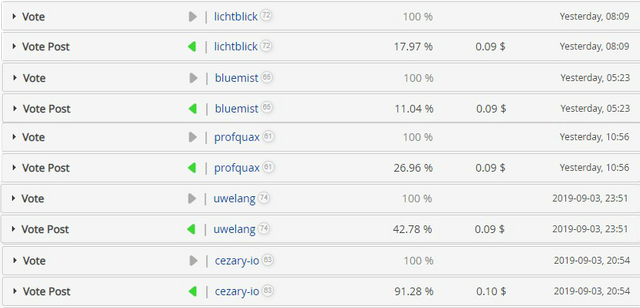 Source
Chances are there's a simple explanation for this... but I have no idea what it could be.
As you can see in the screenshot above, my account has been automatically sending out 100% votes in return for an upvote on my post.
But that's not all...

Source
As you can see, it also happens the other way around.
But maybe the weirdest part is that I do not know who these people are. I did not vote on these posts manually, nor do I have them set on autovote.
I only follow the @trufflepig curation trail, and neither of these posts have been upvoted by that account.
It wouldn't surprise me if I am missing something that's fairly easy to explain.
I would be very grateful if someone could shine a little light on this...
EDIT: Problem solved. It appears I once enrolled myself in the Steem-Bounty Vote Club and forgot all about it. Thanks, @bluemist!

Graphic created with The Logo Creator Software
Subscribe To RSS Feed | Subscribe To Newsletter