Recently I decided to cross-check the profitability and earning viability of two cloud mining platforms and here are my findings! I am one of those people who like to let money work for them rather than work for money. In short - an investor. As an investor/entrepreneur, the first step towards a successful investment is making enough findings, in order to ensure that the investment is not a future failure(house of cards) or less profitable. This allows you to ensure that your money is not just sitting somewhere on the shelf or sitting down "drinking Koolaid" in someone else's account when it should be mixing concrete and laying the bricks of new wealth.
First off I will start with the well known Genesis Mining with which most cloud mining investors are well familiar.
GENESIS MINING
Mining Date Count:
It turns out that at Genesis mining, official mining begins two long days after you purchase mining Hash Power. At least that is what the details in my account tells me. See for yourselves below!
Genesis Mining deposit:
Fig. 1.


Fig. 2.


Secondly, I would like to bring your attention to the fact that I have not been paid any of my earnings from Genesis mining. Reason being that, my earnings have not reached the minimum for withdrawals on Genesis mining. Minimum withdrawal on Genesis mining is 0.015 BTC. Just in case I didn't mention, I bought 0.2 Tera hash of mining hash power from Genesis mining, which is worth about $30 worth of bitcoin.
Fig. 3.



With the conversion rate displayed in fig. 3., You can easily tell that i\f I made an average earning of 0.00005000 daily from the 2.0 T/H power I purchased, that is simply less than $0.20 daily as net profit.
Genesis Cloud mining contract stipulates that I am responsible for the care and maintenance of the mining device assigned to my account. That sounds "a little too boogie for me to comprehend" what's crazy is that it can be used as an excuse to omit payment whereby claiming that earnings have been used to maintaining the device related to my virtual account.
Pros of Genesis mining:
You get your original capital back after your mining contract ends (well,.. so I hope),
Claims to have over 500,000 subscribers (accounts)'
Has a good reputation amongst most people who opt for cloud mining as a source of passive income or cryptocurrency investment,
Cons of Genesis mining:
low profit
requires a significantly large amount of investment for profitability
less than 1% profit daily
MICRO HASH:
Mining Date Count;
Fig. 4.



Fig. 5.
Cost Efficiency + Guaranteed Daily Earnings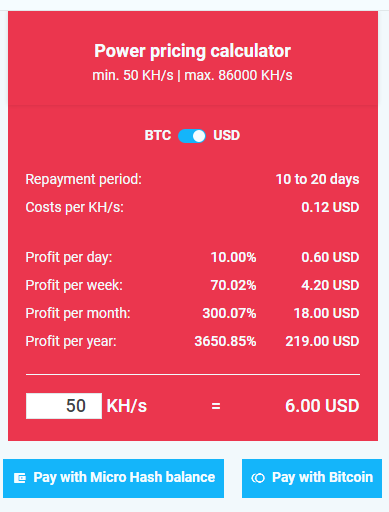 Micro Hash Cloud mining offers a life-time earning contract. Estimated 10% - 15% profit on investment (Hashpower bought) daily. This means that you are sure to earn back your initial investment 7 to 10 days after funding your account. This is no joke or vague promise! Micro Hash offers NO withdrawal fees and 24hrs fund withdrawal ability to all registered users.
Fig. 6.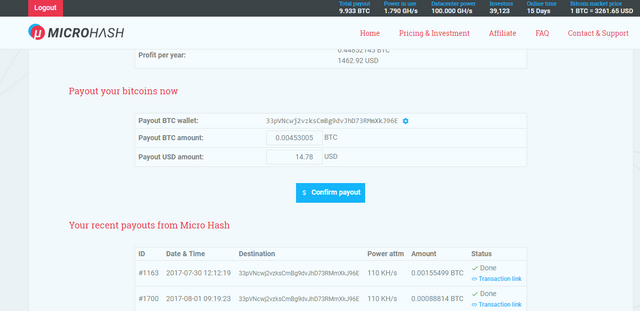 Pros of Micro Hash:
Instantaneous earning seconds after deposit,
Estimated 10% - 15% profit on investment (Hashpower bought) daily,
24hrs round the clock withdrawal access,
Secured by four different security providers.
Cons of MicroHash:
Only 100.000 GH/s Available for sale from the Datacenter; 1.8 of which is currently sold out.
My unbiased conclusion is:
Microhash is everything Genesis mining isn't in terms of payouts, earnings, refs, earnings withdrawals, and transparency.
Sign up for a Micro Hash account today if you wish.
Click this banner --->

GoodLuck and happy earnings!