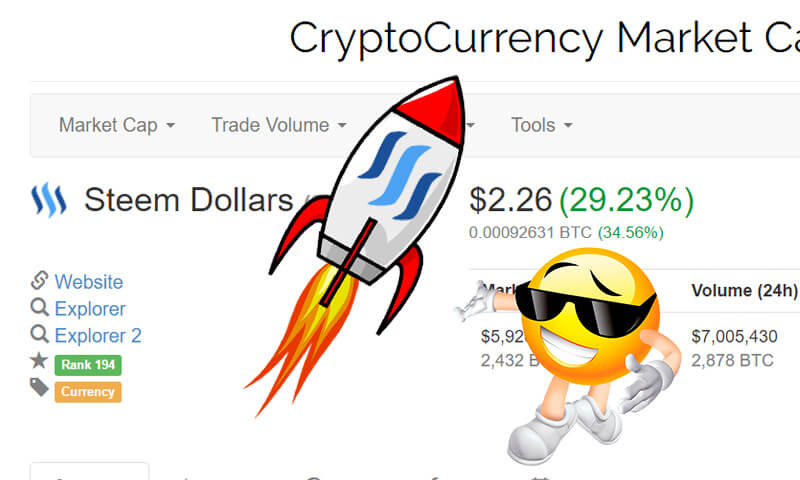 Dear Steemians,
GREAT NEWS 🙌!!!
In the last days when most of the crypto coins (big and small ones) have been facing a big correction ➘ and the whole cryto market capitalization has dropped under the 100 Billion mark ➘; but our loved Steem Dollar (SBD) has gained more than 29% in value in the last 24 hours.
Currently Steem Dollars are trading for over $2 (USD) in the market.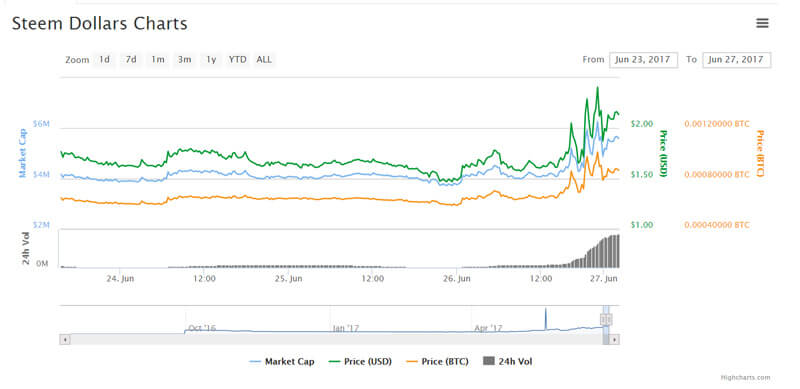 Steem Dollars have even more value in the market than the STEEM coin itself at the moment, which is trading at around $ 1,75 (USD)!

---
That's a big sign for all of us that we are going in the right path with Steemit 🚀
Contrary to a lot of the crypto projects out there, this platform has real use for normal people and it brings closer the complex crypto world to the masses.
Looking at how many people are currently using the regular social media platforms, we can clearly see the unbelievable huge potential that Steemit has. If only 10% of all those users find out and move to Steemit, we will see huge gains in the prices of Steem Dollars (SBD) and STEEM.
Let's all help to promote this amazing platform to great influencers and high quality people to make it grow even more and increase the value in content and revenues for all of us!
Have a wonderful day and keep rocking Steemit 😎
Jose