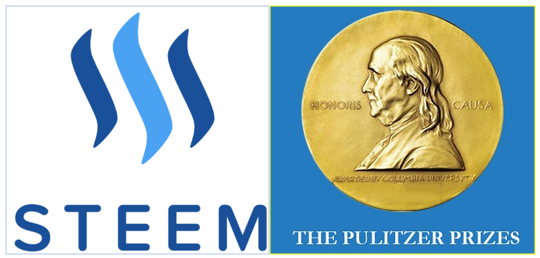 NO BOTS, NO BIDDING, NO STEEM POWER. Just plain, simple and transparent voting process like the Pulitzer, Nobel or Writers' Guild Awards.
I think its fair to say that the present upvote algorithm does not bode well for the majority if Steemians. It's good and it pays but the pay structure heavily favors the "powered up" and more importantly. it's not incentivizing the large majority of users who happen to be minnows. We need more than just upvotes and bot bids to make this community striving and growing for the long haul.
What Can We Do Better?
I call it the Steem Prize (someone could conjure a better name for this) - the Writers' Guild Award, Pulitzer or Nobel Prize for Steemians. The idea is to carefully search for that high quality, well-written posts which "produced the most outstanding work in an ideal direction." This award should be is given to those who spent a considerable amount of time researching and writing the post that has inspired readers and influenced the Steemit ecosystem in a positive way. The PRIZE should be well worth the work: 500 Steem for one winning post each month.
Make it as creative and enticing as possible. Something that Steemians would look forward to every month. And no entry fees, please!
How Will Steemit & Steemians Benefit?
I'll use the analogy of a full-time employee who receives both fixed amount of wages each month and an incentive bonus. The salary is equivalent to the steem and steem dollars received through upvotes while the incentive bonus is the Steemit Prize.
Moving from being a minnow to a dolphin and eventually, a whale is hard. Just like every graduate who starts from the bottom of the corporate ladder and move up as he/she gain more experience and improve her/his performance, Steemians, first start as minnows. The corporate world isn't fair. It's filled with unfair practices to career advancement and promotions. Discrimination, office politics, personality conflicts, leadership style mismatch, cultural preferences etc. are but few of them. Regardless of where you are and what you do, you need to understand the rules of the game and navigate your way through them if you want to succeed. You need to understand how decisions made and who makes them, be savvy about political and group affiliations and maneuver yourself through these challenges to win that covet corner office. Equally important is to spot opportunities with the eye of an eagle and chase them like a lion hunting its prey.
The Steemit Prize will give each Steemian - minnow, dolphin or whale - equal opportunity to shine.