I get this question from a lot from minnows and friends I introduced to Steemit. I'm sure there are many more who are wondering about Voting Power and what it represents. What is Voting Power, how does it recharge and what's the best way to go about spending your daily votes. Let's take a look and learn how the voting system work.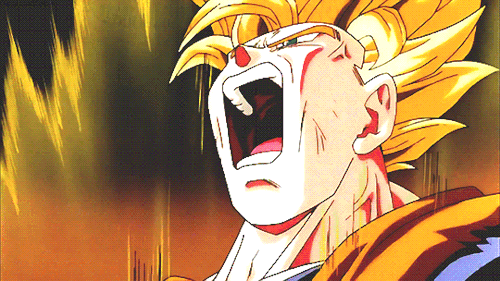 Voting Power determines the power/value of your vote and each 100% vote you give will spend 2% of your VP. Your goal should be to always stay at 100% VP as then your votes are most valuable.
For example if you have a 1$ vote and you are at 100% VP your first vote will be 1$, second vote will be worth slightly less (0.98$), and each brings the value of your vote and VP down further.
To check your VP there are a couple of options.
I suggest you go with SteemWorld as it offers the best stats overview, is always 100% correct and updates as soon as you make a vote, comment or anything else.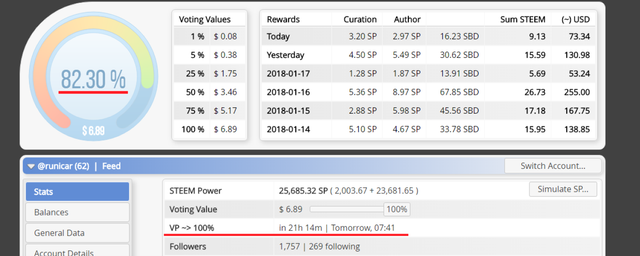 VP -> 100% shows you the exact time at when you will recharge fully. You can also adjust the VP slider to see at what time you will recharge to your desired %. SteemitWorld also offers a neat overview of all stats you might want to know about your account. How much you earned each day, reputation, followers, votes, comments, delegations etc..
Recharging VP
To recharge VP all you need to do is to vote less often. If you really burned your VP and you are at 20%, you will need to wait 4 full days to get to 100% again. So be careful how you spend your votes because Voting Power recharges at a fixed rate of 20% daily.
Taking that in consideration we can easily calculate how much votes you can spend per day to always be at 100%
Example
Each full vote burns 2% VP; 20% recharges daily so if you started with 100%:
And gave 10 full votes you will end up with 80% VP and after 24 hours you will be at 100% VP again. Follow this rule of thumb and you will always be at 100% VP.
So how to manage voting?
Check how much VP you have using one of the tools mentioned above
Get to 100% VP by waiting a day or two; depending on how much VP you started with
Never give more than 10 full votes per day
And viola! You will always be at 100% VP :)
Hope this clears out everything about voting and how to go about spending votes. If you got any more questions feel free to drop a comment below. I'm always here to help.