I've Only Been Here 2 Weeks and i Already DITCHED FACEBOOK!
Facebook is WACK!
I hope i cant get sued for saying that. lol.
If you are new here on SteemIT then chances are you probably already have a FB account for many years. Now that you're here on SteemIT.. DONT GO!! I know it can seem overwhelming at first, and different than Facebook or other social media platforms, but trust me its worth it to keep at it :D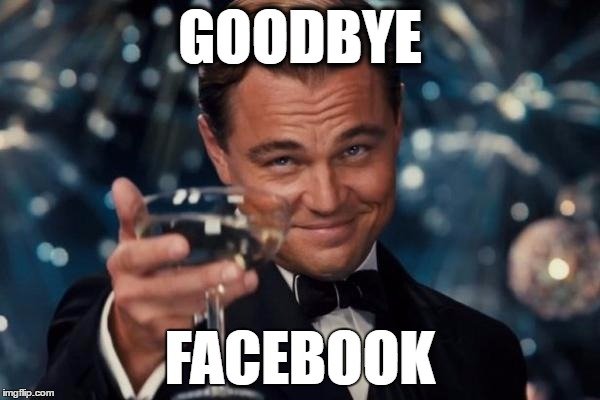 I feel robbed....i feel cheated, i feel like i've beeen wasting time and so late to the game cause i didn't know about SteemIT sooner.
Believe me i understand the value of things because i am a man with vision, and even when the value of Steem was nothing, or only a few cents, i would've loved to be a part of this community just as much as i do now. The motivation here for me now isn't the monetary gains, which i won't lie..they do matter..But most of all what i like here the most is the camaraderie of the community itself. I love being a part of an organic grassroots sort of movement like this and being part of something that is going to help the people connect and also grow financially.
I just wanted to make this post to say i really love SteemIT, i've posted a few times a day everyday since i've joined and i love it. I love thinking of new topic and things to write about. It had been so long since i had done any creative writing, and this sparked a fire under me thats getting me back on track.
In the last 2 weeks i've maybe used facebook, a couple handful of times...but before SteemIT i would be on my facebook page constantly, all day, everyday. I do run a store and music engineering services through facebook so at least i have been making money that...But most people who use facebook are not using it for anything other than to interact with friends and family. This is a better place to do that, and you actually get paid for it..To me, its a no brainer which social media platform is better.
Do i think Facebook is going anywhere? probably not...it has been around a while now and its a multi billion dollar corporation. Facebook is more than a social media platform, it is a entity now. But as far as social media goes, i think SteemIT and other platforms like it are the wave of the future.
Until next time my fellow Steemians.. Peace and Bliss!