Is there anyone doesn't love cats !! 😮 😻 😡🔫
There is no doubt that many people have different pets in their homes ,
and it's thought that the majority of these pets are cats 😍
But why cats specially !!
cause these creatures are so so cute and they are the source of The tenderness 😍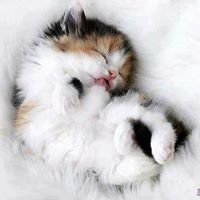 I can't imagine how some people are scared of these charming creatures 😠

Cats are giving us the feeling of tranquility , happiness, companionship, responsibility , and the true and pure love that we
can't have from any human being 😏
Currently , i have seven cats -god bless them - they aren't my cats only , but they are my children and i can't imagine my life without them 💜💜
If you keep a cat , love it and take care of it please ...